Percentile Rank
American Fugitive is ranked in the 31st percentile of games scored on OpenCritic.
Rating Summary
Based on 30 critic reviews
OpenCritic Rating
Based on 30 critic reviews
Score Distribution
Unscored Reviews
American Fugitive is a blast to play. Despite some difficulty balancing issues, the gameplay is fun, the story holds up, and the audio is amazing. For $14.99 you're going to get some solid gameplay, even if you just want to blow through a farmers fence and tear up through a cornfield in a high-speed chase.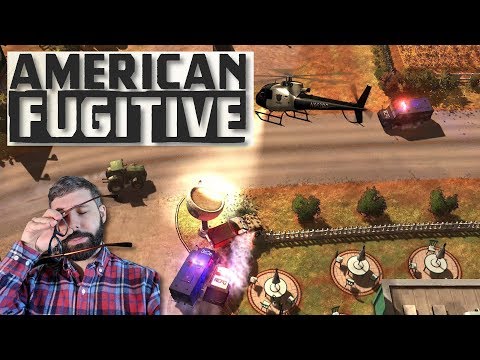 Scored Reviews
Like a spiritual successor to GTA2 American Fugitive will see you running afoul of the law with a touch of Dukes of Hazard thrown in.
Despite the repetitive and monotonous nature of American Fugitive, I really enjoyed the story and the unique gameplay aspects. Rather than a simple twin-stick shooter or GTA classic clone, the developers introduced realistic mechanics such as breaking and entering and having to avoid being seen whilst carrying out criminal actions. There's a lot of game to play through, although you'll instantly feel the strain of the limited amount of gameplay mechanics on offer after a few hours. As such, I'd say this game is perfect for playing in small bursts as the missions aren't too long, doing that will eliminate any monotonous and déjà vu gameplay.
American Fugitive is a fantastic top-down game if you want to play something fun, doesn't take that much thought and allows you to cause lots of death and destruction. With a strong nod to GTA, this is not simply a clone of a game from yesteryear, this is a homage to an amazing game with added elements of their own thrown in for good measure. Retailing at around £17.99, come and join in the chaos and find your father's killer! I award American Fugitive the Thumb Culture Gold Award!
A few technical issues – and the over-reaching arm of the law – tarnish American Fugitive slightly, but it's a game with a wonderful sense of place, impressive levels of detail, and a slew of engaging gameplay mechanics.
American Fugitive, simply put, is fun. Fallen Tree Games has added its own unique twist to a classic gameplay formula, and utilised a simple but engaging narrative and a beautiful original score to maintain the player's interest until the very end. Despite a few minor flaws in gameplay, the game stands strong against its competition. Players looking for a fast, fun, and mature sandbox game should not miss American Fugitive.
American Fugitive is a fun romp through a colourful, top-down GTA-inspired open-world crime-fest. While the game has some issues, such as repetitive missions, as well as stability problems on the Switch, it doesn't stop it from being an all-around fun and engaging title when you're actually playing.
American Fugitive is good in spots. And those spots are fun. But on the whole, the game just barely keeps up with its own scope of ambition.
Overall view of American Fugitive is that this could be a brilliant game on the Switch, it's presentation is brilliant and it looks beautiful, there's destruction to be had all around Redrock but the issues with the game mentioned above kind of hold this back, plus the bizarre choice when respawning after death just brings the game down from all out gang warfare to playing with super soakers. If you can get past the annoyances, I would say go for it and give the game a try, it does have potential but again, the downsides can't be ignored.
If you're not looking for anything particularly original, American Fugitive is a decent adventure with enough good ideas and atmosphere to keep you interested.
Curve Digital's new Nintendo Switch game American Fugitive calls back to the original GTA series, with a healthy dose of B&E and country carnage.
There is a lot to do in American Fugitive, and a lot of it works well. It hits that sweet spot where everything holds up whether you're out on missions or just driving around and exploring. You can definitely feel the game's limitations, but that doesn't feel like a problem -- many of them add to the charm that American Fugitive brings to the table.
American Fugitive is an exceptional open world playground for dumb fun, but it fails to capitalise on that when tailored mission design is brought into the fold. One too many repetitive objectives drag the experience down to a crawl, but for some, the narrative will be just about enough to make it worthwhile.
A likeable, car chase-riddled sandbox crime spree that updates the original pre-3D Grand Theft Auto games into a more modern play experience.
American Fugitive is a pleasant variation on GTA: Chinatown Wars that promised more than it delivered, but you can tell that the developers tried as hard as they could.
Review in Czech | Read full review
Although Fallen Tree Games is a small studio who mostly focused on mobile games until now, they managed to develop a great title using ideas and mechanisms that used to entertain us a lot, and if not for a few shortcomings here and there (probably because of budget limits) it could have done even better.
Review in Persian | Read full review
American Fugitive is solid, it does what it does well without really picking a lane and allowing the character of Will Riley to shine through. What feels like a story arc that is justifiable (you see Will not commit the crime he's in prison for, after all), it's soon forgotten for murderous mayhem and whilst I've complained about it somewhat, what's on offer is really good fun. It's an easy game to recommend, but I think more so than usual it's important to know what the game is before you jump in. It's fun and frantic and a nice love letter to that which its inspired by.
Ultimately, American Fugitive lives and dies by its gameplay. Driving around and tearing through Redrock County is fun, destructive, and weirdly cathartic. Casing buildings and barely escaping before the police show up is breathtakingly thrilling.
American Fugitive is a neat take on the top-down crime drama. I like a lot of its ideas, while others hold it back. I would love to see more from this team with these ideas in mind. Clean up the padding and add fast travel and this game could really be something special. Also, give me the option to zoom the camera out a little more, as it stands it feels a little too close to avoid oncoming traffic.
Will Riley (the game's main protagonist) has been caught standing over the body of his recently murdered father. Innocent of the crime of patricide, Will, unfortunately, ends up on the guilty side and gets some hard time. Taking inspiration from an excellent TV series about prison breaking (cough), Will takes a sharp exit out of a window in the medical bay and escapes from his recent incarceration.
PlayStation Universe
6 / 10.0
A charmingly old-fashioned crime epic, American Fugitive's ambitious intentions are summarily undercut by a raft of poor design decisions and technical issues.
A new game in the vein of GTA Chinatown Wars is something that should work quite well, but while American Fugitive has some good ideas it fails to deliver on the execution, especially with the Switch version's wonky frame rate. American Fugitive takes the promise it had, prangs it on a lamp post, and gives it a wanted level.
This top-down retro journey into the 1980s criminal underworld pairs car chases and con artistry
Ultimately, I would say that American Fugitive is worth a buy if you're willing to look past its issues and just enjoy the ride. If you're looking for a title that will knock your socks off, though, this isn't the game for you.
NintendoWorldReport
6 / 10.0
American Fugitive hits most of the bullet points you look for in a functional open world game, but some glaring omissions, sparseness to the world, and a lack of developed characters keep it from being GTA in the boonies you might hope for. This far into the Switch life cycle, you can find better alternatives for your open world fix.
With all the variety of story quests and nice graphics, American Fugitive is a very buggy and boring game
Review in Russian | Read full review
American Fugitive is fine if you can overlook its slew of flaws. From shaky AI to an overzealous crime detection system and spotty controls, there's enough here to make one quit the game rather quickly. It helps that the core aspect of the open-world gameplay and the small town setting are enough to keep some people interested. If you really want a throwback to the old GTA system, then this will do, but don't expect something as polished and varied as Retro City Rampage.
Overall it feels a little like death by a thousand cuts with American Fugitive, with one too many niggling little problems letting the whole thing down.
American Fugitive is plagued by poor controls, runs inconsistently and suffers frequent and annoying game crashes. Throw in awful loading times, and you've got some big issues. It could have been a GTA clone; it's just a shame that it's not fun.