Percentile Rank
Samurai Shodown is ranked in the 81st percentile of games scored on OpenCritic.
Rating Summary
Based on 68 critic reviews
OpenCritic Rating
Based on 68 critic reviews
Score Distribution
Unscored Reviews
SNK's iconic series makes its return in this reboot that's short on features but rich in systems.
Samurai Shodown doesn't try to appeal to everyone, but that isn't necessarily a bad thing.
Scored Reviews
SNK's return to Samurai Shodown proves to be one of the best fighters this generation with unique gameplay and a gorgeous art style.
Reno Gazette-Journal
9 / 10.0
What is this strange familiar feeling that I'm experiencing, I wonder? Oh, that's right, sore thumbs! As someone who counts the first two games as my favorite in the series, the new Samurai Shodown is a much welcome blast from the past. Don't worry about the jump to 3D, either. This new iteration plays just like a SamSho game and looks great to boot. Folks who prefer later games in the series or more modern fighting games might not like the back-to-basics approach. If you pine for the golden age of fighting games when SNK and Capcom titles ruled the arcade scene, however, the new Samurai Shodown is bloody fun, pure and simple.
SNK's Samurai Shodown is both an act of worship and discipline. The canonized developer and publishing house behind The King of Fighters and the classic Samurai Shodown brawlers is now decades out from its '90s heyday, when it defined the genre as much as Street Fighter creator Capcom. Playing this new Samurai Shodown, you can...
Despite some shortcomings, Samurai Shodown doesn't disappoint. Its slow pace belies a depth that rivals any fighting game, while still providing an experience unlike almost any other. If the stunning visuals don't leave you breathless, then the unrelenting tension felt during combat certainly will.
Samurai Shodown is nothing short of an incredible return for one of the fighting game genre's most revered franchises. It's technical, deep, and challenging to fully grasp– and it's fantastic. Those who aren't experienced in the genre may find Samurai Shodown difficult to get into at first, but the payoff is more than worth it.
Electric Bento
8.9 / 10.0
Samurai Shodown is a new version of a classic franchise. The new game offers an intricate and unique fighting experience, that requires patience and timing
Moreover, failure to get that timing right essentially leaves you open to a smart, reactive player capable of truly reading the play.
As far as fighting game reboots go, Samurai Shodown does a great job of pleasing its loyal fanbase and featuring new mechanics that change it for the better.
Dynamic and dangerous, there's no other fighting game like Samurai Shodown on the market. After a decade away, this latest chapter proves that idea once again with the sharpest swordsmanship combat around that manages to unleash a barrage of modern cuts while still retaining the magic of the original game.
Featuring an eclectic cast of characters and some over-the-top gore, Samurai Shodown is a wonderful reimagining of the classic fighting series. The strategic gameplay and wonderful balance of risk and reward make this game a fine addition to the current generation of fighting games.
Samurai Shodown is a great fighting game, with elaborated yet accessible mechanics. The story mode for each character is interesting, as is the variety of the fighters. The system of Ghosts' players is also worth mentioning. Unfortunately, there are some problems, like the online mode that can suffer from lag in many fights.
Review in Portuguese | Read full review
Samurai Shodown may lack content yet its a stylish return for the series with its great art style and gameplay.
Review in Arabic | Read full review
Bucking the trend of "bigger, badder, louder, faster," Samurai Shodown is a return to the glory days of SNK's beloved sword-slashing fighting franchise. The slower, more thoughtful combat style the franchise is known for is on full display here, challenging players not just to be better at fighting games, but also smarter. Wrapped in a beautiful overall package and given some interesting new roster additions, Samurai Shodown is probably the best new chapter we could have ever hoped for.
Samurai Showdown is an unique FTG which has few combos. But only using fists and swords is not boring at all. On the contrary, it is fast-paced and fun to play. I am glad that SNK brings this old-school FTG to the latest platforms.
Review in Chinese | Read full review
An excellent return for an arcade classic, Samurai Shodown is a reboot that looks sensational, has a wealth of options, plays remarkably well, and possesses deep, hugely rewarding fighting mechanics. The Dojo mode is also superb, ensuring that Samurai Shodown doesn't just push the envelope, but slices it wide open.
Samurai Shodown, at the end of the day, is one of the more unique entries in the fighting game genre in recent years.
PlayStation Universe
8.5 / 10.0
Samurai Shodown returns, and it's just as great as it's ever been. Casual fighting game fans will have a hard time adjusting to the mechanics of Shodown. Those who stick with it will find a deep and rewarding fighter that makes every strike and every move as important as the finishing blow.
Samurai Shodown marks a good restart for the series, which through his competitive nature has not so much to offer for soloplayers, but could deliver some long term motivation thanks to the excellent fighting mechanics and the faithfully presentation. Fans of the series and friends of the tournament mentality should take a look at this title.
Review in German | Read full review
A 2D revival in the modern age, fighting game fans will not want to miss out on Samurai Shodown.
A game that screams old school fighting. Despite its short character roster, it offers an aesthetic and satisfying experience.
Review in Spanish | Read full review
Samurai Shodown makes a fine comeback after a decade: refreshing and still exciting to play, it's the long-awaited title we hoped for.
Review in Italian | Read full review
Archaic story mode and load times aside, Samurai Shodown succeeds as a fundamentals driven 2D fighting game.
While there are some things I wish could be fixed (again, where is Gen-an?!), Samurai Shodown gets a whole lot right. The gameplay feels just about perfect, and takes some time to master; the modes have a lot to offer, though story and online mode could use a slight bit of tweaking. The presentation can't be beat when it comes to authenticity and it nails the old-school vibe of the original series.
Digital Chumps
8.1 / 10.0
Samurai Shodown is a fun release that brings back memories of a simpler time in the fighting genre where focus laid squarely on technique and gamer ease-of-use. The inclusion of a variety of modes helps to beef up the fighting content and offer up good challenges for those seeking them. All of this makes the experience more engaging and entertaining.
Above all, Samurai Shodown proves that SNK still has its fighting spirit. King of Fighters XIV wasn't an accident and it seems like any future games won't be, either. Now we just need to get Capcom back on track.
It is simple, yet deep in a different sense. It doesn't require memorization, just good timing and understanding. It felt more user friendly than long string combos and the visceral attacks feel incredible.
With its slow but highly cerebral fights and its peculiar rhythm, Samurai Shodown enters the fighting game scene with a really solid and very unique new entry.
Review in Spanish | Read full review
Samurai Shodown is a great reboot for a great series. Fighting game fans definitely need to grab a copy and start fighting.
Samurai Shodown offers totally different fighting style and it's really easy get caught by its charm.
Review in Slovak | Read full review
If you're a serious fighting game fan, you'll get a lot out of Samurai Shodown. Those expecting the single player offerings of titles like Mortal Kombat 11 will be left disappointed though. Samurai Shodown just isn't that type of fighting game.
A slim offering that nevertheless is expertly done, this installment solidifies SNK's return to form, and provides a unique and fun fighting experience.
Review in Arabic | Read full review
. If you have a community of fighting game aficionados or some pals who love over the top Wu-Tang movies, there's a lot to be found in Samurai Shodown.
The Games Machine
8 / 10.0
Samurai Shodown is true to the series' soul, like a modern version of Amakusa Kourin which lacks something to achieve perfection.
Review in Italian | Read full review
Samurai Shodown is a brutal experience. While some unfortunate decisions can alienate newer players, and the appropriate functioning of online features is yet to be seen, everyone with an important amount of patience will find one of the most demanding and funniest fighting game in recent memory.
While lacking in diverse combat, Samurai Shodown's intentionally slower combat offers a fresh style of gameplay worth experiencing
Samurai Shodown's easy-to-learn controls and high-stakes combat deliver a terrific, strategic fighting game that stands out from the rest.
Samurai Shodown's gameplay cuts through it's flaws to deliver a worthy follow-up to the original.
Cultured Vultures
8 / 10.0
Though some weak modes dampen the overall package, Samurai Shodown might just offer the best pure fighting game experience in recent memory, for both veterans and newcomers alike.
SNK has a lot to celebrate with the release of Samurai Shodown as it's a triumphant return to form for a series that hasn't had a mainline release in over 15 years. Not only does it keep the calculated and punishing gameplay in tact, it manages to offer up a great tutorial that allows for newcomers to understand the nuance of its depth.
Samurai Shodown is a very different fighter to what you might be used to, but it offers a unique way to play, offering a different approach to the genre.
Despite inconsistent visual presentation and some barebones modes, Samurai Showdown shines as both a unique fighter and a resurrection of a classic series.
Samurai Showdown is a strong entry into the sea of fighters, showing a lot of love for the original series, while also being able to appeal to newcomers. A few niggles aside, people are going to be playing Sam Show for a long time. EVO just got more exciting to watch!
Samurai Shodown is back and it's arguably better than ever. SNK has delivered a truly gripping fighting game where the tides can turn in an instant, and it's this constant sense of tension that creates a uniquely electric experience. Against a backdrop of faster paced, combo-heavy fighters, Samurai Shodown stands out as a deliberate and excellently judged duelling simulator. Against a worthy opponent, there's simply nothing quite like it on PS4.
Samurai Shodown feels like it was pulled from a forgotten era and given new life in 2019. SNK has more than proven they have what it takes to make a comeback with their latest title. With amazing style, gameplay that invokes a passion for fighting games of old, and charm coming from every crack, Samurai Shodown breathes new life into the series.
More than just a successful reboot of a forgotten franchise, this is one of the most unique and entertaining new fighting games of recent years.
The return of the Samurai Showdown was handled by SNK with great respect towards the fans of the saga. The company has recovered the spirit of the old games without renouncing the contextualization of the product in the current historical moment and the final result is an intriguing hybrid, enjoyable both at amateur and professional levels.
Review in Italian | Read full review
Samurai Shodown is one of the better 3D fighters available on the market that has managed the transition from its original 2D style to a 3D one rather well. It is a technical fighter that leads to a satisfying result if you can master its in-depth mechanics.
Solid fighting game mechanics that are easy to pick up yet highly competitive and rewarding to master. Solid online netcode. Disappointing single player offerings.
Samurai Shodown is a great reboot for the series, and one of the most enjoyable beat 'em up produced by SNK of the last years.
Review in Italian | Read full review
Samurai Shodown's varied attacks and techniques have plenty of depth for those who dive into multiplayer, though the modes and options are lacking
Samurai Shodown is yet another fighting game that is fun to play but suffers in its core feature set. The hardcore fighting game fanatic will love it, but the mainstream consumer will find it offers much less than other titles on the market.
After all these years of not playing any of the SAMURAI SHODOWN games, it was really neat to finally get my hands on one. At first, I was playing the game all wrong and didn't really enjoy playing it. However, after realising the error of my ways, I re-approached the game and had a much better experience. I love that they took the game in a different direction with the cel-shaded graphics and I truly feel like it will do a service to the game's longevity down the line. I personally didn't get too much out of the story of the game, but that's fine for me considering I don't go to fighting games for epic stories.
Hardcore fans of the series and the pro players will likely love Samurai Shodown. This game is gonna be great to watch and I suspect it will thrive in the FGC tournament scene. Unfortunately that while the fighting game part of it is great, the rest is a really barebones package that most likely won't hold the attention of others for an extended period of time.
Samurai Shodown is a throwback to arcade fighters and the series' first entry in a decade. It is solid without a lot of frills.
Just Push Start
3.5 / 5.0
For better or worse, Samurai Shodown comes down to your ability to read your opponent. You don't need fancy combos or memorize a bunch of things to be good. In fact, a lot of attacks have universal inputs and a lot of moves use the same basic input. If this isn't a turn off, odds are you will enjoy Samurai Shodown. However, if you love mastering combos and getting off some truly impressive feats, this simple isn't the game for you. Once you have the confidence in your ability, it's all about who can read their opponent better.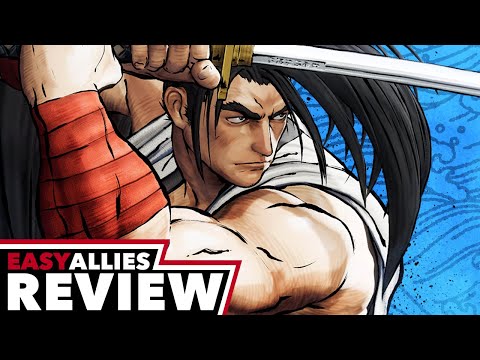 If you fancy samurai mythology with a Japanese ink brush aesthetic and/or you've just been looking for a 2.5D style, weapon-based fighting game, I think Samurai Shodown is a very solid choice.
Samurai Shodown captures the spirit of the older games, veering towards a mix of older and newer series entries. In terms of single-player, but it's a a far cry from Mortal Kombat 11 or even what recent games like Dead or Alive 6 have offered. On the multiplayer side, it offers a solid core, but not much else. It's nice to see SamSho back in the spotlight, but we wish it had a little more to keep us playing beyond just fighting other players.
Samurai Shodown is a fighting game that has its own unique charasterictic and atyle. Gameplay is fun and accesible for learning and begining, but like every other good fighting game, being professional in it, is hard and need many practice. If you are fan of series or looking for a fighting game with diffrent kind of gameplay style, Samurai Shodown is a game you should try.
Review in Persian | Read full review
Just having a one-on-one mind game to see who can punish who first is a lot of fun. Even with its issues, Samurai Shodown is definitely a step in the right direction for the series. If it keeps going at this rate, it can only go up.
Samurai Shodown is a good fighting with a nervous gameplay, but with poor graphics.
Review in French | Read full review
Samurai Shodown is an on-point reboot of the series and a return to form for SNK. While the single-player offerings are a little dull, the overall game offers a lot to players who are willing to put in the effort. Fans of the series won't be disappointed and hopefully, Samurai Shodown will bring in a few new warriors along the way.
Geeks Under Grace
7 / 10.0
Samurai Shodown's gameplay is a welcome return, but it lacks a unique presentation that keeps it from standing out amongst the greats of the genre.
Samurai Shodown's signature deliberate pace is perfectly captured in this entry, though the small roster and lack of options somewhat hinder its replayability.
Samurai Shodown manages to present a superb alternative to quicker, more bombastic fighters. This comes across as more of the thinking man's fighter, testing a player's reaction time and rewarding those who are able to read their opponents over those who try and go for meaningless combos.