Archaic story mode and load times aside, Samurai Shodown succeeds as a fundamentals driven 2D fighting game.
SNK's iconic series makes its return in this reboot that's short on features but rich in systems.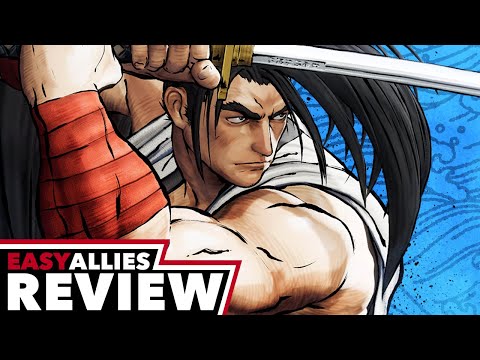 More than just a successful reboot of a forgotten franchise, this is one of the most unique and entertaining new fighting games of recent years.
Samurai Shodown's varied attacks and techniques have plenty of depth for those who dive into multiplayer, though the modes and options are lacking
Samurai Shodown's easy-to-learn controls and high-stakes combat deliver a terrific, strategic fighting game that stands out from the rest.
Samurai Shodown captures the spirit of the older games, veering towards a mix of older and newer series entries. In terms of single-player, but it's a a far cry from Mortal Kombat 11 or even what recent games like Dead or Alive 6 have offered. On the multiplayer side, it offers a solid core, but not much else. It's nice to see SamSho back in the spotlight, but we wish it had a little more to keep us playing beyond just fighting other players.
SNK has a lot to celebrate with the release of Samurai Shodown as it's a triumphant return to form for a series that hasn't had a mainline release in over 15 years. Not only does it keep the calculated and punishing gameplay in tact, it manages to offer up a great tutorial that allows for newcomers to understand the nuance of its depth.
Above all, Samurai Shodown proves that SNK still has its fighting spirit. King of Fighters XIV wasn't an accident and it seems like any future games won't be, either. Now we just need to get Capcom back on track.
A game that screams old school fighting. Despite its short character roster, it offers an aesthetic and satisfying experience.
Review in Spanish | Read full review
Samurai Showdown is a strong entry into the sea of fighters, showing a lot of love for the original series, while also being able to appeal to newcomers. A few niggles aside, people are going to be playing Sam Show for a long time. EVO just got more exciting to watch!
Samurai Shodown manages to present a superb alternative to quicker, more bombastic fighters. This comes across as more of the thinking man's fighter, testing a player's reaction time and rewarding those who are able to read their opponents over those who try and go for meaningless combos.
Samurai Shodown makes a fine comeback after a decade: refreshing and still exciting to play, it's the long-awaited title we hoped for.
Review in Italian | Read full review
Samurai Shodown is a very different fighter to what you might be used to, but it offers a unique way to play, offering a different approach to the genre.
Despite some shortcomings, Samurai Shodown doesn't disappoint. Its slow pace belies a depth that rivals any fighting game, while still providing an experience unlike almost any other. If the stunning visuals don't leave you breathless, then the unrelenting tension felt during combat certainly will.
Featuring an eclectic cast of characters and some over-the-top gore, Samurai Shodown is a wonderful reimagining of the classic fighting series. The strategic gameplay and wonderful balance of risk and reward make this game a fine addition to the current generation of fighting games.
It is simple, yet deep in a different sense. It doesn't require memorization, just good timing and understanding. It felt more user friendly than long string combos and the visceral attacks feel incredible.
. If you have a community of fighting game aficionados or some pals who love over the top Wu-Tang movies, there's a lot to be found in Samurai Shodown.
Hardcore fans of the series and the pro players will likely love Samurai Shodown. This game is gonna be great to watch and I suspect it will thrive in the FGC tournament scene. Unfortunately that while the fighting game part of it is great, the rest is a really barebones package that most likely won't hold the attention of others for an extended period of time.
SNK's Samurai Shodown is both an act of worship and discipline. The canonized developer and publishing house behind The King of Fighters and the classic Samurai Shodown brawlers is now decades out from its '90s heyday, when it defined the genre as much as Street Fighter creator Capcom. Playing this new Samurai Shodown, you can...