Percentile Rank
Monster Hunter World: Iceborne is ranked in the 99th percentile of games scored on OpenCritic.
Rating Summary
Based on 59 critic reviews
OpenCritic Rating
Based on 59 critic reviews
Score Distribution
Unscored Reviews
Monster Hunter's newest expansion adds tons of monsters, and comes with a punishing difficulty
Player2.net.au
A or higher
Save for Capcom not correcting the flaws with the online architecture, Monster Hunter World delivers for fans of all levels of experience. It's a treat to behold and sets the bar even higher for whatever the franchise does next.
Scored Reviews
The sheer visual variety on display here is staggering, from snow-capped peaks and frozen lakes to icy caverns covered in stalactites with fish perma-frosted into the ground. Hoarfrost Reach is a visual feast in a game that's chock-full of them and provides a unique aesthetic not found in the vanilla game.
You'll not only be entertained by Monster Hunter World: Iceborne for hours, but you will be in awe of its complex systems, and how they align so well to create an unforgettable expansion to an already fantastic game.
Monster Hunter World: Iceborne has taken a game I love and improved upon it. While some of the changes may be scary for balance, and they'll all take getting used to, this was the most fun I've had with the series in a long while.
Iceborne is one of the very best examples of how to produce paid content for a AAA game. It fixes almost all of World's issues, and adds so much to the package. It doesn't feel like an expansion; it feels like a sequel. A fantastic experience.
Capcom have crafted the series' most ambitious expansion to compliment Monster Hunter's most ambitious title since the franchise's conception.
Iceborne retroactively enhances Monster Hunter: World while adding so much content that you could safely call it a sequel. It's clear Capcom has perfected their winning formula.
At the end of the day, Iceborne is an amazing expansion to an already amazing game. Providing greater challenges and greater rewards, tight and improved controls and a deep narrative of its own, this is a must own for both vets and newcomers to the series.
Monster Hunter World: Iceborne is a special kind of expansion. It takes everything that made World fantastic and makes it even better.
Monster Hunter World: Iceborne offers a massive amount of new additions and exciting endgame content that should ensure fans will be returning to the game for years to come.
Reno Gazette-Journal
9.5 / 10.0
Monster Hunter World Iceborne builds on its excellent predecessor with a plethora of new and returning monsters as well as some fun new mechanics to boot. The Clutch Claw is an especially fun addition to the game while Guiding Lands helps flesh out the endgame for folks who felt World didn't do quite as good a job in that department. Admittedly, certain endgame aspects can be a bit too grindy and some of the side stuff like Lynian picture taking can be wonky at times. Overall, however, Iceborne proves to be a better Monster Hunter World for fans of the series.
Monster Hunter World was already a great game but with Iceborne, Capcom has made it even better. It is easily one of the best expansions released for a game this generation and worthy enough to be considered on its own.
Monster Hunter World: Iceborne has blown me away with just the sheer quality that it puts forth
Monster Hunter World set the bar very high, yet Iceborne surpasses it.
Review in French | Read full review
Monster Hunter World: Iceborne offers a new adventure with more monsters to hunt, new regions to explore, more movements and combat mechanics, a new difficulty rank, and ultimately, a whole mountain of contents to enjoy. A must-have expansion for any Monster Hunter World player.
Review in Spanish | Read full review
Monster Hunter World: Iceborne adds just what Monster Hunter World needed and even more quality of life changes to the greatest Monster Hunter game of all time. The new monsters and quests pack a punch, and there's enough content to justify the price. If you're going to take on this cool expansion, make sure you bring along some friends and a few hot drinks.
Monster Hunter World: Iceborne comes close to matching the perfection of the first adventures with the Fifth Fleet but this new expansion is all but guaranteed to lead to more times being carted back to camp.The links above are affiliate links. As an Amazon Associate, Wccftech.com may earn from qualifying purchases.
The Games Machine
9.4 / 10.0
Iceborne is more than just an expansion, improving in every way the already excellent gaming experience offered by a blockbuster like Monster Hunter World. Recommended for veterans and new players.
Review in Italian | Read full review
Capcom didn't just add a full-bodied, rewarding expansion to Moster Hunter World, but it actually turned it into the best "Ultimate version" in the franchise's history.
Review in Italian | Read full review
Monster Hunter World: Iceborne is more than an expansion: it's a generous gift to its fans (both the seasoned and the fresh ones), one that can last for hundreds of hours of the purest monster-hunting fun.
Review in Italian | Read full review
The Outerhaven Productions
Although the story is paper-thin and subspecies of existing monsters take the spotlight a little too often, Iceborne breathes new life into Monster Hunter World and makes me want to sink many more hours into a game I've already spent hundreds with.
That's what it comes down to, really. These days, there aren't many games I'm willing to surrender hundreds of hours of free time to, but somehow, some way, Monster Hunter found an opening. World laid the groundwork, and now Iceborne is here to carry me through the rest of 2019 and beyond. Mentally, I'm not even ready to start thinking about Capcom's post-launch plans for the expansion.
The Iceborne expansion builds seamlessly upon the thriving ecosystem created by Monster Hunter World to provide a thrilling and fulfilling experience.
Iceborne is the definitive endgame of Monster Hunter World and a proper sendoff to the game that ignited a new generation of fans in the West to experience the series for the first time.
Monster Hunter World: Iceborne skimps a bit on introducing totally new monsters, but it's still a large expansion filled with very smart refinements. The campaign alone comes close to matching the scale of the base game, and it wisely ditches some of its more tedious elements. If you played through the original and wanted more, then Iceborne is almost everything you could ask for. It's not a full sequel, but it's pretty darn close.
Monster Hunter World: Iceborne is an excellent expansion so large that it almost feels like a sequel. It's a better version of a great game.
PlayStation Universe
9 / 10.0
Iceborne takes what's already fantastic and nearly doubles the original game in size. If you haven't played Monster Hunter yet, now is the time to start!
Monster Hunter World: Iceborne is a sizeable, satisfying addition to the base game, expanding the content and scope while adding welcome quality of life features. Welcoming to both new and veteran players, low and high geared alike, the expansion steps up the challenge but gives the right tools for players to progress, and provides countless hours of content in a new and addictive endgame mode. It is absolutely worth the price.
Iceborne is one of the books and I can't wait to see what the developers do next for this franchise, because I'm not sure if it can get better than this.
Monster Hunter World: Iceborne is a massive undertaking that feels as fresh and expansive as a brand new game.
If Monster Hunter: World is a revelation, then Iceborne is something more. It takes everything I loved about the original title, while improving the things that I didn't. Truly, even with some minor shortcomings, if the ideal form of Monster Hunter were to be given shape then this is just about as close as you could get.
With everything that it brings to the table, Iceborne is a truly monstrous expansion. Capcom has gone above and beyond in crafting an additional adventure that breathes a shocking amount of new life into Monster Hunter World, setting a new benchmark for the series in terms of pure quality. Although many of the base game's gripes remain, it's ultimately very difficult to pick holes in such a supremely satisfying experience. Iceborne is Monster Hunter at its absolute best.
Monster Hunter World brought the cult franchise to a larger audience. Maintaining the same harsh difficulty of the core games but ensuring that newcomers can also learn the complicated planning that goes into hunting these beasts. Monster Hunter World: Iceborne is more of what you would expect from the franchise but with a new icy land to explore. Providing over 40 overs worth of content and even more free post-launch monsters in the future. Monster Hunter World: Iceborne could easily be mistaken as a sequel and once the game hooks you with obtaining its enticing gear it'll be hard to stop playing.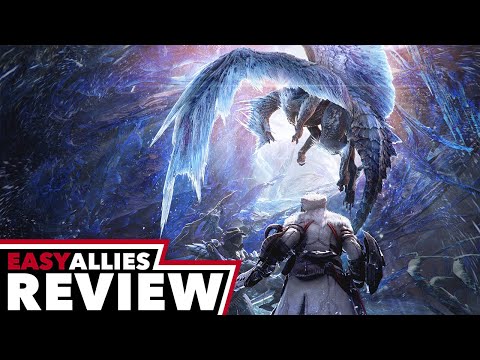 Monster Hunter World: Iceborne adds loads of impressive monsters and tons of quality-of-life improvements to an already incredible game.
Monster Hunter World: Iceborne has everything that a fan could possibly want - challenging monsters, tons of new weapons and armor, an incredibly in-depth combat system with even more nuance thanks to new moves and mechanics, and a boat-load of new quests. The typical annoyances remain but don't let that stop you from undertaking this icy exodus.
However, that's just the way expansions work, and in exchange for that mild inconvenience, you get another 20-30 hours of new content with the same high quality that generated critical acclaim for the game when it first released.
Monster Hunter: World is deservedly Capcom's most successful game to date, and the Iceborne expansion amplifies everything positive about it. More incredible monsters, new lands and a wealth of ways to upgrade your Hunter will have fans in rapture, while new players yet to experience the delights of monster hunting can rest assured that there's never been a better time to join the hunt.
This all culminates in a $40 expansion that I feel could have easily been priced at $60. Sure, we do only get one new area to complement that original game's five, but Iceborne cleverly integrates the previous areas into easily half of its main campaign, and it's just as fun revisiting them all under new circumstances with new or returning monsters to hunt. There is so much to do, whether it's the chunky and sizeable campaign or the plethora of things to do once the credits roll.
In the grand scheme of things, a few remaining balancing concerns that the developers already stated would be addressed in future if they remained too prominent, a few odd choices with equipment that may only last as long as until the first title update shakes everything up again for all we know, and some extra, decently varied grind added onto the game when we've already had to live through the hell of Kulve Taroth, do very little to detract from the fact that the core of Iceborne is an incredibly solid Monster Hunter offering. If Monster Hunter: World was ambitious, financially extremely successful, but still quite flawed experiment at a new direction for the series, then Iceborne is certainly one hell of a follow-up act. It certainly got me, who was just about ready to give up on the franchise, to feel some hope for what's to come once more.
Monster Hunter World is a fantastic entry into the series and stands as a pinnacle of accomplishments for Capcom. Iceborne does everything within its power to improve upon that and does it fantastically.
Monster Hunter: World – Iceborne is everything a Monster Hunter: World veteran could want – more monsters, harder fights and of course more options for weapons and armour.
Just Push Start
4.5 / 5.0
Monster Hunter World: Iceborne isn't perfect but it adds a lot to the franchise. The new monsters, gear and difficulty is the kick in the pants players need to start hunting again. Between new monsters, gear and skills it's hard to say no and you get a great deal of value for the price of the expansion. Even if it could do a bit more, by giving less skilled players a bit more to look forward to, this is an absolute must for anyone who loves Monster Hunter or just wants a harder experience.
Monster Hunter: Iceborne it's the return call to longtime franchise lovers, especially those who had reached the point where there was nothing else to do in the original release. Iceborne is a substantial expansion designed for those who demand a challenge.
Review in Spanish | Read full review
A great expansion that left an impression of an entirely new sequel to the game due to its wealth in content. The developers really pushed the limits of the available options and created new mechanics to improve on the base game. If you loved the hunt before, this will be your opportunity to jump back in.
Review in Arabic | Read full review
Monster Hunter World: Iceborne is more of one of the best games of this console generation, and for many, that'll be all the recommendation you'll need. It's a tough, punishing battle against incredible odds punctuated by elation and carving your vanquished nemesis into a sword with which to hunt its compatriots - and it's bloody brilliant.
Monster Hunter World: Iceborne is a great addition to one of the best games of this generation. Hundreds of hours of content, iconic monsters, beautiful graphics, high complexity, rethinking of the old mechanics, which will help even veterans to get new impressions in gameplay, as well as attention to detail again puts the role-playing action from Capcom in the list of the most exciting releases of the year.
Review in Russian | Read full review
Iceborne rounds out Monster Hunter World into a nice package for both new and old fans with new monsters and game mechanics
Review in German | Read full review
Iceborne is the greatest expansion in the Monster Hunter series of all time. New areas, monsters, and hunting mechanics make the game so fun and I can't stop playing it.
Review in Chinese | Read full review
Capcom has expanded its universe of monsters in a more than correct way with a cold place full of very high level monsters.
Review in Spanish | Read full review
Iceborne is a hefty expansion that provides a bigger, badder challenge. The fights can be both exhilarating and maddening, making it an experience of intense highs and lows
Merlin'in Kazanı
82 / 100
The Iceborne expansion is one of the great examples of how to new content should be added to the games. The old expansion pack feeling is mostly delivered with Iceborne with many new features, monsters and mechanics.
Review in Turkish | Read full review
Monster Hunter World Iceborne is the expansion that MHW fans are looking for. You can expect to lose hours of your life to this game and enjoy every moment of it.
An essential addition for any Monster World fan that offers a mountain of genuinely new content that includes some of the game's best monsters.
Monster Hunter is a massive expansion with some huge content (monsters, quests, ranks, sets...) and some good new features that will please everyone. A very good way to keep on hunting alone or with some friends, for dozens, no, hundreds of hours.
Review in French | Read full review
Iceborne is as much a roaring success as Monster Hunter World was, and it can receive no higher praise than that. It successfully adds in new layers, monsters, and a beautiful new area, all of which will have players flocking back to the game to experience it all.