Monster Hunter World was already a great game but with Iceborne, Capcom has made it even better. It is easily one of the best expansions released for a game this generation and worthy enough to be considered on its own.
Monster Hunter World brought the cult franchise to a larger audience. Maintaining the same harsh difficulty of the core games but ensuring that newcomers can also learn the complicated planning that goes into hunting these beasts. Monster Hunter World: Iceborne is more of what you would expect from the franchise but with a new icy land to explore. Providing over 40 overs worth of content and even more free post-launch monsters in the future. Monster Hunter World: Iceborne could easily be mistaken as a sequel and once the game hooks you with obtaining its enticing gear it'll be hard to stop playing.
Monster Hunter World: Iceborne has taken a game I love and improved upon it. While some of the changes may be scary for balance, and they'll all take getting used to, this was the most fun I've had with the series in a long while.
Monster Hunter World: Iceborne is a special kind of expansion. It takes everything that made World fantastic and makes it even better.
The Iceborne expansion is one of the great examples of how to new content should be added to the games. The old expansion pack feeling is mostly delivered with Iceborne with many new features, monsters and mechanics.
Review in Turkish | Read full review
Monster Hunter World: Iceborne isn't perfect but it adds a lot to the franchise. The new monsters, gear and difficulty is the kick in the pants players need to start hunting again. Between new monsters, gear and skills it's hard to say no and you get a great deal of value for the price of the expansion. Even if it could do a bit more, by giving less skilled players a bit more to look forward to, this is an absolute must for anyone who loves Monster Hunter or just wants a harder experience.
Although the story is paper-thin and subspecies of existing monsters take the spotlight a little too often, Iceborne breathes new life into Monster Hunter World and makes me want to sink many more hours into a game I've already spent hundreds with.
Monster Hunter World: Iceborne is a great addition to one of the best games of this generation. Hundreds of hours of content, iconic monsters, beautiful graphics, high complexity, rethinking of the old mechanics, which will help even veterans to get new impressions in gameplay, as well as attention to detail again puts the role-playing action from Capcom in the list of the most exciting releases of the year.
Review in Russian | Read full review
Monster Hunter World: Iceborne is more of one of the best games of this console generation, and for many, that'll be all the recommendation you'll need. It's a tough, punishing battle against incredible odds punctuated by elation and carving your vanquished nemesis into a sword with which to hunt its compatriots - and it's bloody brilliant.
Monster Hunter: Iceborne it's the return call to longtime franchise lovers, especially those who had reached the point where there was nothing else to do in the original release. Iceborne is a substantial expansion designed for those who demand a challenge.
Review in Spanish | Read full review
A great expansion that left an impression of an entirely new sequel to the game due to its wealth in content. The developers really pushed the limits of the available options and created new mechanics to improve on the base game. If you loved the hunt before, this will be your opportunity to jump back in.
Review in Arabic | Read full review
Monster Hunter World: Iceborne adds loads of impressive monsters and tons of quality-of-life improvements to an already incredible game.
An essential addition for any Monster World fan that offers a mountain of genuinely new content that includes some of the game's best monsters.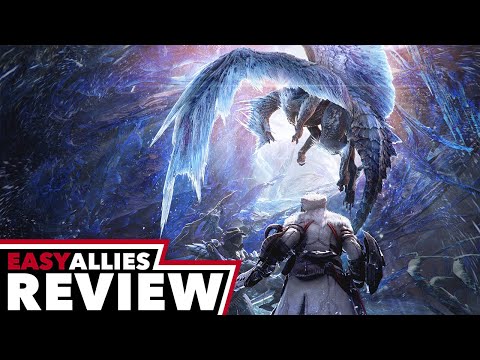 Monster Hunter World: Iceborne is an excellent expansion so large that it almost feels like a sequel. It's a better version of a great game.
Iceborne is a hefty expansion that provides a bigger, badder challenge. The fights can be both exhilarating and maddening, making it an experience of intense highs and lows
The Iceborne expansion builds seamlessly upon the thriving ecosystem created by Monster Hunter World to provide a thrilling and fulfilling experience.
Monster Hunter's newest expansion adds tons of monsters, and comes with a punishing difficulty
Monster Hunter World: Iceborne skimps a bit on introducing totally new monsters, but it's still a large expansion filled with very smart refinements. The campaign alone comes close to matching the scale of the base game, and it wisely ditches some of its more tedious elements. If you played through the original and wanted more, then Iceborne is almost everything you could ask for. It's not a full sequel, but it's pretty darn close.