Percentile Rank
Night Call is ranked in the 38th percentile of games scored on OpenCritic.
Rating Summary
Based on 31 critic reviews
OpenCritic Rating
Based on 31 critic reviews
Score Distribution
Unscored Reviews
Atmosphere rules in this narrative game about a cabbie on the trail of a killer.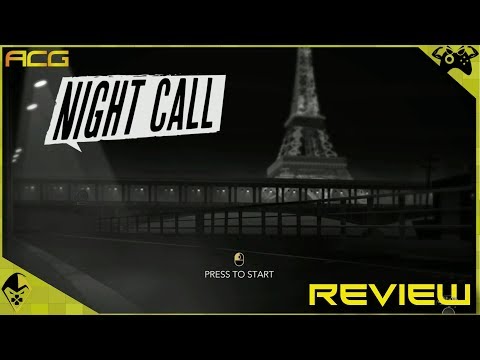 Night Call was fun for me and basically has all the necessary ingredients for an exciting experience - but the many bugs, the repetetive gameplay and the feeling that it didn't quite hit it's potential stand in the way of an unconditional recommendation. In short: Night Call runs out of fuel on a long distance.
Review in German | Read full review
Night Call's redeeming value is its noir atmosphere. But that game can really become repetitive after a while.
Review in Greek | Read full review
Rock, Paper, Shotgun
Unscored
So, it's a game with two key strands that feel forced together when they don't really work in tandem. I like both ingredients in theory, but they don't coalesce successfully, like how a vinaigrette salad dressing will separate into oil and vinegar until you shake it up again.
Scored Reviews
Night Call's focus on story-telling and engaging atmosphere pays off as the developers mix in wonderful music and top quality animations to create one of the most unique experiences in recent memory.
Review in Persian | Read full review
Night Call is an exceptional game with very few flaws. Although minimal in its playful and technical system, the narrative potential and unique atmosphere it presents are elements of unquestionable quality.
Night Call is interesting in ways most games aren't. It's a game that humanizes people that usually get mockery. It's so good at this that it overshadows the serial killer stuff. It can lose its steam thanks to some repetitive gameplay, but its shorter length prevents it from dragging on. Its design choices will turn away action-oriented players, but it's a pleasant surprise if you want more compassion in your crime fiction.
Night Call is an intriguing ride through Paris full of intriguing tales and conversations. Too bad its detective elements aren't as compelling.
I have loved playing Night Call, Everything about it just works so well to me, as I played I found myself becoming more interested in picking up fares and listening to their stories, from a priest to a poet, a couple trying to find a donor to help them conceive to a cat, yes I said a cat, than wanting to solve the actual investigation. I look forward to seeing if they add more investigations to solve and more fares to pick up in the future. I feel the game thoroughly deserves the Thumb Culture Gold Award.
The Games Machine
7.9 / 10.0
Night Call is thriller on the importance of verbal confrontation, adapting to one's interlocutor, creating fluid dialogues without necessarily complying with all their thoughts. A visual novel that is so classic, even predictable in its police nuance, but brilliant in the micro-situations we will experience in every journey.
Review in Italian | Read full review
Cultured Vultures
7.5 / 10.0
Technical and pacing issues aside, the writing of Night Call is what makes it such a fascinating and, at times, enthralling game. Sit back with a cup of coffee and become an unofficial therapist for a few hours with this dark descent into Paris.
Become the Batman of taxi cab drivers as you try to solve a neo-noir murder mystery.
Night call is thick with moody atmosphere and noir style; its writing is hit and miss, but it's tough not to be entranced by the central concept.
All in all, Night Call sets itself up with an inspired idea and premise. The concept of a man living the simple life as a city taxi driver going through regular life while trying to catch a sinister serial killer is fascinating.
Still, the end result is a relaxing, intriguing and sleek murder mystery tale that's certainly worth enjoying once. It's not overly long if you play on normal, nor is it particularly replayable, but finding out who the killer is definitely scratches an investigative itch.
The characters you meet in Night Call are the stars of this noir-style thriller. Interestingly, the crime plot takes a backseat to meeting the residents of Paris and learning about their struggles and success. Unfortunately, the game becomes repetitive after the first case due to duplicated dialog and a lack of gameplay evolution.
Fun narrative experience charms you with its mysterious atmosphere & characters with their conversations to figure out who's the killer, other than that you might get bored due to its gameplay elements & conversations repetitiveness.
Review in Arabic | Read full review
A showcase of strong open and non-linear narrative —but also a lesson on the importance of prioritizing.
Review in Spanish | Read full review
Night Call feels like solving a puzzle without having seen the picture on the packaging. It therefore works best when you drive through the wet streets of Paris, throw yourself into the conversations and just let the case come to you. It turns out to be a dark secret who the killer is after all. One thing's for sure: the killer himself is the least interesting narrative element in the game.
Review in German | Read full review
Generación Xbox
6.8 / 10.0
Night Call is an interesting and quirky game hold back by it's lack of depth and complex narrative threads. A decent and original game nevertheless.
Review in Spanish | Read full review
Haphazard gameplay and varying narrative quality put a damper on Night Call's strong mood and hints of brilliance.
Oyungezer Online
6.5 / 10.0
It's an interesting concept with nice stories, but execution is poor and game experience isn't as strong.
Review in Turkish | Read full review
Night Call is an interesting thriller adventure. With good atmosphere and promising mechanics, its "noir" side shows the madness and the difficulties of the nights in Paris. Sadly there are some problems with the general pacing and all the management side is poor.
Review in Italian | Read full review
A title that grabs your attention and has you hooked almost immediately. But after a while, the repetition and constraining design choices will put you off.
Despite its promise to be a noir investigation in the heart of Paris, Night Call focuses way more on its narrative and brilliant part, at the expense of the mystery itself. Yes, the iconic characters you drive from a neighborhood to another is beautifully written, but we would have hoped to play a real part trying to find the culprit.
Review in French | Read full review
An initially fascinating murder mystery that descends into repetition for its final two-thirds. A real shame.
Night Call is a game filled with good ideas, but terrible execution. Great characters and exploration are let down by superfluous mechanics and a lack of meaningful choices.
Night Call tries to combine adventure and simulation genres to present something completely new, but it fails and the result is a dull game which usually forgets its main story. Still, it is possible to find some interesting moments in listening to passengers and their life story, but it comes with the price of standing poor gameplay and annoying bugs.
Review in Persian | Read full review