Percentile Rank
GreedFall is ranked in the 66th percentile of games scored on OpenCritic.
Rating Summary
Based on 56 critic reviews
OpenCritic Rating
Based on 56 critic reviews
Score Distribution
Unscored Reviews
I'm invested enough in the way Greedfall's fantasy world doesn't shy away from brushing up against real history, its well-paced writing, and endearing characters to happily continue trucking through it, despite some of its technical shortcomings.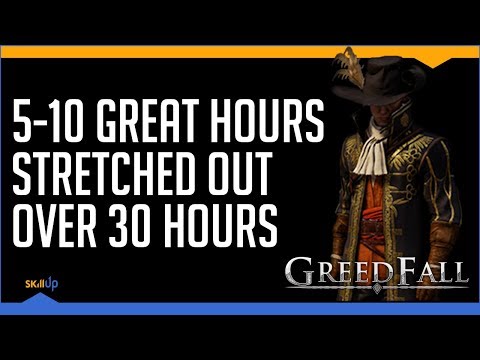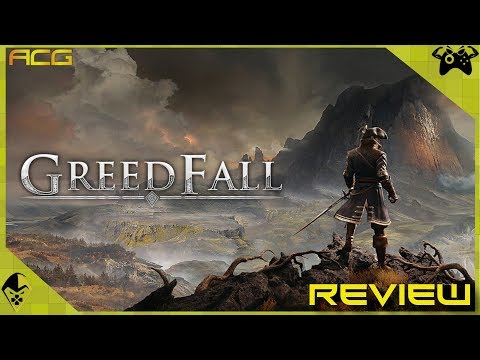 While it starts shaky, Greedfall grows into a comforting and satisfying RPG. It may feel a bit behind the times, but the art design and original story should be given credit and it is good to see this developer releasing something that mostly delivers on its promise.
Taking notes from roleplaying greats, GreedFall makes up for its faults with a lot of spirit.
Rock, Paper, Shotgun
Unscored
This is a step in the right direction for Spiders, but they still have a lot of work to do.
Scored Reviews
With a great blend of open-world gameplay, visually interesting locations and a detailed branching story, Greedfall places itself as one of the best RPGs of this year.
Thanks to GreedFall's impressively diverse roleplaying and combat systems, it's the sort of game that any sort of RPG fan would enjoy, whether they prefer playing as the tough warrior, the cunning rogue, the wise spellcaster, or any combination of those archetypes they can think of. It may hew closely to the template that BioWare created many years ago, but GreedFall also proves there's still a lot of potential for expansive single-player RPGs that put player choice first.
The game represents the quality of those medium-term games, current AA, so full of talent and that we have so missed. So do not hesitate and enter the mysterious lands of Teer Fradee, because it will surely take over you.
Review in Spanish | Read full review
Greedfall, latest Spiders game, is definitely one of the best action RPGs in recent years. Of course it isn't flawless and perfect, but it's very enjoyable and well-made. Combat is entertaining and great, story is engaging with some nice plot twists, And above all, each faction in the game has many missions to do and unique stories to tell. Every decisions you make in the game, affect your relationship with your companions and factions. Voice actors have done a really graet job and made characters more real. Also quests and level designs are very nice and feel completely connected to story. Of course the game has some weaknesses like technical issues, some bugs or Poor Companion AI during challenging fights, but these issues can't stop you from enjoying Greedfall at all. If you are a fan of fantasy Open-World action Rpgs with high amounts of entertaining quests, deep RPG elements and levelling system, great combat and also engaging multi branches story, then Greedfall is a game you should not miss at all.
Review in Persian | Read full review
Finally, they did it! New game from Spiders is huge, exotic and very komplex. Great choice for true RPG fans.
Review in Slovak | Read full review
GreedFall is easily Spiders at its finest, and fans of the Western RPG genre can easily take enjoyment in its well-written and voice acted narrative as well as the solid combat when it comes to gameplay. It's by no means perfect, with a few hiccups here and there, but in GreedFall's case the great far outweighs the bad to carry the torch of a genre that has lacked a decent entry in quite some time. Extremely decent, and a must-play for any fan of the studio.
Simple at first, but much like the underlying story Greedfall's combat comes alive once skill trees begin to fill up.
A solid proposal to any fan of action RPGs. It's not groundbreaking and it takes almost all of its ingredients from other games, but it sure delivers a profound and versatile experience.
Review in Spanish | Read full review
Greedfall is undoubtedly a must buy for all lovers of RPGs and good stories. It's not perfect for the combat theme, the exploration problems and the depth of customization, but all the pillars of the game are solid enough to consider it a remarkable product.
Review in Spanish | Read full review
Glitched Africa
8.3 / 10.0
The RPG systems at play here are so robust and deep that RPG fans simply shouldn't miss out on the game, even if the combat feels a bit clunky at times, the voyage to Teer Fradee was well worth it for me in the end. Keep in mind that this game from Spiders Interactive costs a bit less than your standard AAA title, so it is definitely a bargain with the amount of content it provides.
Rectify Gaming
8.2 / 10.0
Despite some rough edges and a modest budget, Greedfall delivers a blockbuster RPG experience.
PlayStation Universe
8 / 10.0
GreedFall stands as Spiders' most successful game to day, bar none. Despite its issues, nothing gets in the way of this game's ambition and heart. Anyone looking for a standout, deep action-RPG will find it in GreedFall. With its different narrative paths and various ways to build your character, there are so many reasons to play through multiple times.
GreedFall certainly left me wanting more; while its story may be a bit shallow in places, it's still got a lot of depth, a fluid, intuitive combat system and enough morally-grey missions to bring me back to Teer Fradee some time soon. Forget waiting for the next Dragon Age, GreedFall is an impressive debut for what could well become a classic series.
It would be misleading to ignore the many borrowed ideas and means to appease long-time fans of past WRPGs and current action RPGs alike.
GreedFall delivers an experience that is as satisfying as it is ambitious, although it does falter in some notable ways.
Greedfall is a very rewarding experience. Just make sure to give it some time and get used to it's style of gameplay. It can be a bit rough around the edges but that does not detract from its deep dialogue system and good storytelling. Most RPG fans will love Greedfall, its a good game and it may even surprise a few people along the way.
Greedfall is blemished but imaginative and choice-filled gem that harkens back to some of our favorite western RPGs.
GreedFall is an exciting role-playing adventure with dozens of hours, which offers a well developed non-linear main story and side-quests, interesting world, and nice graphics. The game may not have enough budget, come across minor graphics bugs, but the authors try to hide the problem behind a veil of interesting quests and a well-designed world. Creation of Spiders reminds us The Witcher 3, Gothic and Dragon Age: Origins at the same time and can become the most significant role-playing game of this year for fans of the genre.
Review in Russian | Read full review
Greedfall is a highly ambitious step for Spiders, and one that shows that they are hitting their stride. With excellent voice acting and gorgeous environments, Greedfall serves as a grand adventure in a genre that is sorely needing a fresh face. There are still some bugs to crush, but once those are gone, only a memorable RPG capable of filling the open world RPG void will remain.
Greedfall is enhanced by its believable game world, but has to accept significant drawbacks in terms of presentation.
Review in German | Read full review
GreedFall punches way above its weight thanks to some excellent writing, surprisingly in-depth RPG mechanics, a strong presentation and plenty of interesting quest lines. Whilst it's a little rough around the edges in areas such as the undeniably poor lip syncing and occasional bugs, this is still a fantastic RPG. GreedFall is well worth the asking price - RPG fans will find a lot to love here.
Greedfall, even with its flaws, is a game that's very easy to sink time into without regret.
GreedFall is a welcome arrival in the fantasy RPG space, a space that has been bafflingly uncrowded of late. But it doesn't just impress because of a lack of alternatives. It successfully delivers nearly everything that one would want to see in a game of this genre, and does so in convincing fashion. Fans of western role playing games who have lamented the absence of many true contenders in the genre this generation, prepare yourselves: a new heir to the legacy of BioWare is here at last.
GreedFall might finally be the game that puts its studio's name among some of the best RPG makers of current day. Sure, there are still technical issues and the combat system could use more polish, but the general concept is applied so masterfully that one can hardly hide their enjoyment of this colonial era concoction of story, world design and RPG.
Review in Persian | Read full review
The Games Machine
8 / 10.0
GreedFall is a charming RPG with a beautiful setting and an engaging plot. It's a bit rough on the edges, but it represents the pinnacle of Spiders' productions so far, even if there's still room for improvement.
Review in Italian | Read full review
In some ways, Greedfall has the makings of a classic. It has all of the pieces of the puzzle, but there's just not enough of them or perhaps the puzzle just isn't complex enough.
Finally Spiders show their great quality with Greedfall. A remarkable Action-RPG full of content, which will give hours of fun to the genre. With an even bigger budget I could have aimed higher.
Review in Spanish | Read full review
Greedfall presents itself thanks to an interesting setting and a surprisingly well done story as probably the best game Spiders did so far. Repetitive tasks and the usual technical shortcomings reduce the experience strongly but if you can live with that you'll get a decent Dragon Age replacement
Review in German | Read full review
Generación Xbox
7.6 / 10.0
GreedFall is a highly recommended title for all those who are fans of RPG titles and enjoys a remarkable artistic section, managing to create a world of dark fantasy set in the era of imperialism.
Review in Spanish | Read full review
While occasionally caving under the weight of its ambition, Greedfall delivers a world worth exploring inhabited by characters and stories just as memorable.
GreedFall is the best game made by Spiders yet and a worthy RPG in its own right. While definitely not without faults in some areas, it delivers great writing, arguably the most refreshing setting seen recently in a fantasy game, and solid combat.The links above are affiliate links. As an Amazon Associate, Wccftech.com may earn from qualifying purchases.
GreedFall's writing is solid, and the player choice is fun to engage in, but the game needs polish and more meaningful action
There's a lot to like in GreedFall. It ticks many of the most important boxes an RPG should. It makes you care about the characters and the world, all while giving you a sense that you can actually impact those things.
Greedfall has an ambitious story, but it's not backed up by the clearly repeated environments, simple combat and dull abilities that take ages to unlock. Seasoned RPG players might well be able able to look past those flaws in favour of the interesting, well written stories about political manoeuvres and oppression that make up the bulk of the quests in this pretty dark, deep world.
Greedfall is not an RPG that is intended to play the leading roles of the genre. Limited as well by its technique, its fights and its relatively remote progression, although intriguing and therefore fascinating, the title still has a beautiful soul, shaped by its universe, its artistic direction, its writing, its themes, its music . So many attractive arguments that counterbalance its weaknesses, making Greedfall a game that can not be recommended to the greatest number but deserves attention to at least judge the effect of its charms.
Review in French | Read full review
While it's true that GreedFall has some serious problems with variety and bizarrely re-used assets, the story is great and the combat and game systems are quite good. Anyone willing to look past its problems and dig into the narrative will likely have a good time with it.
One of the most interesting video game settings of the year and while the game has numerous issues the strong combat and inventive quest design make it well worth persevering with.
Cultured Vultures
7 / 10.0
GreedFall has some of the most compelling characters and storylines so far this year. Unfortunately, they're buried by dated technology and a serious lack of polish.
GreedFall's engaging story and deep customization will satisfy those looking for a BioWare-style, action RPG fix.
Despite its flaws and a far from perfect technical experience, Greedfall is an intringuing action RPG set in a charming and unique setting.
Review in Italian | Read full review
So far, GreedFall is the best attempt of Spiders to make a remarkable RPG. But that does not mean the game is great. Sometimes Greedfall is good, but sometimes just average.
Review in Russian | Read full review
GreedFall is Spiders' best game by some distance, and it's impressive how far the developer has come in just a few short years. It successfully scratches that BioWare itch with an intriguing world, likeable characters, and rock solid gameplay. However, aside from its unique setting, nothing about GreedFall truly stands out.
Greedfall is held back by performance issues and a tendency to fill its space with tedious padding, but it's saved by fun combat and an intriguing story.
Spiders' latest game succeeds in lifting itself from the terrible mediocrity that enveloped The Techomancer, but it does so with an effort that, although commendable, is still not vigorous enough.
Review in Italian | Read full review
GreedFall's combat, dialogue, and romance are overshadowed by better RPGs, but it's competent enough to recommend with caveats.
GreedFall takes place in an amazing and intriguing world but fails to be interesting on the gameplay front.
Ultimately Greedfall is an OK game. It is neither good nor bad. It is however the best game Spiders have made to date, and that gives me hope that they do have a great game in them. I just hope they stop trying to emulate and instead try to innovate.
A traditional RPG, it would've been much better if it was shorter in length as you'll start to notice a repetitive pattern in monsters, buildings, regions, and characters as you're playing. Despite that, it was an enjoyable experience, a good fit for gamers who enjoy this type of games and can look past its shortcomings.
Review in Arabic | Read full review