Percentile Rank
Rebel Galaxy Outlaw is ranked in the 63rd percentile of games scored on OpenCritic.
Rating Summary
Based on 24 critic reviews
OpenCritic Rating
Based on 24 critic reviews
Score Distribution
Unscored Reviews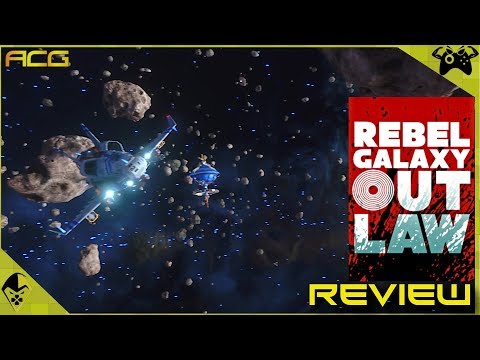 Though I adored all the little time-wasters in the game and flying through space, it just wouldn't be what it is without that carefully crafted country rock music in the background,
Rock, Paper, Shotgun
Unscored
Its entry into the cockpit-based, open-world, space-trucking genre puts this game in an arena with some heavy hitters, ambition-wise. Nevertheless, with a development team of five people and a price tag of only £24, it seems fair that it's less of a world to live in, and more one to visit for a while. And I'll certainly be coming back here – next time I want to pick a fight.
Scored Reviews
Chalgyr's Game Room
9.8 / 10.0
Double Damage Games has nailed it out of the park with the near-perfect evolution of Rebel Galaxy Outlaw. With its stunning graphics, detailed universe, and stellar gameplay, it is an upgrade in every sense of the word from the original Rebel Galaxy, but it has not lost touch with the core of the original title. Strong quests, side missions, customization options, and scope will firmly land RGO as the best space game of 2019.
Geeks Under Grace
9 / 10.0
Rebel Galaxy stands out in the space sim genre as a game that can be as easy or tough as you choose to make, and has a well thought-out world that is worth exploring.
With space combat that feels just like the 90s and some nice, new quality of life features, Rebel Galaxy Outlaw is the game your 14 your old self would've killed for.
I can't say enough good things about Rebel Galaxy Outlaw. It's a sucker punch aimed at all the bloated, morbidly obese space sims out on the market today. Yes, there's room for them, too. But Outlaw distills the '90s space-combat and trading sim into a great-looking, great-playing game for a new generation.
Rebel Galaxy Outlaw is a fun and addicting space combat game with an amazing soundtrack. However, controls can be really weird without a game controller and playing it for the first time is very daunting unless one watches a 40 minutes long introductory/tutorial video.
Rebel Galaxy Oulaw changes genres from its predecessor and manages to make a fun, compelling experience with a lot of customization options and an accessible way for nearly anyone to play.
Rebel Galaxy Outlaw does a great job of modernizing the spacefighter gameplay of classics like Wing Commander: Privateer and Freelancer.
Rebel Galaxy Outlaw is very much its own thing, taking the best parts of the prior game and putting it in a new perspective. It evokes Privateer and Freelancer vibes, with the look of X-Wing spectacularly. It's an accessible arcade game that has a lot of repetition in its loop, but that gameplay is really fun. There's so many secrets to discover, and places to explore, that even dozens upon dozens of hours I haven't seen it all. Rebel Galaxy Outlaw is one of better games I've played this year.
Rebel Galaxy Outlaw is one of the best space sims of recent memory, with a strong narrative, fast-paced combat, and amazing music with few stumbles.
Lose yourself amongst the stars in this excellent space combat and trading sim with a dry, southern drawl.
Rebel Galaxy Outlaw is a fun and full space western adventure that is waiting for all the space cowboys out there to run wild in it. The story and graphics aren't that great but the music and sheer amount of added feature compared to the previous entry more than makes up for it.
Review in Persian | Read full review
A lively space-western that sacrifices scale in favour of style.
Rebel Galaxy Outlaw brings a smaller scope and simplified controls to a sometimes intimidating genre, watering down the grandeur of spaceflight, but making it more fun and accessible at the same time. Its repetitive missions and sparse narrative weigh it down, but its fantastically engaging dogfights make it an easy recommendation.
Anyone who likes the idea of being a bounty hunter in space will enjoy their time with Rebel Galaxy Outlaw. Just don't expect the casino to blow you away.
Rebel Galaxy Outlaw is a fresh coat of paint on a genre on a tired genre, but while its fun enough to play, other games have already revolutionised what this games seeks to improve upon
Rebel Galaxy Outlaw is a great arcade space shooter with a lot of style. Unfortunately, it lacks a bit in substance, and expanding the various systems and lore would have taken it from a good game to a great game. However, Outlaw does fill a niche and is an excellent space arcade shooter.
Rebel Galaxy Outlaw successfully builds upon the first game by introducing an entirely new combat system. This change is a major step forward, and it shows that the developers are putting their resources towards bettering this series. Overall, the rich RPG mechanics mixed with classic space flight make for some deep and engaging gameplay.
For a game set in space, Rebel Galaxy Outlaw is rich in atmosphere. While some activities are a bit of a letdown, there's a lot of gratification in cashing in a hefty profit from a lengthy space-truckin' session.
For fans of space flight sims, this game is a beauty to play if only it could be handled with a controller.
For better or worse, Rebel Galaxy Outlaw is 2019's Wing Commander: Privateer. It has one of the most satisfying space combat of the last decade, but falls short on everything else.
Review in Portuguese | Read full review
Rebel Galaxy Outlaw manages to take plenty of familiar elements and whisk them together into a completely original package. The dusty trucker atmosphere combined with the sharp and agile dogfighting gameplay kept me engaged for hours, although the back-tracking and cash grinding wore me out before too long. Even with those issues, there's something special about the aesthetic of Rebel Galaxy Outlaw that demands the attention of anyone looking for some good, dirty spaceship action.