For fans of space flight sims, this game is a beauty to play if only it could be handled with a controller.
A lively space-western that sacrifices scale in favour of style.
For a game set in space, Rebel Galaxy Outlaw is rich in atmosphere. While some activities are a bit of a letdown, there's a lot of gratification in cashing in a hefty profit from a lengthy space-truckin' session.
Rebel Galaxy Outlaw brings a smaller scope and simplified controls to a sometimes intimidating genre, watering down the grandeur of spaceflight, but making it more fun and accessible at the same time. Its repetitive missions and sparse narrative weigh it down, but its fantastically engaging dogfights make it an easy recommendation.
Rebel Galaxy Outlaw does a great job of modernizing the spacefighter gameplay of classics like Wing Commander: Privateer and Freelancer.
Lose yourself amongst the stars in this excellent space combat and trading sim with a dry, southern drawl.
Rebel Galaxy Outlaw is a great arcade space shooter with a lot of style. Unfortunately, it lacks a bit in substance, and expanding the various systems and lore would have taken it from a good game to a great game. However, Outlaw does fill a niche and is an excellent space arcade shooter.
Its entry into the cockpit-based, open-world, space-trucking genre puts this game in an arena with some heavy hitters, ambition-wise. Nevertheless, with a development team of five people and a price tag of only £24, it seems fair that it's less of a world to live in, and more one to visit for a while. And I'll certainly be coming back here – next time I want to pick a fight.
I can't say enough good things about Rebel Galaxy Outlaw. It's a sucker punch aimed at all the bloated, morbidly obese space sims out on the market today. Yes, there's room for them, too. But Outlaw distills the '90s space-combat and trading sim into a great-looking, great-playing game for a new generation.
Rebel Galaxy Outlaw is a fresh coat of paint on a genre on a tired genre, but while its fun enough to play, other games have already revolutionised what this games seeks to improve upon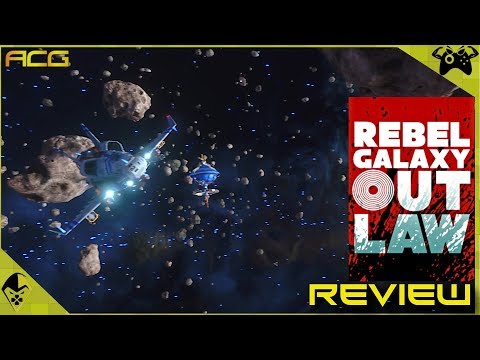 Rebel Galaxy Oulaw changes genres from its predecessor and manages to make a fun, compelling experience with a lot of customization options and an accessible way for nearly anyone to play.
Rebel Galaxy Outlaw is one of the best space sims of recent memory, with a strong narrative, fast-paced combat, and amazing music with few stumbles.
Anyone who likes the idea of being a bounty hunter in space will enjoy their time with Rebel Galaxy Outlaw. Just don't expect the casino to blow you away.
Rebel Galaxy Outlaw is a fun and full space western adventure that is waiting for all the space cowboys out there to run wild in it. The story and graphics aren't that great but the music and sheer amount of added feature compared to the previous entry more than makes up for it.
Review in Persian | Read full review
Rebel Galaxy Outlaw is very much its own thing, taking the best parts of the prior game and putting it in a new perspective. It evokes Privateer and Freelancer vibes, with the look of X-Wing spectacularly. It's an accessible arcade game that has a lot of repetition in its loop, but that gameplay is really fun. There's so many secrets to discover, and places to explore, that even dozens upon dozens of hours I haven't seen it all. Rebel Galaxy Outlaw is one of better games I've played this year.