Percentile Rank
Blair Witch is ranked in the 41st percentile of games scored on OpenCritic.
Rating Summary
Based on 70 critic reviews
OpenCritic Rating
Based on 70 critic reviews
Score Distribution
Unscored Reviews
Eurogamer
No Recommendation / Blank
No Recommendation / Blank
Aug 30, 2019
Though its lack of polish, pacing problems, and predictable story make it difficult to recommend unreservedly, Blair Witch is nonetheless packed with a number of successful scares and memorable set-pieces that draw admirably on the franchise's lore - and oh, do I love that dog.
Rock, Paper, Shotgun
Unscored
Blair Witch is lumbering and predictable, as horror often is, and the rattling moments come mostly from jumpscares. The rest is a tepid sort of horror.
The stakes are high in Blair Witch, as these woods aren't known to take prisoners. But with two characters at the heart of this game, I only really care about one of them coming home alive.
As horror games go, it's definitely one of the most well put together this year. Frankly, Blair Witch fans couldn't ask for a better 20 Year Anniversary Gift. If you have GamePass, you absolutely must check this out. Even though it can be finished in a few hours, unlike other horror games, this one will actually give you something to think about.
Scored Reviews
In the end, I'm confident in the following claim: Bloober Team's Blair Witch is the best entry in the franchise since the original The Blair Witch Project. I very much look forward to jumping back in to find everything that I might have missed and to try and unlock another ending.
Bloober Team's Blair Witch game sequel to 1999's The Blair Witch Project introduces an inventive combination of gameplay mechanics and a spooky story.
In all, Bloober Team has done a great job of capturing the feel and ethos of the film series.
Blair Witch nails the feeling of the original movie, producing the same paranoia and terror as many felt in the cinemas back in 1999. An essential experience for any horror fan.
Blair Witch is a harrowing walk in the woods that deserves a spot in the horror game pantheon alongside Amnesia, Silent Hill, and their like.
There are many games of psychological terror out there, but very few tend to push us to the limit with their premise.
Review in Spanish | Read full review
Blast Away the Game Review
8.5 / 10.0
Bloober Team has once again delivered, giving us one of the strongest games in the genre, and one that could have very well been the inspiration for an upcoming film. While frame rate hiccups, moments where Bullet's hard to follow, and story moments that make you scratch your head, Blair Witch is fantastic and easily one of my favorite games within the horror-survival genre.
Blair Witch is an instant classic in terms of a horror game. It pulls off tension-building, forces the player to creep themselves out and does it all with a minimum of jump scares. The story alone is a reason to play. If you're brave enough.
Bloober Team makes an honorable tribute to the mythology of Blair Witch, not only by recreating its atmosphere and distinctive elements, but by building an intense and significant experience.
Review in Spanish | Read full review
Absorbing and frightful story in the woods based on the cinematic lore of Blair Witch.
Review in Slovak | Read full review
After playing this I've decided that I'm not a fan of scary games. If you are, boy do you have a treat here?!
Its mechanics, setting and artistic design come together when offering a title that tries to generate fear in the player, respecting his intelligence and avoiding falling into the most manic topics of the genre.
Review in Spanish | Read full review
Blair Witch adds another layer of fear to its enticing lore and is yet another horror hit of 2019 for Bloober Team
Blair Witch is one of the most unexpected games in genre, which perfectly combines oppressive atmosphere, interesting characters, multi-dimensional plot and beautiful graphics on the PC. If you were looking for the best horror of the year after Resident Evil 2, then you found it.
Review in Russian | Read full review
I found Blair Witch to be one of the most stunning and scary games that I've played in a while, with the bonus of hanging out with Bullet. The thing I appreciated is that Blair Witch relies on creating an utterly creepy atmosphere instead of only relying on jumpscares, which there are plenty of.
The problems that I brought up prevent Blair Witch from being truly excellent, but Bullet's glitchy moments and the performance issues are things that the developer can hopefully improve with an update, making a great game even better. Even as it is, though, I still highly recommend Blair Witch if you're a fan of horror titles.
With "Blair Witch" the developer studio Bloober Team has succeeded in creating a solid horror title, which offers good story technical approaches, but can't fully exploit its potential. Even though the atmospheric sound and the use of dark colors completely convey the feeling of disorientation, the game lacks captivating gameplay mechanics. The interaction with the animal companion as well as the use of flashlight and cam fits perfectly to the setting - but the very generic puzzles quickly cause boredom. And even if the first minutes of the game guarantee a real goose bump feeling, you'll be sobered when you notice that the eponymous Blair witch doesn't really make a big entrance in "Blair Witch". Fans of atmospheric horror games can get their own picture of the Black Hills Forest - but you shouldn't hope for the big scary scenes.
Review in German | Read full review
Lionsgate was wise to let Bloober Team loose with its Blair Witch IP. It has treated it with respect, delivering a game that truly does justice to the source material.
Blair Witch goes beyond being a cheap movie game by delivering a thoughtful character and unique game mechanics, making this a solid horror game worth remembering.
Despite some shortcomings, Blair Witch is an outstanding horror game with great atmosphere, puzzles, and story.
Review in Chinese | Read full review
The Blair Witch franchise has never been able to capture the magic of the original movie in the years since, but this may be the closest attempt yet thanks to the effective use of the a psychological focused story and gameplay that feels fairly fresh within the horror genre.
Despite being rough around the edges, Blair Witch is a survival horror delight that will no doubt enrapture fans of the long-running franchise. It stays faithful to what makes the mythos so enticing, while pushing it into some unpredictable new directions.
Blair Witch is, undoubtedly, a very good horror with an enjoyable, albeit a little predictable story, great atmosphere and more involving gameplay, which all take full advantage of the license. Despite some issues here and there, like the excessive linearity, little replay value and technical issues, the game is definitely among the best titles created by Bloober Team. Recommended to all horror games fans
Electric Bento
7.6 / 10.0
Blair Witch may not be the scariest title out there, but what it lacks in horror it makes up for with tension, and an adorable dog that reaffirms the phrase "man's best friend
Blair Witch is the best Blair Witch game yet. However, its willingness to get you lost can be frustrating despite being so authentic to the franchise. Regardless, despite some uneven presentation, Blair Witch is a passionate love letter to the first and third films in the franchise. It manages to maintain its scares from beginning to end, even if it becomes a little predictable.
The Blair Witch Project fans and horror game fans alike will find lots to enjoy here.
Blair Witch manages to offer a gameplay that has reached its limits by propping it up with an intriguing storyline, a good dose of atmosphere and a couple of interesting mechanics. However, it tends to overdo in the end and, above all, he needs a little more technical cleaning.
Review in Italian | Read full review
Blair Witch is a polarizing game. On one hand, Bloober Team does a fantastic job crafting an atmospheric and often frightening adventure. On the other hand, the game includes random glitches that require restarting the game to resolve. Making the only thing holding Blair Witch back is the preventable technical issues.
If you are looking for grim atmosphere and slow-paced gameplay, then Blair Witch is definitely for you.
Review in Russian | Read full review
Bloober Team definitely know their onions. Blair Witch introduces some minor tweaks to a tried and well-known formula, but there's no trace of true revolution. This horror is fun and scary, but there's also much room for improvement. It's a solid game that makes the future really exciting for the team and their fans.
Review in Polish | Read full review
Blair Witch is a creepy, tense expansion on the mythos established by the films and while it does capture the general aesthetic of the movie does stumble in trying to replicate that which made the franchise so well-regarded to this day
Managing to make the forest seem oppressive and claustrophobic, Blair Witch is adept at creating a tense and foreboding atmosphere, while weaving a compelling narrative that still proves exciting, even if you've sussed out the final twist hours before the end. You'll never look at trees the same way again
Undoubtedly the best thing to happen to the Blair Witch since the 1999 film.
The Games Machine
7.2 / 10.0
Blair Witch tries to do its job but can't keep the player's attention high throughout the entire experience. Despite all that, Bloober Team put some interesting new mechanics on the plate, but the inspiration seems to get lost at the same rhythm with which Ellis's past tries to emerge.
Review in Italian | Read full review
The sights and sounds of the forest keep you unsettled, Ellis' flashbacks and conversations slowly unravel his past, puzzling and combat is nicely interspersed with exploration, and Bullet is one of my new favourite animal companions in a video game.
If you don't mind a quite predictable story and a few flaws, you'll find in Blair Witch a very effective way to spend your evenings in total fear with a lovely dog and some good game mechanics to help you.
Review in French | Read full review
Blair Witch is a horror game with some good ideas poorly executed such as the use of a video camera to change environments or the relationship between the main character and his dog.
Review in Spanish | Read full review
Blair Witch makes a valiant effort to revive the franchise, and while it won't generate the hype of the 1999 film, it's a worthwhile horror title despite some flaws discussed above.
Blair Witch certainly has its shortcomings, but it's easily the best thing to happen to the franchise since the original Blair Witch Project movie.
Blair Witch does a good job capturing the sensation of getting lost – something I actively try to avoid. A memorable final act partially redeems the tedium of getting to that point
Blair Witch might just become one of the most satisfying psychological horror experiences on consoles. Despite the protagonist's weak story, the context and sound design in the game turn into a unique experience.
Review in Spanish | Read full review
Blair Witch is impressive and cleverly designed in many ways. Although there are answers to the abundant amount of questions that start to stir up over the course of the game, the end result still leaves many of those to be unanswered. The visual and sound fidelity provides an excellent foundation to the story that is being told. For psychological horror fans, it will scratch that much-needed itch.
Blair Witch is great at building tension and letting you get lost in its unforgiving forest, but sometimes it takes that too literally. It mostly overcomes that, however, thanks to your magic camcorder and superb pooch.
If you're in the market for a short adventure to tide you over for an evening or two ahead of September's big releases and its atmospheric premise intrigues you, go right ahead. However, if you're looking for the next smash-hit horror title, you're best going elsewhere.
Blair Witch brings the horror, but several gameplay and visual bugs drag down an otherwise scary walk through the woods.
Bloober Team tries to mix successful elements from titles like Alan Wake and Outlast, and use the atmosphere and theme from The Blair Witch Project to create a different horror game. But the result is not as good as expected, as the game starts to get boring soon and has no true identity, with the opportunity to roam the Burkittsvills forest being the only salvage point.
Review in Persian | Read full review
What remains is still a game with a good atmosphere, which perfectly embodies - at least in the first part - the spirit of cinematographic films, also thanks to some clever and exquisite workmanship.
Review in Italian | Read full review
Interesting on paper, but lacks tension and is full of technical and gameplay issues and repetitive tasks. Blair Witch is full of unmet potential that doesn't stack up to the reputation of Bloober Team.
Review in Czech | Read full review
There's a lot of things to like about Blair Witch, from the way it invokes the imagery of the original film, to some inventive camcorder puzzles and intriguing depictions of trauma, but most of these aspects aren't given the time to really develop. There's the skeleton of a really good horror-based walking sim here, and while it's still worth checking out for horror fans, it feels more like a first episode of a series rather than a standalone game. A missed opportunity; all Woody and no real Buzz.
Blair Witch is a great entry into the genre. Fans of horror games, with a heavy focus on narrative and walking, will find plenty of scares and edge-of-your-seat moments. However, those looking to dive deeper into the narrative of Blair Witch may come away a little disappointed.
Technical troubles and predictability hurt what is otherwise a heart-pumping horror with a story worth uncovering
An uneven mix of tense psychological drama and buggy, half-broken gameplay mechanics but the end result is still one of the better movie tie-ins of recent years.
Most importantly, despite a few good scares, in general Blair Witch isn't really scary enough. It has really good storytelling moments and buckets of atmosphere, but we were ultimately left disappointed. It's better than the 2000 Blair Witch games, at least.
It's a shame the pacing does such a number on Blair Witch. It deals with some heady topics like PTSD, mental illness, and police shootings. Instead of hitting you hard and fast and hooking you, it lets your attention fade in between major plot points. Furthermore, it doesn't use the Blair Witch lore to effect.
An interesting horror game that never manages to escape the shadow of its '90s inspiration.
Blair Witch is more of an exercise in tedium than it is an immersive atmospheric horror experience.
Blair Witch too often lets trivial combat and simple puzzles get in the way of an engrossing and unsettling setting that captures the true spirit of the original film.
Bloober Team's misfire takes interesting liberties with the source material but often forgets the terror at the heart of it.
It is Bloober Team's least scary, least interesting game. There needs to be more to Blair Witch.
Blair Witch fails to impress at every turn. The story is interesting but unfulfilling, the environment is dull, and the creatures are boring. Worst of all, everything you do is very repetitive. I love horror games but the only thing scary about Blair Witch is how boring it is.
The Angry Joe Show
4 / 10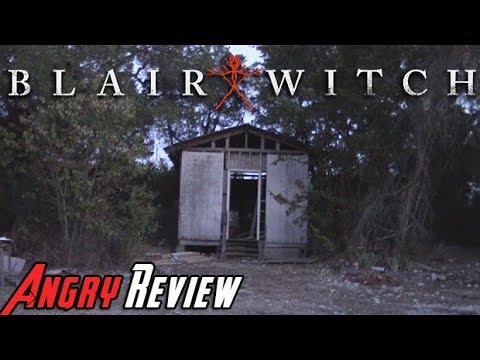 Believe me when I say Terminal Reality's three-volume Blair Witch series is a better use of your time. Or better yet, watch the original found footage classic The Blair Witch Project if you haven't already seen it. It may be hokey, but it's culturally significant – and you may actually walk away a bit shaken.
Not only does the game cheapen the idea that a dog is man's best friend, it also falls apart like a cheap chew toy.
New Game Network
40 / 100
Blair Witch, much like the rest of the franchise, is a disappointment. It's not scary, it's rarely interesting and it's not particularly fun to play. It has a solid look, but is lacking in just about every other department. I say this begrudgingly, but you're better off watching the films.
Bloober Team has made a name for itself with psychological scares, but every attempt to replicate past successes with Blair Witch is lost faster than a trio of amateur filmmakers.