Percentile Rank
LA Cops is ranked in the 6th percentile of games scored on OpenCritic.
Rating Summary
Based on 30 critic reviews
OpenCritic Rating
Based on 30 critic reviews
Score Distribution
Unscored Reviews
Eurogamer
No Recommendation / Blank
No Recommendation / Blank
Mar 8, 2015
It certainly doesn't help that the debt to the superb Hotline Miami is so obvious. As I wrestled with the gluey movement and bizarre AI to find the fun in LA Cops, I was painfully aware that I could be having that fun already, in a more stylish and polished form, just by scrolling up my Steam library. As Omar so wisely said in The Wire, you come at the king you best not miss. LA Cops shoots way too wide of the target.
TotalBiscuit, The Cynical Brit
Unscored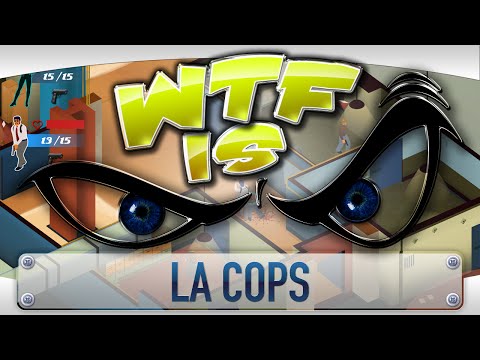 LA Cops has the feel of a casual game that you can blast through quickly and give your achievement score a quick boost. In some ways, it is a little frustrating as you feel that with a little more fine tuning and the inclusion of multiplayer it could have been a great, fun, little game, but as it is, it falls a little short of that.
Scored Reviews
LA Cops is an action-packed shooter which throws the player into the world of a 70's Cop Show. Fast paced gameplay, unique use of two characters and a catchy soundtrack make this shooter a joy to play. Small problems arise with the aiming system and story but overall the game is brilliant. Fans of Hotline Miami should check this out.
A good little shooter that could have been great, L.A Cops is like a nicer version of Hotline Miami that's a bit on the blander side.
Digital Chumps
6.6 / 10.0
While the gameplay is similar to Hotline Miami, there are some positive differences that help make L.A. Cops interesting. It adds a few unique gameplay elements, such as isometric camera movement, but the game lacks in categories like speed, strong personality and a compelling narrative to drive it above a game like Hotline Miami.
LA Cops is a neat diversion with some fantastic style. I had a blast in the short time I played it, but feel like it grows stale far too fast. This is the perfect game to snag during a sale, it is fun for the time it lasts, I just wish there was more to come back to once the raiding was over.
LA Cops is a neat game of cops and criminals that's just too short-lived and lacking. The 70s style is a nice touch and the partner dynamic adds a strategic bent (even if we did mostly just use the second cop as an extra life) to what is otherwise a fairly sterile twin-stick shooter. It's not quite our bag of donuts.
All things considered, LA Cops is a decent addition to the sub-genre but one that falls short of its initial promise. With more sophisticated AI and a comprehensive partner system in place, this could've been a worthy stablemate for its East Coast cousin. As it stands, it's hard to recommend LA Cops when you can pick up the next slice of Hotline Miami's gory abstraction at a similar price point.
From the vibrant visuals and the pitch perfect 70s cop theme to the fast and snappy buddy cop action, LA Cops has a lot of great ideas, but hasn't really done enough with them. The partner system in particular could have been something unique and special, evocative of classic buddy cop films and TV series, but in the end, I was just gunning down enemies with my backup around the corner.
It's a fun isometric shooter, if you can forgive the stifling controls. The game doesn't last long, and there's no major incentive for you to go back to replay a level.
LA Cops has some cool ideas, but the frustratingly shoddy execution works completely at odds with the experience the game is trying to create.
Ultimately, LA Cops is a decent, short run through a cop-themed shooter that doesn't do enough to really impress.
L.A. Cops isn't a bad idea in itself, as it takes the concept of Hotline Miami and turns it on its head, making you the law instead of the law-breaker. However, its execution is flawed almost every step of the way, between iffy gameplay decisions, a lackluster presentation and having to work to unlock the awesome stuff, instead of just giving it to you right away. If you have to be the ultimate police officer, stick with Hardline instead.
PlayStation LifeStyle
5 / 10.0
So, if you're fan of Hotline Miami, and are looking for something that puts a few twists on its gameplay, even if it doesn't quite succeed, you may find LA Cops to be worth checking out on sale. But, if you are looking for a game that is polished, with a narrative to tie it together, than you should probably leave this one behind bars.
Regardless of it all, levels are still replayable, and at a price of 15 bucks, LA Cops is a bargain deal. Taking that bargain is a subject in its own, but at least you know your partner will not run out on you… or with you… or at all for that matter…
Despite exhibiting cool charm and unique aesthetics, LA Cops is ultimately a bland twin-stick shooter that does the bare minimum in gameplay and design. The execution of the mechanics and the AI is inconsistent and seriously dampens the gameplay.
Definitely more bad cop than good cop, but LA Cops could at least be a fair cop, guv, if given a bit of post-release polish.
L.A. Cops is a sloppy game. The controls lack finesse in almost all areas, and the shooting is randomized enough to feel unsatisfying. The AI is a joke on both sides, so the strategic aspect of the game is a moot point. The theme feels wasted, and the graphical flourishes that were intended to make the game feel lively end up being distracting instead. The sound is the only saving grace, and even then, you may tire of it due to the amount of times you'll need to replay levels — and not by choice. Unless it receives an influx of patches to fix a bevy of issues, there's little reason to check out this title.
LA Cops has inoffensive intentions, but its execution is as flawed as its characters' fashion sense. The pleasant presentation represents the still-edible icing on this otherwise stale, circular snack – but glaring design issues have left us close to dialling 911.
Overall L.A Cops is okay, if you don't go in with high expectations. And there's potential in the mix for the developers to patch things up and provide more consistent experience. Even with those requisite patches the game will be limited, but then at $15 it's not asking you to bankrupt yourself to try it out.
Ultimately though, LA Cops is a very mediocre experience. The 1970s theme is largely unexplored, the story is almost non-existent and its gameplay is flawed in a number of ways. While the targeting system does have potential and we enjoyed progressing through the upgrade tree, they're not enough to save this game from utter mediocrity. There is some fun to be had in LA Cops, but its repetitive nature, frustrating AI and tedious gameplay means it will be very short-lived.
If you have $15 burning a hole in your pocket there are plenty of better ways to spend it than wasting it on LA Cops. You might dig the groovy aesthetic for a short while but inevitably you'll walk away either bored or frustrated. Maybe just keep in mind you can get the original Hotline Miami for even less and have a lot more fun.
LA Cops is an offensive and shitty video game, which does itself injustices by mixing terrible writing with bad and incredibly frustrating gameplay.
LA Cops is a promising theme with enjoyable aesthetics, but it's all hindered by a buddy cop system that doesn't work. The gameplay is annoying to the point where you often feel cheated.
While there was clear opportunity in the buddy cop formula LA Cops attempted to create, the end result is a mess. Totally undermined by poor teammate AI, the central strategic hook is lost, resulting in a bland game confused about what it wants the player to do.
Was it pure luck that Rockstar's The Warriors came out exceptional ,or is the era just cursed due to it also being the decade when the video game crash occurred? Best to just ignore LA Cops and hope that it turns in its badge.
I'm pretty convinced LA Cops committed police brutality on me after I had to sit through its broken stealth, non-functional lock-on, useless partner AI, terrible level design, and stats that didn't do anything.