Percentile Rank
Metal Gear Solid V: Ground Zeroes is ranked in the 63rd percentile of games scored on OpenCritic.
Rating Summary
Based on 80 critic reviews
OpenCritic Rating
Based on 80 critic reviews
Score Distribution
Unscored Reviews
[I]t's a demo, boxed up and sold as a stand-alone game. You'll have to decide what that's worth to you.
A brief but well-crafted game that rewards creative play in surprising ways. It's good to see Snake again.
It is just a polished spy game that has something to say, but not too much and not for too long. It speaks well. But for those of us who spent years tuning ours ear to Metal Gear's strange language, this is the first small sign that it might soon be time to throw all that work away.
Rock, Paper, Shotgun
Unscored
[I]f you like games about getting better, where you're mastering deep systems and having your skills progressively tested, then Ground Zeroes is the best 50-hour demo you'll ever play.
In many ways, Metal Gear Solid V: Ground Zeroes is the biggest and most confident game Kojima has ever made, but you can't escape the fact that while it's certainly an immaculate world that has been created, it's just a small fragment of something much larger we've yet to explore. After the conclusion of the anticlimactic denouement, one that leaves plot threads dangling limply with no immediate resolution in sight, Ground Zeroes comes off like a particularly generous and expensive demo. While we're first in line for the final product, as it definitely impresses, this shouldn't be considered as anything less than a substantial and mouthwatering tease of a game that promises to be something very special.
As a prologue to The Phantom Pain, Metal Gear Solid V: Ground Zeroes is disappointing. But a demo it is not, and taken on its own, there is plenty here to enjoy.
Scored Reviews
It is surprising, and not a little depressing, that all people want to talk about with this game is the running time.
It's a game that understands everything about itself and how it works. It's the best stealth game ever made and feels like a game-changer for the medium as a whole - through its scope, the freedom it offers its players, and its deft structure. Metal Gear Solid 5: The Phantom Pain is the apex of the series and a fitting way for Kojima et al to bow out: as one, as best, as Big Boss.
Ground Zeroes is a short, but perfectly formed, experience. With outstanding graphics, a fully immersive playground and new features, Ground Zeroes still very much feels like classic Metal Gear Solid, but the new Fox Engine, particularly accompanied with next-gen technologies, brings it off the rails and gives the classic franchise the scope and settings for an even more incredible experience. Snake is back!
Digital Chumps
9.2 / 10.0
Metal Gear Solid V: Ground Zeroes is a small appetizer for what could be one of the greatest meals on this generation of consoles. It's true the initial mission in the game is short, but the extra content, missions, items and a first-look at the visuals more than makes the $29.99 price tag worth it. Definitely don't miss this.
Metal Gear Solid V: Ground Zeroes is clearly an appetizer for die-hard fans who want to take on the role of Snake before the release of "The Phantom Pain". Those who are willing to explore the additional side missions in advance, apart from the short main story, will get a nice game package with Ground Zeroes, with which you can have many hours of fun. Newcomers prefer to wait for the main game.
Review in German | Read full review
Ground Zeroes is an interesting game to score. The way that it has been presented is to show off the features of the FOX Engine, and each mission is clearly designed to showcase some new gimmick or other. And yet, it doesn't feel like a demo. Although I do feel the main mission is too short, it feels like a stand-alone experience that will connect to something much greater in the future. My only gripes with Ground Zeroes, a prequel, is its length, so you can only imagine the game changer The Phantom Pain will be.
Ground Zeroes is excellent, it really is. Not only is it one of the best-looking games ever made, there is simply nothing I would change about the gameplay at all. It's an appetiser that has me drooling for the main course, and that means it has done its job. If you can overlook the price tag and the fact that there's DLC out there for other games that provides more bang for your buck, then this is absolutely worth picking up.
So here we have a glorified prologue which showcases the new generation with aplomb and makes the mouth water at what Kojima Productions can do over the course of a full game. You'll revel in the backstory provided and audio logs littered throughout if you're a Metal Gear aficionado and you'll just about get what's happening in this mission at least if you're not. Either way when playing it all out you'll find a wonderful bag of tricks that doesn't bore a great many hours after first reaching the closing cutscene and its unsurprising lack of closure (it is a prologue/prequel after all). After all of this you'll still be salivating. If this truly is a sign of things to come, then we might just get that perfect score.
A deep, entertaining stealth sandbox with endless scope for mastery. You kept us waiting, Kojima, but it was worth it.
Metal Gear Solid V: Ground Zeroes is the prologue to The Phantom Pain. Quite frankly this short but sweet sampled taste of a sure-fire masterpiece is an amazing demonstration of what's to come.
PlayStation Universe
8.5 / 10.0
Ground Zeroes is a great slice of stealth-action gaming, filled with heaps of content and strategic value -- even if it isn't quite the epic adventure some had hoped for.
The greatest achievement in Ground Zeroes is how bold it feels. There's so much new, and none of it obfuscates what originally made Metal Gear Solid special. There's still thrilling stealth and an attention to detail that's rarely seen, but all of it is smarter and streamlined. Ground Zeroes may only be a taste of what's to come, but it looks like Metal Gear is heading in the right direction.
As Metal Gear Solid V: Ground Zeroes is considered to be a prologue, the game only takes about 20 minutes to complete, bringing out what we should expect in the upcoming The Phantom Pain. With the Big Boss story arc in place once again, we will inevitably know how the Patriots are built.
Metal Gear Solid V: Ground Zeroes is the perfect opening for a much richer experience that Phantom Pain promises to offer. Ground Zeroes is intense, philosophical, dark, brutal, but full of hope at the same time.
Metal Gear Solid V: Ground Zeroes is a highly accomplished, technically impressive introduction to a brave new world. Even the most legendary franchises have to adapt and assimilate eventually, and Ground Zeroes is an example of a long-running, established IP embracing new technology and trends while still retaining its core. The story's construction is a little concerning, the length will be a definite issue for some, and I have to say, the AI could use some tweaking.
Metal Gear Solid V: Ground Zeroes is not for everyone. I can't stress how underwhelming the game will be if you aren't a huge fan of the series, or you can't see yourself playing in the same sandbox enough to really get your money's worth. But for everyone else that can't wait to get even a taste of Phantom Pain, it's worth the budget price of entry -- especially on a current-gen console.
Aside from some skinned knees earned by stumbles through the story, Metal Gear Solid V: Ground Zeroes is a great starting point for this generation's big Metal Gear Solid experience. I'm more excited than I might've been otherwise for The Phantom Pain. With that in mind, it would be a lie if I didn't say that The Phantom Pain, appropriately named in this case, haunts every corner of this game. Everything feels like a taste of what is to come. Call it a demo or a prologue, it isn't a full game.
At full disclosure, my score fully reflects my willingness to dive deeper into the game, and also the fact that I'm genuinely into the Metal Gear franchise. For me, the short mission time wasn't completely awful. If anything, Ground Zeroes helped me build excitement for what's to come.
Metal Gear Solid V: Ground Zeroes is a nice bite-sized piece of content that will help players get a good grasp on what to expect when The Phantom Pain is released sometime next year. It retains the stealth features hardcore fans have come to enjoy, while at the same time implementing various modern mechanics that will appeal to an even greater audience.
Although its overall run time is brief, Metal Gear Solid V: Ground Zeroes is well made, addictive and thoroughly entertaining. It may not be Metal Gear Solid V: The Phantom Pain, but it does a good job of lessening our anxiety as we wait for that full-length sequel to drop.
I think that Hideo Kojima and team have something truly special in store for us when The Phantom Pain is finally released and Ground Zeroes is just a sampling of this.
Metal Gear Solid V: Ground Zeroes may be short, but it sure is sweet. There is a technical achievement in Ground Zeroes that some mainstream games could only wish they could accomplish such freedom in their design. The cost of entry might be high, but what you get to witness is a game by Kojima that is tailored towards a pure gameplay experience, rather than a mash of movie meets video game.
This is just a streamlined version of what fans have encountered in the past, and it's hard to say whether these features will continue in the upcoming Phantom Pain or not.
Metal Gear Solid: Ground Zeroes offers a promising taste of freedom, but there's not much meat to feast on here.
Once again, Metal Gear Solid has shown that as a series, it's a master of stealth action in a small, yet extremely well crafted experience that you will enjoy and play multiple times, right up until the release of Phantom Pain.
Ground Zeroes makes up for its initial brevity with plentiful side content, a gorgeous look, and the most dynamic, satisfying stealth gameplay Metal Gear has seen in some time.
Metal Gear Solid: Ground Zeroes is a short, but mechanically very sound, sandbox stealth appetiser for The Phantom Pain. Just be aware that its value is in experimentation and replaying scenarios, rather than lasting narrative.
If you're a Metal Gear Solid fan looking for your next hit, or someone who loves soaking up everything a title has to offer, then absolutely. It's a wonderfully crafted experience that looks and sounds fantastic. There's been a lot of love given to this "demo" in ensuring it feels right at home next to the others in the franchise.
Metal Gear Solid V: Ground Zeroes is a good value for the $20 entry-level fee, provided you are willing to explore every nook and cranny of the environment and all of the possible ways of playing.
While short, a Metal Gear game has never looked or played as good as Ground Zeroes. Bring on The Phantom Pain.
While it looks like one, Metal Gear Solid V: Ground Zeroes is not a demo. It could - and should - be cheaper, but that can't erase the fact that this is a product of a very high-quality and depth.
As a testament to what can be done for the Metal Gear Solid series, Ground Zeroes is mouthwatering. The new Fox Engine holds up well, looking staggeringly good at times even on the Xbox 360 version. We know that The Phantom Pain is going to be many times bigger than this, so in a way it feels like a shame that this is such as slender portion of what is sure to be a fantastic fifth outing for the series. Ultimately though, it plays great and it's a fantastic game, marred by a lack of content that will leave some players understandably feeling short-changed. Some people will be quick to blurt out to them that they're playing it wrong, but I think that misses the point. We all approach games in different ways and for different reasons, and for some this will be an offensively abrupt experience, while others will burrow deep and try to uncover all of Camp Omega's secrets.
The game is a great sampling of what to expect from Phantom Pain, but there is enough content to make Ground Zeroes more than just a sampling. You will find yourself replaying missions over and over.
New Game Network
80 / 100
A bold and inventive new take on Metal Gear Solid that placates rather than fills the appetite. As billed, Ground Zeroes is merely a prologue to the true sequel, The Phantom Pain. Enjoyment will rely on expectations and on how invested you are in the overarching story of the various Snakes.
It is light on story, heavy on action and stealth, but redeems itself with a fantastic ending and backstory-filled cassette tapes. Yes, cassette tapes. It is 1975, after all.
Metal Gear Solid V: Ground Zeroes has a brief narrative, but its short length is bolstered by flexible side missions and exceptional replayability.
Metal Gear Solid V: Ground Zeroes is an excellent first taste of the gameplay we can expect in the upcoming Phantom Pain. It's well designed, well tuned, and a lot of fun to play, but the general game design and lack of content make it feel like an extended demo rather than a full game. Viewed from that perspective, the $30 price tag is really steep. Die-hard Metal Gear fans and those who've replayed the games over and over to achieve Big Boss rankings will probably get their money's worth. Everyone else would be better off waiting for an inevitable sale. There's just not enough here for the average player to get his $30 worth.
Metal Gear Solid V: Ground Zeroes is developed purely for the fans. It won't bring in any new audiences but it wasn't meant to in the first place. It features a decent amount of content which will make the wait less taxing for The Phantom Pain.
Metal Gear Solid V: Ground Zeroes delivers a solid package for fans of the series. While the main mission's brevity may turn off some, I compare it to when I was younger and telling myself I would pay half the price to get to play games early.
The Game Fanatics
7.4 / 10.0
Metal Gear Solid V: Ground Zeroes is a very impressive prologue to The Phantom Pain. It's short, but it makes up for it with a shocking ending, beautiful graphics, polished gameplay and lots of replay value.
Metal Gear Solid V Ground Zeroes is a good game and it's great to see this franchise on both the next-gen consoles. Given the lack of substance in the main campaign, this may deter quite a few players but thankfully the price is a lot lower than most other games on this system. Given that, I'm a little mixed about this game because on one hand, it's Metal Gear Solid but on the other, it's a little clunky and very short, even if you complete all the side quests.
Though its brevity's become it's biggest talking point, there's much more to Ground Zeroes than meets the eye. Beyond that it's accessible, featuring the most fluid stealth the series has shown - and delivers a promising glimpse at the future of Metal Gear Solid.
PlayStation LifeStyle
7 / 10.0
On the one hand, it may not seem fair to judge a game based upon its price. Prices can change, price drops and sales can occur, so a final score shouldn't be affected but what the retail value is. On the other, the value obtained by the purchaser is important, and if a game isn't delivering enough value for the player, they have a right to know. Metal Gear Solid V: Ground Zeroes is a piece of something great but it always felt short of something whole. Kojima released this to tease and whet the appetites of the Metal Gear fans that were begging for more. If you fall into that camp, then you have probably already have your mind made up. For anyone who has never played a Metal Gear game however, I can't recommend that this be your first foray down the nanomachine-filled rabbit hole.
Metal Gear Solid V: Ground Zeroes is a perfect port of the console version. Don't expect a full-blown campaign, however. This is merely the exciting prologue to the upcoming main event.
Ground Zeroes is a stealthy sandbox, a playground that lets us get used to and experiment with the slick new Metal Gear mechanics. Its weak storyline and fleeting length are disappointing, but impressive replay value, extra content and undeniable quality will make The Phantom Pain's prologue worth the price of admission for many gamers.
A brief but entertaining prologue that is marred by the question of value for money and an empty story that has no resolution unless you buy the next game.
The content is too thin to be satisfying. It moves the Metal Gear plot forward so little that even hardcore fans could justify taking a pass
Metal Gear Solid 5: Ground Zeroes shows a lot of promise for MGS stepping into the open-world arena, but has so little content that it may not satisfy.
Ground Zeroes is definitely fun while it lasts, and it offers an interesting taste of what is to come in Phantom Pain. As appetizers go, it's terrific. Just don't expect a full meal.
Adding phenomenal, modernized improvements to the Metal Gear franchise, Ground Zeroes is effective at getting you hyped for the future of the series. Still, it feels like an expensive tease that only gives you a taste of what's to come.
Cheat Code Central
3.5 / 5.0
So, I guess you have to ask yourself one question--How big of a Metal Gear fan are you? If you can wait, the price of this game will almost certainly go down quickly. But if you can't wait and you have the extra money, you will love Ground Zeroes no matter how short it is. It gives us a glimpse of the greatness that is sure to come in The Phantom Pain, let's us get our Metal Gear fix, and shows us the future of stealth games on next-gen consoles. While I don't agree with the price, I can most definitely say it is the most fun I've had in a MGS game in a long time and is easily worth your time. But will fans pay for it? Only time will tell on that one. Hopefully, this little experiment won't start a flood of partially completed games touting themselves as "prologues" hitting the market. If so, we may see the end of demos, and none of us want that.
If you're after a new next-gen experience but can't see yourself moving past the main campaign, I'd say this is probably not for you, at least not unless you have money to burn. It's a terrific little package brimming with options to replay, but it's not a large play-space by any measure, and there's not a huge amount of variation on scenery or tone. This one boils down to preference.
For a very short time, I enjoyed 'Metal Gear Solid V: Ground Zeroes' as I would any new, exciting, and impressive 'Metal Gear' title. I couldn't help but be fascinated by some of the turns assigned to 'Peace Walker' characters, and that is the game's fundamental issue. The game comes across as premium priced fan service. The PS4 version is doubtlessly better than the PS3 version, but the jump in price from $20 to $30 makes the pretty, fun, and short game only suitable for hardcore fans. Cut the price in half and clean up some of the locked features, and the game's rating would be much higher even without adding more content.
On paper, Metal Gear Solid V: Ground Zeroes sounds like an elaborate demo. In reality, it's a bigger game than it initially seems. Spend five hours with the game, and you'll be lucky if your completion is even nearing 25%. Play for eight or more, and you'll still be wringing juice out of Camp Omega. Be warned, at face value, this game is small, but there's much more to Ground Zeroes than meets Big Boss' one eye.
Metal Gear Solid V: Ground Zeroes would undoubtedly make a powerful introductory mission to Metal Gear Solid V: The Phantom Pain, so it seems a little insidious of Konami to hold it to ransom. That being said, we really can't fault what little we played – as far as the mechanics and design are concerned – but although the additional content does go some way towards sweetening the pot, we find it difficult to recommend this on those merits alone. Although long-time fans of the series are likely to pick it up regardless, we believe that this single mission should never have been released on its own.
An amazing tech demo that now only holds a small piece of the story that's needed. It's a fun game, but instead, you should probably just pick up The Phantom Pain and enjoy that.
Splitting Ground Zeroes back into a separate release was always going to be contentious. Thankfully, there is a lot more gameplay and depth than the early reports of the main mission's length suggested and it's full of potential for exploration, fan service and Kojima's particular brand of hackneyed allegories. Unfortunately, there is still too little primary content to justify the £29.99 price tag or even the £19.99 digital pricing for PS3/360, so I can't recommend this to anyone but a die hard MGS fan.
Metal Gear Solid V: Ground Zeroes shines with its nipped and tucked mechanics. It feels like a step forward, and away from the Metal Gear series that I've grown tired of, but the bloated, preposterous narrative is in desperate need of liposuction.
Ground Zeroes probably won't alienate fans of the series, and in terms of giving players a taste of what to expect in the as-yet-undated Metal Gear Solid V: The Phantom Pain, it delivers. But between its poor value proposition and its jarring darkness, it's not likely to make Snake and company any new friends.
What might have seemed like a good idea to Kojima Productions at a glance instead comes across as a slight to fans. The limited scope and depth of the title scream cash grab, and the fact that Ground Zeroes' story is so razor thin makes that even more apparent. The game is a great showpiece for the FOX engine and for MGS 5's new stealth mechanics, but we definitely expected something more substantial. Even then, the short length or the price tag are not the issue here, it's the fact that Ground Zeroes feels incomplete, like somebody pulled a single mission out of a full game. That's what makes the game hard to recommend to any one but the most die hard fans.
[T]he game itself is far from a fully realized one. Its main mission can be completed in an hour, tops, and the story does little more than bridge the gap between 2010's Peace Walker and the upcoming The Phantom Pain.
As a way to show off all these new controls and concepts, Ground Zeroes is a success. As a full game experience, Ground Zeroes doesn't quite stand up. For everything Ground Zeroes does new and exciting, it's just a glimpse into the future of the franchise, and isn't a full-fledged game. Does it have us even more excited for The Phantom Pain? Absolutely. Did Ground Zeroes warrant a full retail release across multiple platforms? That's a bit more debatable. There are just too many empty calories here, and despite all the new facets presented, Ground Zeroes left us wanting.
This short length of Ground Zeroes is definitely a downside, but consider this: would this style of gameplay hold up after 20 hours? It might be too soon to tell, but the structure seems like a radical departure from what made Metal Gear Metal Gear. Action purists will no doubt love its combat-centric gameplay, but those looking to wax nostalgic with a MGS title from 2014 best tread with caution.
Ground Zeroes is an assured, above-average stealth shooter, something there are an abundance of. For years there has been a vocal group of people who have sought to temper the excesses and eccentricities of Hideo Kojima. In Ground Zeroes, Kojima has finally found an editor.
Ground Zeroes feels more like a cash grab than a real follow-up
Metal Gear Solid V: Ground Zeroes is a demo being sold as a bargain-priced game. While the Metal Gear franchise is renowned for having exceptional game teasers, the idea of selling one of them at this price is absurd. The unsatisfying, unlockable content is painfully obvious filler. Not enough moments of gameplay or narrative consequence happen in the main mission to justify a price above $10, let alone the $20-$30 range.
Audacious is the word that best describes Metal Gear Solid V: Ground Zeroes. It contains quality material, but it's little more than a preview of something better, and as such, simply should not be presenting itself - deceptively - as a game in its own right.
Pittsburgh Post-Gazette
5 / 10.0
Demos are free to try. Even if you consider this a short prequel, DLC is usually between $10 and $15. I'm against the business practice that "Ground Zeroes" has introduced. Therefore, I can't recommend this game, demo, prequel, or whatever you want to call it. Wait for it drop significantly in price, or to become free on PlayStation +. I'm sure that will happen as we get closer to the real game, "The Phantom Pain." "Ground Zeroes" has the stench of a cash-grab, which is an unfortunate thing to happen to a series that is as artistic as "Metal Gear Solid."
The Angry Joe Show
5 / 10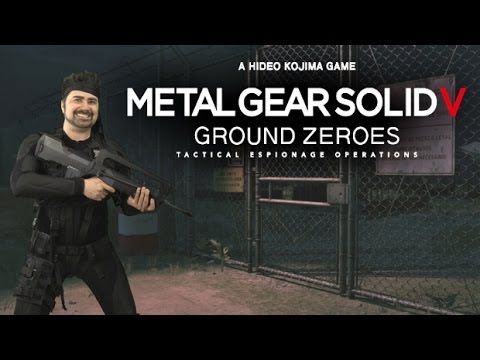 Despite its brevity, the prologue to the hugely anticipated Metal Gear Solid V has superb stealth mechanics and stunning attention to detail -- but its pleasures come at a distinctly worrying price.
There is very little on offer here. Multiple missions that reuse the exact same level over and over. While it does give us a good taste of what is to come in the full game, it feels like I was cheated out of my money by even paying for this. Ground Zeroes is a large demo and is not worth the crazy price they are charging for it. I am a big fan of MGS, but this was a cheap move to squeeze money out of fans who were desperately waiting for the release of MGS5. My advice would be to wait for 5 to come out, or at least wait until you see this game in the bargain bin.