Percentile Rank
Destiny: Rise of Iron is ranked in the 48th percentile of games scored on OpenCritic.
Rating Summary
Based on 81 critic reviews
OpenCritic Rating
Based on 81 critic reviews
Score Distribution
Unscored Reviews
Birth. Movies. Death.
Unscored
Bungie has tied a neat little bow on a game that started as a clumsy experiment and grew into a handsome online experience.
Rise of Iron is an arrival, a remix, and a remembrance. It puts a sloppy bow on the Destiny we've been playing for two years, introducing a final chapter that will stretch until Bungie wipes the board clean and starts fresh with Destiny 2. It's fun, in a funereal sort of way.
PlayStation LifeStyle
Unscored
Rise of Iron seems to hold an indelible bit of content on initial playthrough, and I'm excited to see how it holds up under pressure of full release and repeated scrutiny.
Eurogamer
No Recommendation / Blank
No Recommendation / Blank
Oct 4, 2016
Destiny's uneven final expansion fails to build on The Taken King's advancements.
Scored Reviews
Destiny has evolved in so many ways since it's release. It still boasts some of the best combat mechanics around in a game that moves both horizontal and vertically across engagement ranges. With two years worth of content behind it already there is a wealth of gaming for the uninitiated; and with a decent endgame, variety in play styles, and a dynamic and active community, there's still enough in the Rise of Iron expansion to keep year one diehards happy. Shame about the story though. I really hope Bungie can figure out that crucial element before Destiny 2. But until that day comes, Rise of Iron does set the scene to keep a massive community playing through this next stage until what will likely be the reboot into the inevitable sequel.
Digital Chumps
8.6 / 10.0
Rise of Iron is a rather fitting end for Destiny and is worth the purchase for those who've followed the game thus far. The changes made by Bungie over the course of its lifespan have made the game a much more fun place to be. There are still the old drawbacks of the grind for gear but given that it's something so integral to the game it's not surprising this hasn't changed.
Digital Chumps
8.6 / 10.0
Destiny - Rise of Iron is a worthy addition to the Destiny expansion family. It brings more fun, better balance (risk/rewards) and a tough raid. Definitely a step up, but still contains some old caveats that the series can't quite shake in PvP that hurt it just a bit. Overall, it's a great expansion for the series.
Destiny: Rise of Iron is an excellent addition to Bungie's open-world shooter, but is held back by a weak story, and a leveling meta that requires a bit of grinding. Overall, Destiny looks, sounds, and feels better than it ever has, and there has been no better time to be a Destiny player.
With each expansion, Destiny grows in depth and replayability; Rise of Iron focuses on player choice in what each individual might enjoy
Rise of Iron is Destiny's latest big expansion before the full sequel drops next year and while it doesn't offer the kind of overhaul that we saw with The Taken King, it should keep even the most dedicated of Guardian's busy, for now.
Honest Gaming Reviews
8.5 / 10.0
People who like the game will love it, but Won't convince gamers to return to the game.
Overall, Rise of Iron may not be as robust or as game-changing as The Taken King was, but it still has some has some worthy experiences that any Destiny fan would enjoy.
Rise Of Iron is the best Destiny's DLC. PvE campaign is immersive, solid, and culminates in a great Raid; guardians progression is well structured, and the new PvP mode is way more entertaining than the old Fracture.
Review in Italian | Read full review
If the Taken King was a statement on just how far Bungie could push the genre with its own ideas, then Rise of Iron is a love letter to the fans who kept Destiny alive. It's Tenacious D's Tribute, a gloriously over the top experience that'll pull fans back in with ease.
Destiny: Rise Of Iron won't make believers out of those offput by the base game's rough edges. But it proves The Taken King wasn't a fluke.
Rise of Iron isn't quite the game changer that the Taken King was last year, but it continues to build on the work-in-progress experience that Destiny has become. Looking at it peice by piece it's very easy to discount certain aspects of Destiny, but as a whole there isn't a better or more robust game that ties together single player, cooperative, and competitive multiplayer gameplay the way that Bungie has.
SIVA aside, it's these frustrations that plague the game. Misplaced repetition, an unbalanced loot-drop system, weapon buffs, weapon nerfs, patches, hotfixes – the truth is Destiny is an on-going experiment that Bungie is still trying to tweak and perfect. Even when the story has you staring down from high up with your Ghost companion at where you first began two years ago, it feels as though there's too many gaps and holes that haven't quite fitted together as originally intended. Ultimately though, here is a game that demands you come back to it no matter how long you've been away. When you finally get that gun you've been waiting forever for, beat a raid with your friends or stumble across a post on reddit that someone has found a secret entrance with strange markings on… then it's on, and you won't look back.
Yet again another short story in the Destiny Universe, however, Rise of Iron takes a few steps in the direction the fans want the franchise to go towards
Rise of Iron is an excellent expansion to Destiny, but it doesn't have the same lasting impact on the game as The Taken King did. There's not all that much for Bungie to fix this side of a fully fledged sequel, and so this DLC gets to focus on weaving a new story that delves into the game's lore, providing hours of new content for the game's fans to play time and again.
Destiny: Rise of Iron might not quite live up to what it should have been, but it gets very close. With a few more tweaks from Bungie, it might even get close to matching The Taken King.
Love Destiny? Rise of Iron gives you more to love, with a strong, if short, campaign, new quest lines, challenges and gear to collect, a great new Strike, two entertaining remixes and a brand new Raid. The Plaguelands is a large and intriguing new region to explore, and the new crucible maps and modes mean there's something for more competitive Guardians to chew on.
Destiny achieves to stay relevant and endures the test of time, taking steps in the right direction (more in this specific occasion) and providing real and tangible reasons on why the migration to current gen consoles was necessary. Even though this franchise suffered in the past from narrative flaws, it has been characterized by its addictive gameplay and the way it unites players, especially in Raids! The Rise of Iron is not an exception to this formula, it is definitely time for another adventure Guardians!
Review in Spanish | Read full review
Among the four expansions Destiny has had so far, this definitely ranks among the best showing the the developers have only continued to learn as the game grows.
Entertainment Buddha
80 / 100
Rise of Iron is a nice addition to the Destiny-verse, but it's a bit overpriced if you're just buying the expansion. Although, if you haven't played the game yet, the $60 bundle is definitely a value.
Destiny: Rise of Iron has absolutely given new life to a title which was dying for fresh content. As an expansion, it doesn't by any means feature anything revolutionary, but it surely brings plenty of fantastic missions, strikes, raids, and gear that players will be grinding away on for weeks to come. If a fan of Destiny's gameplay, this should absolutely be on your wish-list.
Pittsburgh Post-Gazette
8 / 10.0
It's hard not to compare "Rise of Iron" to "The Taken King." "The Taken King" was "Destiny's" finest and most robust expansion. Even at its $40 asking price, it seemed like it was just shy of achieving full sequel status rather than an expansion. "Rise of Iron" doesn't quite reach those heights, but it's still better than other expansions like "House of Wolves" and "The Dark Below." Bungie has learned from its experience. "Rise of Iron" mostly adds more of what "Destiny" players want. Year Two of "Destiny has been a huge success for players who want the game to head in the right direction. If this is indeed the final expansion, expectations will be high for "Destiny 2."
Short on single-player campaign but long on loot collection and exploration, new expansion of first-person shooter ticks most boxes – but might not win new players
Assured creativity and a smart eye for systemic refreshment make for a confident and classy expansion.
Combining such a wealth of things to do with the already excellent shooting produces a fantastic package for long-term fans and newcomers alike – it's just a shame it's taken 24 months to finally get to this point.
In the end, the Rise of Iron DLC expansion for Destiny shakes up this universe in order to give players new content to draw them back to this PvP and PvE shooter. Add in tweaked gameplay mechanics and some really impressive graphical treats to be found as you explore the Plaguelands and Rise of Iron will definitely keep you invested in this expansion for some very long gaming hours, especially the co-op aspect.
The wretched drought of The Taken King is over, and guardians everywhere have dusted off their copies of Destiny. Destiny: Rise of Iron is finally here, and it does not disappoint.
Destiny: Rise of Iron continues the Destiny tradition as it moves into its third year of content. Some may see it as a step back from last year's The Taken King as it doesn't feature new playable subclasses, but there is much more beneath the surface to Rise of Iron. This, along with making older Strikes relevant again help elevate Destiny once again without alienating any of its core player base. While the new raid was completed only a couple hours after being released, the Hard Mode and Challenges have yet to be revealed and should offer additional content for those players looking for the ultimate challenge.
I continuously caught myself completely zoned out and just enamoured by the sheer size of the ships and mile high structures constantly seen throughout the campaign.
Cheat Code Central
3.9 / 5.0
Destiny has been a fascinating experiment, but at this point it could use a reboot from scratch in order to truly fulfill its promising premise. Rise of Iron makes the best out of what's been done, but what we really want is a new Destiny with a bold, cohesive story and a rock-solid expansion plan. Go forth, Bungie, and deliver.
Destiny: Rise of Iron has one of the best raids to date, but the journey to get there is mundane
Rise of Iron can be something more than run-of-the-mill, if you can get there
At the end of the day, Destiny: Rise of Iron is more of the same. If you are new to the series, there has never been a better time to jump on board, especially at the premium for the base game with all expansions. Fans of the series will fall prey to the Destiny itch that has kept them hooked for hours on end. However, those who have felt burned or quickly lost interest after The Taken King can easily wait for Destiny 2 – there isn't much new to draw you in.
Destiny: Rise of Iron isn't the hardest hitting expansion. That isn't due to the content being poor – what's there is solid, even if there isn't a lot of it. It just doesn't reimagine some of the core concepts the way that The Taken King did, which puts it at a severe disadvantage when comparing it. But if you don't mind interfacing with Destiny's familiar grinding elements because you appreciate the shooting, and you have a team of like-minded players to tackle the new raid, then Rise of Iron is an acceptable footnote to the sci-fi FPS.
Love it or hate it, Rise of Iron offers more Destiny with almost no real changes or fixes to the problems that have plagued the release since launch.
Rise of Iron steigert sich in Sachen Story und Singleplayer-Content, gegenüber The Taken King, liefert aber viel zu wenig davon und vor allem im Multiplayer-Bereich, bietet das neueste Add-On einfach viel zu wenig um euch bei Laune zu halten. Wer kein Problem mit der Kürze des Add-Ons hat, wird zumindest etwas an Spaß daran finden.
Review in German | Read full review
Marooners' Rock
7.4 / 10.0
As for Rise of Iron, if you're a Guardian itchy to pull the trigger a bit more or if you want to reunite the old Fireteam, it's a must have.
Rise of Iron isn't the most innovative nor biggest expansion pack that Destiny have seen, but still it's a fun one, bringing some fun to those players that want to return to this universe despite the repetitiveness of the formula.
Review in Spanish | Read full review
PlayStation LifeStyle
7 / 10.0
With the long term in mind, Rise of Iron is a great addition to Destiny. They've embedded secrets, past references, and nostalgia in ways that few other games can, because few other games retain this strong of a community for years following their initial release.
'Destiny: Rise of Iron' is not a standout expansion but nor is it disappointing the way that 'The Dark Below' and 'House of Wolves' were. The production values remain high with the superb score, attractive Temple of Iron, new Crucible maps and so forth. On the other hand, the PvE content has mileage issues. It is still worth playing and even worth coming back to 'Destiny' for, if only for a short while.
'Rise of Iron' doesn't just add Destiny missions, it makes the whole game better
Much like "The Taken King" before it, avid fans of Destiny are already playing "Rise of Iron" and enjoying the new content. If you're one of the few shooter fans who hasn't tried Destiny yet, the value added by "Rise of Iron" makes the new Destiny - The Collection an easy recommendation as well. Those things being said, "Rise of Iron" feels thin in content and quality, especially when compared to last year's "The Taken King".
While perhaps not adding as much as returning players may want, Destiny: Rise of Iron provides a trip down memory lane that hopefully doesn't end here, and certainly features Destiny at its best to date.
Although Rise of Iron's story campaign comprises some quite exciting and intense missions, it's really short and only takes a few hours to burn through. Fortunately, though, the expansion's endgame content offers a host of activities and objectives to keep players busy, with weapons, collectibles and secrets to uncover, and a well balanced PvP environment to enjoy. It all adds up to a solid expansion that should satisfy the Destiny faithful, even if it doesn't exactly wow them.
The biggest disappointment of the expansion comes in the form of the new social arena, the Archon's Forge. Billed as a mix between the Prison of Elders and the Court of Oryx, Bungie made some unfortunate design decisions when putting the forge together. They've since fixed one of those, making it easier to get SIVA Offerings (which you need to activate the forge), but the instanced event still suffers from a lack of connected players. This is one event that feels like it would have been better used as its own instance in the game (like the Prison of Elders), but instead the Court of Oryx approach leaves a lot of players to tackle their Offerings on their own, which defeats the entire purpose of the encounter. This makes it tougher to take on the more difficult events in the Forge, which has been a huge turn-off for a lot of players so far.
PlayStation Universe
7 / 10.0
Destiny: Rise of Iron is a decent enough expansion that fans will likely enjoy, but it feels lacking in wake of The Taken King. Time for Destiny 2, we think.
A short campaign that's over before it begins, a familiar-feeling raid, and a long grind to the top are what makes up Bungie's latest Destiny expansion.
Destiny: Rise of Iron is a weird cookie. Bungie clearly put its live team in charge on this one, as there's nowhere near the amount of completely new-feeling stuff packed in as there was in Taken King -- and with so many people getting winded, a step that big was really needed. Yet, if I assess Destiny right now as a total package, with four expansions under its belt and hundreds of [good] tweaks and patches, it's easier to recommend.
Rise of Iron offers a lot more of what we've already seen in the original game and though all this new features are nothing revolutionary, they still manage to keep fans of the Destiny busy.
Review in Persian | Read full review
Destiny: Rise of Iron is another solid expansion from Bungie that, despite some lingering issues, offers a strong entry point for new players.
Destiny Rise of Iron brings new challenges and unique customization, but it lacks depth.
Rise of Iron does a brilliant job in building up the legend of your Guardian, but offers very little innovation or advancement of the game's core features. Despite this, it stays true to what makes Destiny great – offering truly satisfying shooter encounters as a backdrop to a fantastic social experience.
Rise of Iron is an average expansion. While the new raid is fresh and fun, this DLC lacks the depth of narrative and lore that was found in The Taken King. Overall, it's enjoyable but there's not much content: Destiny is in desperate need of something new for its second chapter, due on the next year.
Review in Italian | Read full review
Unlike The Taken King, Rise of Iron isn't an essential reincarnation of Destiny, but it is an expansion that delivers on its promise of rejuvenating Bungie's shooter – even if it does refuse to step outside of the game's well established comfort zone. A few fun story missions, a great new Raid, and a suite of fresh reasons to get back to the grind for better loot should be enough to keep the ever-present darkness at bay.
Rise of Iron is a rather pedestrian expansion to what has become a pretty great first-person shooter. If you're looking for more Destiny, then you can't go wrong by picking it up, but nothing here will convince lapsed players to come back. It's simply more of the same, but that's fine.
While new armor and weapons are sprinkled throughout Destiny: Rise of Iron, we can't escape the feeling that we've seen this all before.
Rise of Iron has just enough new content to keep me coming back for a while, but it feels like the bare minimum. When I wasn't absentmindedly grinding against reskinned enemies until I couldn't do it anymore, I was falling down the rabbit hole of side quests and trying out new weapons while patrolling the Plaguelands. The satisfying but still not groundbreaking raid is a decent reward at the end. I wish this expansion had focused more on fixing Destiny's repetition problems, because it has a few good ideas — but with all its pitfalls, this is just Destiny going through the motions.
Unless you absolutely cannot function without more Destiny, my suggestion is that you skip Destiny: Rise of Iron entirely and hold out hope that Destiny 2 finally brings the franchise to greatness.
Those that are already in love with Destiny will no doubt forgive Rise of Iron's shortcomings and dig into the content, but for those on the sidelines, or are waiting for the right opportunity to fall in love with Destiny, Rise of Iron is a skippable experience that can be overlooked until the inevitable full-on sequel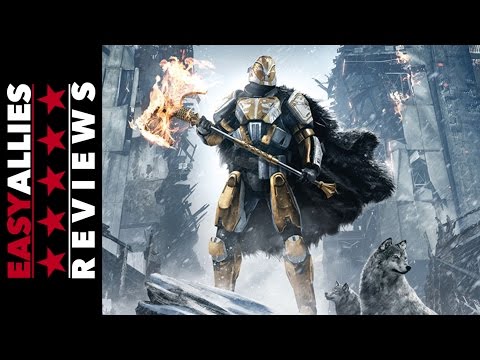 Rise of Iron feels like Bungie is just filling time till they can get Destiny 2 into our hands. The uninspired campaign, the "more of the same" Plaguelands, and a slapped on addition of Archon's Forge don't set this expansion apart in any way or make it very noteworthy. Spend the time though and you'll find that there is some fun to be had solo or with friends.
In its third year, Destiny is showing signs of exhaustion, as it retreads old ground and struggles to find inspiration.
It's Destiny Year One's last hurrah. It's good but that new game proper is needed quickly.
As the last full expansion for Destiny before Destiny 2, and a follow-up to The Taken King, Rise of Iron had big shoes to fill. It's a shame then that it doesn't.
The stuff that is genuinely new is very good, but there's so little of it that the sense of déjà vu, in a game that is already so repetitious, becomes overwhelming.
Latest expansion doesn't move the game on, but has lots to like for returning fans
Rise of Iron, rather than reminding me of days of glory, has instead reminded me of all the ways in which Destiny's incoherence has undermined its ambition.
After significant in-roads over the past year, Destiny feels like its regressed with Rise of Iron. This would have been a great time for exceptional story missions and replayable content that wasn't completely frustrating. For its price, Rise of Iron should have offered a lot more and taken more risks.
It lacks for the two things Destiny has never been short on from day one: personality and imagination.
Destiny is a gorgeous game overall, and Rise of Iron's frozen warrior aesthetic showcases this excellently. Felwinter Peak and the Plaguelands bring a sense of unforgiving chill, and the equipment that's arrived with this expansion puts some medieval style in to the sci-fi world without feeling tacked on. Music, meanwhile, carries a similarly epic scope as powerful chorus arrangements and copious use of brass instruments make you feel like a true knight going to war.