Percentile Rank
Song of the Deep is ranked in the 48th percentile of games scored on OpenCritic.
Rating Summary
Based on 56 critic reviews
OpenCritic Rating
Based on 56 critic reviews
Score Distribution
Unscored Reviews
Eurogamer
No Recommendation / Blank
No Recommendation / Blank
Jul 12, 2016
A lovely setting can't quite make up for a game that plays things a little too safely.
Rock, Paper, Shotgun
Unscored
It's wildly derivative, which is such a peculiar thing to see from such a developer, but I'm glad it exists. It's just… well, it's fine.
Song of the Deep will keep you in the deep for about six hours, which gives it time to be bad, just not a total trainwreck, and there are many things I really enjoyed in this game. Merryn, the voice acting, and just how gorgeous the game looks are all a welcome change from these AAA games that rely on gameplay over graphics, and the sense of wonder that is present in 2 of the 3 narrative arcs is really wonderful, but it's hard to shake that the game doesn't know how to deliver on its' promises.
The beautiful soundtrack and incredible visuals, paired with an emotional story of loss and survival, is worth venturing 20,000 leagues under the sea for.
Insomniac proves with Song of the Deep that it can make a gem with a small team, on a tiny budget, and in a previously-unexplored genre.
Scored Reviews
By going against their own grain, Insomniac Games has crafted a true winner with Song of the Deep, which is one of 2016's most hypnotic and charming games.
Insomniac Games' Song of the Deep is an excellent metroidvania whose underwater setting gives the genre a nice twist. Its map is impressively large, and it packs many inventive puzzles that are fun to solve. It looks and sounds brilliant too. The boss battles are a little on the weak side however, but they don't take the shine off what is otherwise a thoroughly enjoyable and very sweet exploration game.
Song of the Deep is undoubtedly at its best when you're out tackling the many puzzles and problems that stand in the way of story progression
Song of the Deep is a very nice Metroidvania game featuring a huge map to explore, plenty of secrets to discover, and a huge array of different situations and puzzles which make the experience incredibly varied. Other highlights are its beautiful presentation, seamless storytelling style and excellent soundtrack/voice acting. Some irritating puzzles, made so by physics, mediocre boss battles and a few performance hiccups are just minor issues and, thankfully, they are not enough to make this beautiful song go out of tune. Highly recommended to Metroidvania fans and to all those who enjoy well crafted experiences.
Song of the Deep tells a compelling story and presents enjoyable, captivating Metroidvania gameplay set in an enthralling underwater world.
The game takes about eight hours to complete, although it would be closer to 12 if trying to 100% the game and find every little secret. With that said, the game is short and concise enough to keep players wanting to come back for more, and I can't wait to dive (pun intended) back into the game and look for everything I missed the first time through. Any Insomniac Games or Metroidvania fan probably won't be disappointed by picking this game up and trying it out.
Overall, Song of the Deep is an enjoyable way to spend some free time. The puzzles can get old quickly, but the gorgeous world and captivating plot will have you sinking in your seat for days on end.
Insomniac Games delivers a traditional Metroidvania with a pleasant atmosphere and an intelligent use of backtracking. Song of the Deep is a solid adventure, with some memorable boss fights and a complex level design.
Review in Italian | Read full review
Song of the Deep is an intriguing, fun adventure game with enjoyable puzzles and a remarkable presentation. The colorful setting leaps off the screen, taking me back to my childhood story books. The game shines with the sheer amount of puzzles that range from accessing a hidden treasure chest, opening a door latch, to more advanced ones.
Geeks Under Grace
8 / 10.0
Song of the Deep has everything going for it: the great art style, cool story, and fun Gameplay. However, it falls short in the final segments where it changes everything that makes the game great. As a result, this one may be tough to come back to after players have finished it.
Song of the Deep is a nice, solid length, beautiful side scrolling adventure game that will take most players anywhere from 6 to 10 hours to complete. Lots of hidden treasures to find, upgrades to purchase, and secret areas to discover. Genre wise it's not doing anything that most other games haven't done before it, but the setting and story are unique and just captivating enough to provide players with a wonderful undersea fairy tale.
The latest from Insomniac Games is particularly polished when it comes to the variety of its puzzles.
Song of the Deep doesn't simply shine in one place more than another because there are so my elements that all come together to make this game truly fantastic
Song of the Deep is a must play game if you are a fan of the Metroidvania style of gameplay. It is a relaxing and fun experience and at only $15, it is a steal. The game has plenty of content and replayability by going back to collect everything you missed on the map. With the summer drought upon us, this is a good game to get invested in while we wait for this Fall's big AAA releases.
Despite the unusual fluctuations in difficulty, Song of the Deep is nonetheless a fun game that appeals to your sense of adventure. A wealth of interesting areas to explore will keep you glued to the game for hours.
Shaky conclusion aside, Song of the Deep is a narrative rich adventure that successfully pairs Metroidvania gameplay with a dynamic underwater setting.
If you like Metroidvania games and the Child of Light/Ori and the Blind Forest atmospheres, Song of the Deep's gonna give you a lot of satisfaction.
Review in Italian | Read full review
PlayStation LifeStyle
7.5 / 10.0
On the surface, everything about Merryn's adventure is absolutely charming. The deeper you and Merryn go, the game loses its luster, but it's still worth undertaking the journey if this style of adventure game sings to you. Just be aware it may not be a complete pleasure cruise.
Enchanting and charming, Song of the Deep is a children's-fairy-tale-turned-video-game that's full of wonder and vibrant beauty. The gameplay is both solid and enjoyable, but not without hiccups and hindrances.
Marooners' Rock
7.5 / 10.0
While Song of the Deep isn't quite the piece of smooth sailing I expected it to be, it's still a fun, appreciative title that makes up for its rough parts with exciting combat and a superb presentation.
Even just moving from one zone to the next can leave you feeling like a child reading an adventure novel, imagining all of the cool new worlds just ready to be explored.
Despite some of the puzzles becoming a major pain in the last few hours of the game, it's pretty easy to recommend Song of the Deep. It's a relaxing undersea adventure with a compelling storyline and an earnest and endearing protagonist that you genuinely want to help with completing the task of locating her father.
Song of the Deep has a big heart, and is a fun, uncomplicated game that players of all ages will enjoy. The abilities are fun to use, the gameplay is mostly solid, and the presentation really won us over. Exploring this lush seascape, solving simple puzzles, and experiencing the sweet story – this is where the game excels. It contains most of the established rules and trappings of a Metroidvania, and is one of the easier games that we've played recently, but this isn't necessarily a bad thing. Sometimes, it's nice to play a game that doesn't ask too much of you, one that allows you to relax and simply enjoy being in its world. If you can forgive its technical hiccups and learn to adapt to its loose controls, you'll have a whale of a time.
The Outerhaven Productions
I won't lie. This game hits you right in the feels. This is a story driven by love ​and begs the question how far would you go for the people you love. In Merryn's case, it's to the bottom of the ocean. The games artistry, music, and narration had me close to tears at a few key points. I thoroughly enjoyed the first part of the game. I only wish they had a clear definition of what they wanted the game to be. With such a hard turn from puzzles to strictly waves of enemies, the game lost it for me a little. It felt like a different game in the last couple of hours, and I missed the game I had started six hours back.
The overall package provided by Song of the Deep is a good one. The presentation is enjoyable and the puzzles and discovery of new powers are genuinely exciting. If you can look past repetitive combat and backtracking and are willing to live with a few technical hiccups along the way, Song of the Deep is enjoyable but flawed, with some unrealised potential around the narrative meaning it was a missed opportunity.
You'll find out while deep under the sea, that this adventure should have remained on shore. With uninteresting puzzles and mixed controls, you may want to think twice,
A charming story and enjoyable combat make the journey worth taking even if sub-par puzzles, technical issues, and frustrating controls drag down the experience
Song of the Deep is a solid effort by Insomniac Games to create a family friendly game adventure.
Song of the Deep is gorgeous and has some creative ideas, but lacks the polish to make it a must-play.
Despite its sparkling surface, Song of the Deep could use a bit more polish. That said, it hits more than it misses, and I can easily see myself coming back to its sprawling world every few years or so. With more development time in the form of a sequel (possibly using another mythos and setting), it could be something really special. For now what we've got is absolutely still worth playing.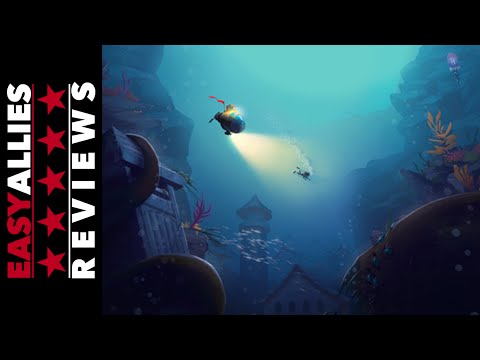 Song of the Deep tends to be your typical indie game fare; harking back to the older generations of gaming with the 2D side-scroller appearance, but having a big heart and an emotional story, with a very predictable ending. But that's okay, as it doesn't try and do anything different by offering a big twist at the end. Gameplay wise it can get a little boring and dull after a while, but it is well paced and doesn't feel overly long or overly short. It just feels right. It is flawed elsewhere but after 12 hours underwater with Merryn and her new found friends, I am content and pleased that I got to experience this game.
Beautiful, charming and touching, Song of the Deep provides an enjoyable, worthy adventure despite its issues.
Annoying puzzles aside, Song of the Deep is an excellently put together Metroidvania with a sweet tale to tell.
Song of the Deep could have been downright outstanding, but there's enough flaws here to bump it back down into the realm of simply good.
Song of the Deep feels like a distinctly different experience from the Insomniac that we're used to. It's a beautiful, lonely world and the Ghibi-like aesthetic work incredibly well in its favor.
At around six hours long, Song of the Deep doesn't have enough time to become a disaster, and there are redeeming aspects of it. The character, the voiceover, the presentation are all a change of pace from the video game status quo, and the sense of discovery the first half offers is welcome. But it's hard to shake the feeling of a game with potential that never quite figures out how to deliver on it.
Despite stumbles in its gameplay, I am a sucker for sappy stories, and that is what 'Song of the Deep' should be played for. There are many other games that provide engrossing, replayable platforming and puzzles, but with less warmth or none at all. I enjoyed my time with Merryn and her submarine but we sure did bicker a lot.
Digital Chumps
6.8 / 10.0
Song of the Deep is a meandering lesson that not every reflection of Metroidvania has to be a grand odyssey. By that measure it's a serviceable decent into the great unknown with a handful of neat ideas. It's also too oblivious of its own limitations to leave a distinct impression in a crowded field. "Groundwork for something greater" isn't a beacon of optimism, but it's probably the finest impression Song of the Deep can manage.
PlayStation Universe
6.5 / 10.0
Song of the Deep is quite often a fantastic voyage, full of rich detail and swimming with charm, but it does little mechanically to rise above similar, better titles. At its best, it's an entertaining way to spend a few hours in a wonderfully-built ocean world. At its worst, it's a cheap. uninspired and frustrating slog.
New Game Network
61 / 100
Song of the Deep has a welcoming setting and the foundations of a good game, but poor controls and performance issues leave it occasionally gasping for air.
Song of the Deep makes a fantastic first impression. Its gorgeous world, charming characters, and melancholy tone make for a unique and effective aesthetic. But once you get into the core of the mechanics, combat and puzzles become a slog thanks to its cumbersome controls and wonky physics. Still, I found myself willing to put up with all of these frustrations in order to delve deeper and deeper into this beautiful world.
Though its patience-testing puzzles hit a few sour notes, Song of the Deep still delivers a rich, imaginative undersea adventure.
A different take on the usual Metroidvania formula, but while the story and setting are charming the puzzles are rarely anything other than frustrating.
Song of the Deep is a very mixed experience but one that should be experienced at least once. On one hand you've got a breathtakingly beautiful rendition of the deep sea that progressively gets both more intense and intimidating as you descend into its depths. You've got a genuinely loveable protagonist with a great journey to undertake. You've even got a large map that's quite fun to explore.
Combat also comes into play occasionally. It's a secondary trait to the puzzle-solving play, accented by how long it takes to get a traditional weapon for your tiny submarine. Until then, you simply have to make-do with a grappling claw. Upgrades are available that add qualities like extra damage or special attributes to your shots, though it seems as if a few unmarked upgrades would be necessary to handle some of the more difficult combat scenarios.
Song of the Deep isn't a bad metroidvania; it's just very basic. It doesn't do anything particularly well, outside of maybe its endearing story, but it isn't absolutely unplayable either.
Song of the Deep's story is touching, its art is beautiful, and its soundtrack is lovely, all of which come together to make a visual treat. Then I had to actually play it and I found it frustrating at some times, boring at others, and quite glitchy. Some may be able to forgive it, but I can't see many doing so.
An undersea adventure that is more about seeing the sights than captivating gameplay.