Percentile Rank
Hey! Pikmin is ranked in the 45th percentile of games scored on OpenCritic.
Rating Summary
Based on 54 critic reviews
OpenCritic Rating
Based on 54 critic reviews
Score Distribution
Unscored Reviews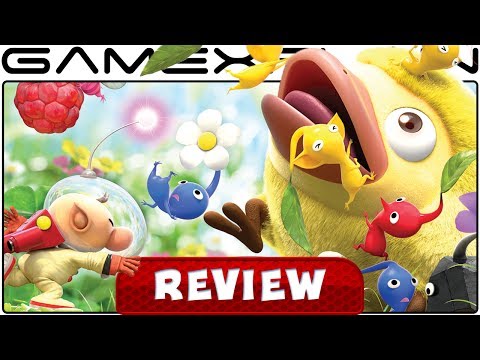 Eurogamer
No Recommendation / Blank
No Recommendation / Blank
Jul 27, 2017
This basic puzzle-platformer captures none of the depth and panic of Miyamoto's surreal strategy games, but a good deal of the charm.
This is by no means a bad game, but unlike the best Kirby titles where a lack of difficulty doesn't come at the cost of creative game design, Hey! Pikmin feels like it scales back to the detriment of the core experience itself.
Scored Reviews
As my first Pikmin experience, I really enjoyed Hey! Pikmin for a variety of reasons and found little wrong with it. Whether you have played a Pikmin game before or not, or are just looking for a fun game that's not too easy and certainly not too hard, give this one a go.
Hey! Pikmin isn't a long game but throughout it'll capture your heart just as regularly as Olimar captures Pikmin.
Hey! Pikmin is a radical shift for Nintendo's quirky RTS series. It changes or eschews many of the series' longtime mechanics in favor of a 2D platformer-adventure. Longtime fans might be disappointed, but Hey! Pikmin has the same charm and quality that garnered the original games a cult following—just in a more accessible, bite-sized form factor this time.
Play Some Video Games
85 / 100
Hey Pikmin is a great nod to the more traditional format of these games on other consoles. While not being able to be the same type of game there is enough meat on this bone to keep players satisfied while we wait for Pikmin 4.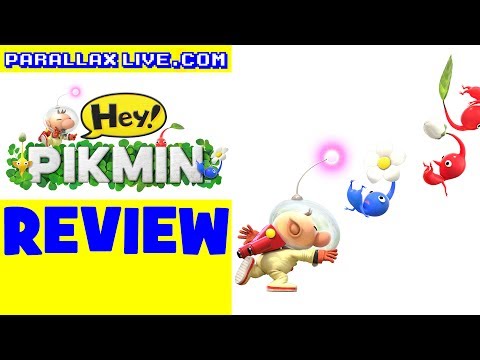 Auch wenn ein Checkpoint-System dem Spiel gut getan hätte: Mit Hey!Pikmin hat Nintendo einen Puzzle-Plattformer geschaffen, der zwar in einem neuen Genre unterwegs ist, den Charme seiner Figuren aber dennoch auf treffende Weise einfängt.
Review in German | Read full review
Hey! Pikmin is a small and pretty simple game, but it is a beautiful experience that every fan of this series should enjoy.
Review in Spanish | Read full review
Hey! Pikmin is a different, funny, clever and heartwarming Pikmin game.
Review in Italian | Read full review
Hey! Pikmin is an incredibly fun platformer that's easy to pick up and doesn't take a ton of hours to finish like many games that have come out this year. While I was able to get through the game in a couple of days, reaching 100% completion on each level will take some time and serious dedication. Fans of older Pikmin titles and even Nintendo 3DS owners that have never tried the series before are in for a treat with Hey! Pikmin — I highly recommend it.
Hey! Pikmin feels more like a completely original piece of entertainment that just happens to stage the titular critters rather being than a true Pikmin title.
NintendoWorldReport
8 / 10.0
A better framerate and higher difficulty would be great, especially since I feel like the different Pikmin abilities still had a lot of untapped potential. This installment ends up being a nice new creation that fits into the franchise in a different way than older Pikmin games. At its core, though, Hey! Pikmin is a fun game, and in the end, that's all that really matters.
Marooners' Rock
7.9 / 10.0
Hey! Pikmin offers the Pikmin experience with enough changes to make it work on the 3DS and retains enough to keep it Pikmin. Though lacking in soundtrack and challenge, along with persistent "notifications", it still maintains the charm that comes with the Pikmin series. It's a fun twist on both Pikmin and 2D platformers.
Hey! Pikmin is a fun 3DS game, one of Nintendo's better handheld platformers recently, but still not up to the quality and polish we'd expect from console Pikmin titles. Pikmin fans might be a bit disappointed by this one, but anyone willing to give it a shot will find a surprisingly deep and fun little adventure to while away the hours.
Hey! Pikmin feels more like a side entry to the main Pikmin series than some simple spin off. I really enjoyed everything this game tried to do, and I honestly feel like with a bit of reworking Hey! Pikmin could have been a game to be held up there with the original trilogy.
A new Pikmin for a new generation of players that haven't had the chance to try this adorable vegetables. It may not be the prettiest or more varied Pikmin game out there, but still retain the series' fun.
Review in Spanish | Read full review
Despite being a spin-off, Hey! Pikmin fulfills expectations offering a number of platforms and puzzles enough in an adventure where humor is the most remarkable. However, it could be up to or fairly close to the other installments of the saga if it offered more innovation or the difficulty was not perceived easy.
Review in Spanish | Read full review
Gert Lush Gaming
7.4 / 10.0
It is a cut down version of Pikmin but its still worth your time.
Charming, but toothless Pikmin spin-off as a 2D puzzle platformer, which does not use the recognizable potential.
Review in German | Read full review
Es ist schade, dass Nintendo das Potenzial der Pikmin Serie nicht genutzt hat. Obwohl die ersten zwei Ableger auf dem Gamecube hervorragend von den Fans aufgenommen wurden, hat man zahlreiche Jahre verstreichen lassen für einen weiteren Titel. Während man auf Pikmin 3 gefühlte Jahrzehnte warten musste, war ein Handheld-Ableger ohnehin längst überfällig. Hey! Pikmin macht seine Arbeit ordentlich. Die einzelnen Levels spielen sich flott, es gibt einiges zu entdecken und auch die Umgebung und das Setting stimmen. Trotzdem ist es eine große Umgewöhnung von der serientypischen 3D Welt auf einen 2D-Sidescroller umzusteigen, was so manchen Fan vergraulen könnte. Die Handlung könnte kaum unspektakulärer sein und auch das Fehlen eines straffen Zeitlimits wie in Teil 1 oder bockschweren Boss-kämpfen wie in Teil 2 sorgt dafür, dass man das Gefühl bekommt, auch mit Hey! Pikmin eher casual Gamer ansprechen zu wollen.
Review in German | Read full review
Hey! Pikmin is a great game to add to your library. It's a solid addition to the series and it freshens up the formula with the perspective shift, but having said that, don't expect a game that's on par with the previous console games. A Pikmin fix is always good though, so enjoy!
Hey! Pikmin is a laidback 2D puzzle platformer that includes a large amount of content and replay value.
Overall, Hey! Pikmin is a good offering to the franchise considering its status as a spin-off. It may not play at all like the original Pikmin, but it's a close enough relative that taking the reins feels natural.
Hey! PIKMIN adapts Nintendo's series to the 3DS in a successful and fun way. While the series' veterans might find it odd at first, the game will quickly put everyone at ease with its captivating sidescrolling adventures and involving gameplay. It may not be as deep as the main series but this is a solid experience that honours the Pikmin game on a handheld format.
Review in Portuguese | Read full review
Like a herbarium, Hey! Pikmin is a conscientious, wonderful, tactile, yet flat transposition of the series' singular gameplay, mostly preserved along the way. While some depth, even life was lost in the process, this lateral perspective lets Captain Olimar explore the vertical dimension of this feral world rather quietly and cleverly, carrying its delicate ecogical message to new heights as well.
Review in French | Read full review
Hey! Pikmin did exactly what it needed to do, without extending itself any further. It gave me a series of interesting places, a series of clever puzzles, a series of cute vignettes and soft storybook scenery. The worst thing to say about Hey! Pikmin is, simultaneously, a recommendation — it's perfectly pleasant, well-rounded, and didn't leave me dying for more.
In the end though, Hey! Pikmin is a solid game and a decent first attempt at bridging out the franchise to multiple genres. The Pikmin seem to have a lot more personality in this game than previous entries and you get to see a more playful side to them. It isn't the longest game out there but there are plenty of things to do that will elongate the experience such as beating each level without losing any Pikmin, as that grants you a gold trophy and of course you can challenge yourself to find every single piece of treasure in the game.
Hey! Pikmin is a quirky attempt at a beloved franchise with many minor annoyances. Throwing your Pikmin is fast and fun, but the different types are hardly used to their advantages and there isn't a good incentive to collect every treasure.
Hey! Pikmin is a good portable spinoff which tries to rethink the classical formula of the series in 2D, but significantly limits the interactivity and reduces the variability of gameplay. Boss battles and stylishness of the game smooths overall experience, but if you play on a normal 3DS, you can subtract one point from the final grade
Review in Russian | Read full review
Reno Gazette-Journal
7 / 10.0
The gameplay leans a bit on the easy side and doesn't quite have the meatiness to keep you coming back for more. It retains much of the charm of the series, however, while getting rid of its more stressful elements. If you're a fan of Kirby games, this lighter, two-dimensional take on Pikmin is the gameplay equivalent of snacking on cotton candy.
Hey!Pikmin is a colourful spin off that doesn't stand up nor to the quality of the main titles of the series neither with the best 2D platformers on 3DS.
Review in Italian | Read full review
Regardless of its lax difficulty and lack of replay value, Hey! Pikmin has been utterly adorable and fun to play through. If you're a fan of the franchise and don't go in expecting it to be a mobile sequel, but rather a casual spinoff of the series, you'll be pleased. Folks waiting on a new full-scale Pikmin will have to hope the Switch gets one in the coming year.
Hey! Pikmin is a little too simplistic for its own good, especially early on, but Arzest does a fantastic job of distilling what makes this series so special into bite-sized chunks. The transition cutscenes that play out like physical comedy shorts and the adorable little noises really sell it.
Hey! Pikmin has its moments. The stages have some neat but simple puzzles, the visuals and music are solid, the inherent cute charm of Pikmin's weird alien worlds is on full display, and discovering treasures based on common household items – and seeing Olimar's confused interpretations of them – is always good for a smile. However, the lax difficulty, slow pace, and repetitive structure drag it down quite a bit. There's not a lot of meat to Hey! Pikmin, which is disappointing when compared to the required skill and replayability of the console Pikmin games. It's good for a playthrough, but this is a voyage I can't see myself taking again.
Smaller levels that need to be played multiple times without the usual real-time strategy elements leaves this Pikmin game feeling out of place.
Hey! Pikmin forces the series into something it's not, resulting in a barebones platformer with Pikmin on the cover.
Pikmin fans hoping for the next evolution in the franchise will have to wait for another attempt, as Hey! Pikmin is an enjoyable, but vastly simple experience that doesn't live up to its namesake.
Hey! Pikmin is a fun game, but there's not much depth to get you wanting to play more.
For fans of the series Hey! Pikmin will undoubtedly be tempting, and it also serves as a cute and accommodating introduction to the franchise for 3DS owners. Despite its strong points, though, it has that feel of a 'second-tier' Nintendo release, not helped by the limitations that 2D play places on the core concept. It's solid but a tad uninspiring, fun but unsurprising, accessible but lacking in witty design. The best Nintendo games achieve the high points with no sacrifices, but it's here that Hey! Pikmin falls slightly short.Ultimately it's a decent game, and younger gamers in particular - or those that want a gentle introduction to Pikmin - will likely get the most pleasure and mileage out of it. For everyone else it's worth going in with sensible expectations.
Nintendo transforms its beloved 3D strategy game into a side-scroller in Hey! Pikmin for the 3DS, and while there is fun too be had, it's a little simple in its execution.
Hey! Pikmin is an interesting reinvention for the series, but it doesn't really go deep enough to be an interesting and rewarding puzzle platformer. It winds up being an adequately executed collect-a-thon—a time-waster that offers a new take on a familiar formula, but fails to take it in any bold new direction.
Hey! Pikmin misses out on being a great platformer with its disappointing touch screen controls, and its poor level design. But it may be a fun ride for die hard Pikmin fans.
Olimar and his Pikmin are back for another charming adventure, but don't expect it to be as challenging as its console counterparts.
Hey! Pikmin is stuck in a weird place that hinders its fun-factor. There's no real challenge during the entire adventure, puzzles require no thought whatsoever, and levels seem to repeat the same ideas over and over again.
The 3ds version of Nintendos beloved Pikmin series is a bit of a disappointment. The level design feels lazy, the graphics is outdated and the mechanic overall isn't nearly as fun as the previous Pikmin games.
Review in Swedish | Read full review
Much like Chibi Robo! Zip Lash was a bit of a flop in converting a primarily 3D franchise into 2D, Hey! Pikmin makes errors of its own. While the antics of the Pikmin seen in the levels are adorable and the game is visually pleasing, I just couldn't get over the way the Pikmin behaved when I was playing. It's otherwise a rather bland and forgettable adventure that Pikmin fans can quite easily skip.
A 2D portable Pikmin was probably never a good idea, and this uninspiring effort does little to prove otherwise.
Hey! Pikmin entices in the beginning, but the dull level design and easy puzzles made it boring. This sequel fails at carrying what made the other Pikmin games terrific.
Review in Arabic | Read full review