Percentile Rank
Vane is ranked in the 8th percentile of games scored on OpenCritic.
Rating Summary
Based on 67 critic reviews
OpenCritic Rating
Based on 67 critic reviews
Score Distribution
Unscored Reviews
An ungainly but hypnotic exploration of worlds in the making and unmaking, and a fresh spin on the ethos of Team Ico's games and Journey.
For as beautiful as Vane looks and sounds, and for as exhilarating as the flight can sometimes be, there are so many barriers to your enjoyment of this title. Friend & Foe have poured so much into the experience but have forgotten the fact that we also need to interact with it.
Vane could have been an amazing experience, since it is based on some great ideas, but it seems that the developers didn't have the budget to materialize them.
Review in Greek | Read full review
Vane awakens the hope for an exciting, gloomy gaming experience in the style of Inside or Journey, but ultimately fails in the implementation and also offers hardly any fresh ideas over his short playing time.
Review in German | Read full review
Given this game's artistry, the child is a surprisingly ugly thing. It moves like a mole through molasses. Traversal is a major part of the game's puzzle landscape, but the child never feels entirely connected to the ground, dragging its feet through rocks, or floating weirdly over perches.
Whether you're a big indie fan or a newbie like me, Vane is well worth your time.
Scored Reviews
Pure Playstation
9 / 10.0
Vane's arresting visual design, inventive mechanics, compelling environmental storytelling, and tense, viscous atmosphere converge to create a truly exceptional experience and PS4's first essential exclusive of the year.
PlayStation LifeStyle
8.5 / 10.0
There's only so much to say about Vane, an exploratory experience one can get through in a single sitting, without veering into spoiler territory. Vane is a game that feels like it wears its thematic elements on its sleeve, all without a single spoken or written word. Those themes include "instinct" and "exploration" at the ground level, and from there are likely up to how the individual player perceives the story as it develops. In its refusal to hold your hand or even guide you a little, Vane feels like it stands out among its peers as a vehicle to deliver narrative agency for players, not because they have a list of choices to sift through, but because they are presented with an environment and scenario that is so freely open to interpretation. With Vane, you get out what you put in, and while you may not come back to it multiple times, that first one is a doozy.
Like so much fine art, this piece loses its luster when you start to dissect and interpret it. So don't. Because it's fucking dope
Aside from occasional camera troubles, Vane stands out as one of the most immersive titles of 2019. Whether exploring the world as a child or a bird, the visuals masterfully blend together in a beautiful environment worthy of exploration. In relying on visuals instead of dialogue, players can form a deeper appreciation for the world around them - one open to interpretation. Vane is not a particularly long adventure, but it's one that'll leave audiences reflecting long after the credits have rolled.
This game won't be for everyone. A short playtime and lack of instruction of what to do or where to go, coupled with a range of annoying little glitches, may cause many to get frustrated. However the overall look and atmosphere is incredible. You'll want to explore each location in order to enjoy the game because the pleasure we get from a journey is perhaps more dependent on the mind-set that we travel with, than on the destination we travel to.
Vane is an experience filled with intrigue and mystery, but it's held back by some technical issues. One can't help but feel that it could've used some more time in the oven. That said, despite its issues, it's better than the sum of its parts and worth checking out by fans of Team ICO's past work.
Vane's atmosphere, music, world, and abstract story are affecting and strange, but the bugs and design lead to unnecessary frustration
Vane is a different game. It does not present an interesting story, but it ends up delivering a unique experience of seeing the world from above through the view of a crow. Even though it has some serious technical problems and gets the player lost in some moments, Vane manages to make the player have some fun while solving some puzzles and trying to understand what happens to that world.
Review in Portuguese | Read full review
Digital Chumps
6.5 / 10.0
Like the pearlescent shimmer across its desert surface, Vane is difficult to observe and define with precise clarity. Its world presents either an invitation to wonder or a provocation to explore and it's often seized by the tension pulling in opposing directions. Vane can be brilliant and subversive or confusing and frustrating and it's impossible to separate its intentions from its misfortunes.
Despite the magnificent aesthetic inspiration and the stunning overall atmosphere, Friend & Foe is unfortunately no Team ICO (especially concerning some of the key aspects that make a video game worth playing): as a result Vane is an imperfect, uneven and at times even excruciating adventure. But also one that, along with its lows, is still capable of memorable, evocative highs.
Review in Italian | Read full review
Culture of Gaming
6.5 / 10.0
Vane is an enjoyable journey through a desolate world with the occasional issue with camera controls and glitches that cause you to lose minutes of progress. Despite, its flaws there is something to discover within the game. But at less than two hours worth of content, one can't justify the twenty-five dollar price tag.
Vane exists in an enormously stressed and jagged world of puzzle-platforming. Simply moving around feels rough and unfinished, and that's not always on purpose. If only Friend & Foe had more time to incubate its creation.
Vane is an enigmatic game about the force of union and the silent sacrifice of living beings. It looks like an Early Access game, with bugs, glitches and an unnerving slow pace. Sometimes presents a wonderful world where the sense of solitude is the key to understand what Friends & Foe wanted to tell in their obscure and strange story.
Review in Italian | Read full review
Vane has a nice art style but with boring gameplay and tons of bugs.
Review in Chinese | Read full review
The industry can always use more risky passion projects like this, even if they don't always reach their full potential.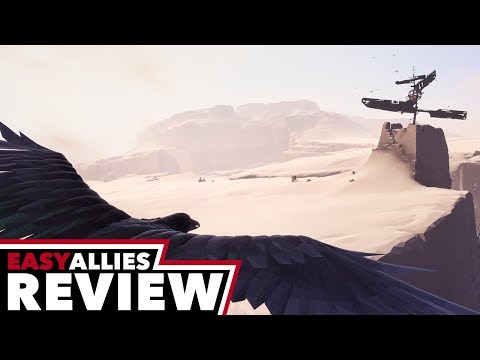 Vane is beautiful in its expression. Players will find themselves stunned by the world the game depicts, but, unfortunately, the title seems to be an expression of style over substance. Vane looks and often sounds amazing, but the developer has pursued making a work of art at the expense of something that is fun to play. Overall, Vane could certainly be considered a work of art. Nevertheless, though it was clearly aiming to be the next Shadow of the Colossus, it hits wide of the mark, as Vane lacks the depth and impact of that classic title.
An atmospheric and often perplexing exploration game that suffers from bugs, uneven level design, and an unwavering dedication to leaving you to your own devices.
Vane is a unique experience and for that in itself Friend & Foe should be applauded. As an artwork, it's compelling. But as a game, it's recommended with strings attached: this is a harsh, uncompromising world and you're going to need to struggle to survive.
Vane is an intriguing game with a variety that encourages you to dig deep into its dubious world, but its sluggish controls hamper this peculiar experience.
Review in Arabic | Read full review
Vane is an interesting, beautiful, and provocative indie platformer brought down by design inconsistencies and bugs, but fans of the genre will find something to like here.
It's very clear where Vane draws it's influence from, the problem is that despite beeing a beautiful a project with satisfactory puzzles, it can not at any time reach the level of its predecessors, and worse than that, it inherits from these projects a bunch of technical problems that here are even worse. There are very good things inside VANE, but the sum of its factors does not result in anything remarkable.
Review in Portuguese | Read full review
A missed opportunity. Vane had a lot of potential, but finally it wasn't used in terms of creating a compeling game.
Review in Spanish | Read full review
Six months later, Vane got rid of critical errors, but did not become a good game. A dark story about the fall of civilization, sometimes nice puzzles, beautiful landscapes of the desert world and a powerful atmosphere can not pull boring gameplay, terrible controls, empty locations, indistinct ending and the lack of adequate navigation. And this is sad.
Review in Russian | Read full review
Vane lets players shift from the form of a bird to a child as they explore a strange, hallucinatory world set to a fantastic synth soundtrack. But what starts as a liberating flight through a vast desert eventually devolves into a linear trek through cramped corridors. Vane is a strange, haunting game that deserves attention, but it abandons its most interesting ideas too early on.
Vane lasts 4 hours, and if we have to compare all the elements we defined till now in the review, sadly, we can't promote this game. The whole product is chaotic, cause of bugs, a questionable gameplay, and a bad camera management…It's not easy to be satisfied just by a pleasant graphic design and a great soundtrack.
Review in Italian | Read full review
Level Down Games
5.5 / 10.0
Featuring deep puzzle solving mechanics, a unique graphical style, and a tale that will leave you guessing until the very end, it's definitely a game worth experiencing at some point. The technical issues and bugs currently present at the time of release really do hold Vane back from being a good game to just being mediocre, and that's unfortunate.
Vane is a unique, almost-therapeutic experience with a magical world to explore. Unfortunately, the controls are pretty awful. If you can deal with that major issue, though, you'll find a somewhat worthwhile adventure.
New Game Network
54 / 100
Vane is the kind of game where you can see what the developers were going for. It has moments where the vision comes together and perhaps you've turned a corner, but all too quickly it goes back to its old, disappointing ways.
Vane follows in the footsteps of many arty puzzle-platformers before it, but a lack of a strong voice and purpose keep it from being great.
Handsome Phantom
5 / 10.0
In the pursuit of crafting an indistinguishable game world and granting advanced levels of autonomy, the developers forgot to make Vane any fun to play.
Vane has some good ideas, but in stretching them out for too long across a pretty empty world, it soon becomes tiresome and frustrating.
While visually impressive at times, Vane suffers from an unclear purpose and far too many technical issues to recommend it.
Developers Friend & Foe wanted to give freedom to the players with Vane, and on that aspect, they succeeded. Unfortunately for me, this also became a major disappointment, as there was maybe a bit too much freedom to properly lead me through the story and through the experience it should've been.
Overall, this game lacks any specific direction beyond what you have to figure out for yourself. You get no introduction to the character or the situation they face. There are game breaking bugs and things that cause frustrations that make someone not want to play the game anymore. That being said, this game has good environments and music. The game is now available on PlayStation 4 and is priced at $24.99 USD. If you like clunky, buggy games that look good but make you fight for any meaningful fun then this game is for you. I would not pay the price for this game though and would wait for a sale or even just watch YouTube videos if you are interested in it.
The art of a game, however distinctive, matters little if it isn't accompanied by functionality.
Vane is a strange game. Its art direction and visual design frame a grandiose, otherworldly affair, but its puzzle design and narrative squash those expectations, ultimately providing a frustrating experience with fragments of its original vision.
Vane has a great premise, but it's overshadowed by glitches, bugs, graphics bugs, and a wild camera.
Review in German | Read full review
The Games Machine
4.5 / 10.0
Beautiful visuals and suggestive atmospheres are not enough to save Vane, whose obscure and not always working mechanics make the player feel abandoned in a poorly conceived world.
Review in Italian | Read full review
It is boring walking simulator with crow. As dry as desert in this journey.
Review in Slovak | Read full review
Vane is a game that sticks to its ideals at the detriment of everything else. It's a noble idea to let players figure out everything on their own — until you realize that the large environments and the number of interactive but ultimately useless elements mean more time wasted in activities without a payoff.
Vane is a 2-hour atmospheric adventure game that due to its numerous technical problems and confusing language will take up to 5 hours to finish. It is a unique experience with stunning art design and music that unfortunately has been lost in a sea of bugs and gameplay problems
Review in Persian | Read full review
PlayStation Universe
4 / 10.0
Though it boasts a resoundingly striking aesthetic, a haphazard save system coupled with a raft of glitches and a misjudged waypoint system all manage to tarnish what should have been one of the first major indie darlings of the year. Vane is simply too frustrating to recommend in its current form.
Gamerheadquarters
4 / 10.0
Vane comes across as an interesting concept, yet a light one that lacks polish.
Vane is exhausting, ponderous, bewildering, endlessly frustrating, needlessly obtuse, narratively unsatisfying, mechanically clumsy, and technically shoddy, all shot through a camera so ill-equipped to deal with the rudimentary task of showing you what's happening on screen that you might as well pop a blindfold on and try using The Force.
Video games have really changed as a storytelling medium. what was once a casual dash from left-to-right, dropping baddies and collecting shiny objects, opened up into new realms of drama, narrative and even philosophical messages. Of course, that doesn't make these games immediately any better than the goofy platformers and shmups of gaming's formative years, but it has been amazing to see the many different ways gaming has been adapted by talented designers to tell all manner of dark, abstract and inquisitive tales.Into a busy market of chin-stroking titles such as The Missing, Gris and Gone Home comes Vane, a new PS4 adventure from Tokyo outfit Friend or Foe. Vane, like its brethren, eschews typical action gameplay to present a mood-piece adventure, not dissimilar from the work done by Team ICO. Vane wants to put freedom back in the hands of the player, letting them engage in a strange, mystical journey - without hand-holding - and with player-led discovery being the ultimate prize.
Vane may have strived to create an immersive experience for gamers, but its technical flaws leave it feeling disjointed and unpolished. It feels like a disappointment for what it could have been and it is hard to recommend the game in its current state.
It can still look visually striking when viewed from a distance while its audio design, with a brooding electronic score, can also be wonderfully atmospheric. Sadly, it's not enough to salvage a wholly disappointing experience that never reaches the lofty heights it begins with.
Initially intriguing by his artistic direction, mysterious in its final, and even if it has the good idea to offer the happiness of being a bird, Vane goes from meditative to painful far too fast, served by a technique too much weak in regard to its size and a lack of sensation, which it does not manage to tie the bottom and the form of its experiment.
Review in French | Read full review
It seems like during the years of development, Friend & Foe has forgotten what it wanted to say with Vane.
Review in Russian | Read full review
Vane boasts some gorgeous visuals for an indie game but sadly suffers from a litany of bugs and strange design choices.
The new PlayStation 4 exclusive third-person adventure Vane is broken, ploddingly slow, and completely confused about what it's trying to do.
There is nothing about Vane that redeems it. This review reads like a list of complaints instead of constructive criticism because there isn't even anything to be constructive about. It's a game that's a challenge to play simply because it challenges your patience.
Despite its deceptively intriguing prologue, Vane quickly goes from a journey of discovery to a laborious chore, mainly due to the abundance of technical issues and a lack of a decent save system.
PlayStation Galaxy
3 / 10.0
Though Vane did not hit any mark for it to be considered good, we can only wonder what's next for Friend & Foe, and hope that the developers understand that gamers want to not only be challenged intellectually but to also attain an experience they will always remember.
It's clear what sort of tone or manner of presentation Vane is going for despite its short run-time and undeniable vacancy of explanation.
A beautiful world begging to be explored falls victim to unclear direction and clunky controls making for a disaster instead of a delight.
Vane's first fifteen minutes are amazing. Then the game plummets in quality faster than a diving bird. Tons of glitches, obtuse puzzle, terrible controls, an awful camera, and stuttering frame rate keep Vane from being worth your time.
Unfortunately, Vane's most interesting segment is overshadowed by how it manages to combine all of the game's problems.
If you love pretentious indie games then you may enjoy Vane but those just looking to have fun will likely get irritated with it.
Vane is game that has much potential, It has the feel of The Last Guardian to it and that in itself is a reason to want to like this game. The incredible visual style and the haunting 80s synths soundtrack adds buckets of atmosphere. It's just a shame that the game is so obtuse for its own good.