An ungainly but hypnotic exploration of worlds in the making and unmaking, and a fresh spin on the ethos of Team Ico's games and Journey.
An atmospheric and often perplexing exploration game that suffers from bugs, uneven level design, and an unwavering dedication to leaving you to your own devices.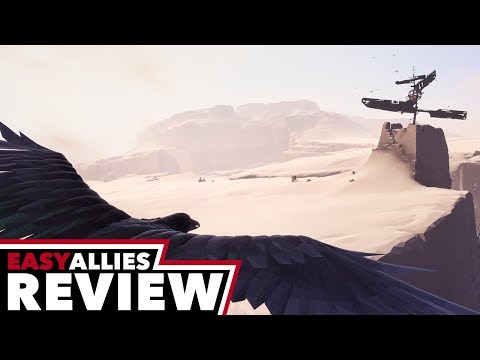 Vane's atmosphere, music, world, and abstract story are affecting and strange, but the bugs and design lead to unnecessary frustration
Vane follows in the footsteps of many arty puzzle-platformers before it, but a lack of a strong voice and purpose keep it from being great.
Given this game's artistry, the child is a surprisingly ugly thing. It moves like a mole through molasses. Traversal is a major part of the game's puzzle landscape, but the child never feels entirely connected to the ground, dragging its feet through rocks, or floating weirdly over perches.
Video games have really changed as a storytelling medium. what was once a casual dash from left-to-right, dropping baddies and collecting shiny objects, opened up into new realms of drama, narrative and even philosophical messages. Of course, that doesn't make these games immediately any better than the goofy platformers and shmups of gaming's formative years, but it has been amazing to see the many different ways gaming has been adapted by talented designers to tell all manner of dark, abstract and inquisitive tales.Into a busy market of chin-stroking titles such as The Missing, Gris and Gone Home comes Vane, a new PS4 adventure from Tokyo outfit Friend or Foe. Vane, like its brethren, eschews typical action gameplay to present a mood-piece adventure, not dissimilar from the work done by Team ICO. Vane wants to put freedom back in the hands of the player, letting them engage in a strange, mystical journey - without hand-holding - and with player-led discovery being the ultimate prize.
Vane is a strange game. Its art direction and visual design frame a grandiose, otherworldly affair, but its puzzle design and narrative squash those expectations, ultimately providing a frustrating experience with fragments of its original vision.
Despite its deceptively intriguing prologue, Vane quickly goes from a journey of discovery to a laborious chore, mainly due to the abundance of technical issues and a lack of a decent save system.
A missed opportunity. Vane had a lot of potential, but finally it wasn't used in terms of creating a compeling game.
Review in Spanish | Read full review
Whether you're a big indie fan or a newbie like me, Vane is well worth your time.
Vane has some good ideas, but in stretching them out for too long across a pretty empty world, it soon becomes tiresome and frustrating.
Vane lets players shift from the form of a bird to a child as they explore a strange, hallucinatory world set to a fantastic synth soundtrack. But what starts as a liberating flight through a vast desert eventually devolves into a linear trek through cramped corridors. Vane is a strange, haunting game that deserves attention, but it abandons its most interesting ideas too early on.
Six months later, Vane got rid of critical errors, but did not become a good game. A dark story about the fall of civilization, sometimes nice puzzles, beautiful landscapes of the desert world and a powerful atmosphere can not pull boring gameplay, terrible controls, empty locations, indistinct ending and the lack of adequate navigation. And this is sad.
Review in Russian | Read full review
Beautiful visuals and suggestive atmospheres are not enough to save Vane, whose obscure and not always working mechanics make the player feel abandoned in a poorly conceived world.
Review in Italian | Read full review
Unfortunately, Vane's most interesting segment is overshadowed by how it manages to combine all of the game's problems.
Vane exists in an enormously stressed and jagged world of puzzle-platforming. Simply moving around feels rough and unfinished, and that's not always on purpose. If only Friend & Foe had more time to incubate its creation.
There is nothing about Vane that redeems it. This review reads like a list of complaints instead of constructive criticism because there isn't even anything to be constructive about. It's a game that's a challenge to play simply because it challenges your patience.
Vane is exhausting, ponderous, bewildering, endlessly frustrating, needlessly obtuse, narratively unsatisfying, mechanically clumsy, and technically shoddy, all shot through a camera so ill-equipped to deal with the rudimentary task of showing you what's happening on screen that you might as well pop a blindfold on and try using The Force.
Though it boasts a resoundingly striking aesthetic, a haphazard save system coupled with a raft of glitches and a misjudged waypoint system all manage to tarnish what should have been one of the first major indie darlings of the year. Vane is simply too frustrating to recommend in its current form.