Percentile Rank
Tom Clancy's The Division 2 is ranked in the 83rd percentile of games scored on OpenCritic.
Rating Summary
Based on 77 critic reviews
OpenCritic Rating
Based on 77 critic reviews
Score Distribution
Unscored Reviews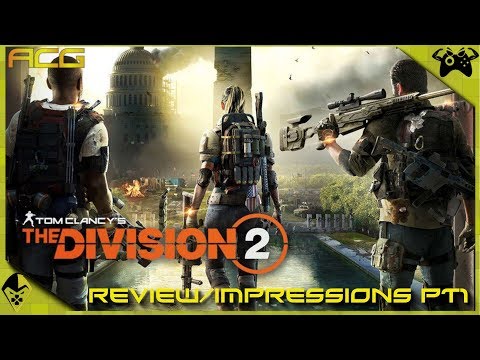 Despite the relatively mixed reception and rapidly dwindling player base post-launch, Ubisoft stuck with The Division and eventually built it up into a rewarding and diverse RPG shooter. It really does feel as though the studios that worked on The Division 2 have taken the feedback to heart and have poured it into the sequel, enhancing almost every aspect we've experienced.
One of the things that has surprised me during my first hours in The Division 2's ravaged Washington DC, is just how thoroughly competent it all is.
While I'd love to see out the whole thing – the main story, not the time sink endgame – coop, it's how The Division 2 performs as a single-player campaign that may ultimately decide how far I take this fight.
Eurogamer
No Recommendation / Blank
No Recommendation / Blank
Mar 18, 2019
The Division 2 manages to improve upon the original formula in almost every way, but its tale and tone are frequently awful.
For now, I have to at least commend The Division 2 for getting the basics right. There's a compelling endgame, there's loot that actually matters, and missions don't feel like they're copy and pasted to bulk out the runtime. If some of the frustrations can be ironed out, it could be the best of its genre.
The Division 2 has managed to elaborate on its established formula while addressing everything that held the first game back.
Rock, Paper, Shotgun
Unscored
I find it better to approach this as a good waste of time, a detailed disasterworld to saunter through for a couple of weeks.
(Review in progress) The Division 2 has its own bugs, but the experience it offers till endgame is amazing. There are plenty of things to do and lots of loot to grab. Level designs and details are nice, gameplay is very good. But we'll reach a verdict after the endgame because that's the most important part of a looter-shooter game.
Review in Turkish | Read full review
Post Arcade (National Post)
Unscored
Massive's loot shooter sticks its landing and is well worth fans' time, even if it leaves room for improvement
Checkpoint Gaming
Liked-a-lot
With a deep, interesting city full of content to explore and an endgame that seems very fleshed out, The Division 2 is incredible value, and will likely go down as one of the most successful sequels of all time.
And, while the story-based campaign and leveling system provide plenty of thrills, it takes about 50 hours to actually get to the real shit. The endgame is where I can now choose between playing as a sniper, a bomber, or a non-specific character who can do a bit of everything, and join up with other super-achievers to take down a tougher gang called the Black Tusk.
Scored Reviews
The formidable game content, mesmerizing graphics and comprehensive weapon system makes TD2 fun to play. Ubisoft has done fabulous work and brought many upgrades from the last game.
Digital Chumps
9.5 / 10.0
Since its announcement, Massive and Ubisoft have said all the right things about The Division 2, from a wealth of content to a robust endgame. For once, it's refreshing to see the reality be more than mere words as The Division 2 sets a new standard for the genre. This is the high bar "games as a service" should aspire to.
A great game with fantastic world building and gameplay, The Division 2's most egregious issues can easily be fixed during its lifetime.
Gamerheadquarters
9.2 / 10.0
The Division 2 expands every element of the original and provides an absolutely massive world that's filled with content.
Tom Clancy's The Division 2 is the best game of 2019 so far and another masterpiece by Ubisoft in this generation. Thank to it's beautiful mission design, amazing atmosphere, handy gun play and also using different skills, tactics and RPG elements can make you love the new ubisoft game. The Division 2 is easily one of the best MMOs ever made for any player with any taste, either you play it solo or team-based.
Review in Persian | Read full review
The Division 2 is a substantial evolution on the mechanics of the first game, with a more immersive world to boot. This is an impressively complete game, with heaps to offer players across all of its content prongs and a level of polish that belies the size of the game's open world.
This is what we expect from games as a service: huge amount of content (at launch day!), exciting endgame and a lot of quality-of-life changes which were never implemented by other competitors.
Review in Russian | Read full review
Fantastic world design, exciting combat, and a seemingly unending sense of meaningful progression make it easy to get completely rapt by The Division 2.
The Division 2 is pretty to look at, detailed and mechanically strong. It's extremely content heavy to the end and more importantly beyond the end. It is the top of the line looter shooter of choice right now and it raises the bar for the genre. Its story and voice acting are disappointing and it has a couple of small design flaws, but they hardly make a dent in an otherwise brilliant game.
In developing The Division 2, Ubisoft has taken what worked from the first game and listened to fans, creating a follow up that's captivating and densely packed with things to do. If you like third-person shooters or love loot, it's a must-buy.
The Division 2 provides an incredible wealth of loot-centric content, and includes tight gameplay mechanics, challenging and engaging combat, a huge open world, and more.
The Division 2 has way more content than the original, it is set in a bigger more varied city, and shows great balance in loot and character levelling. It is too conservative in gameplay and level design, but we still love its gunplay and cover system. Review in progress.
Review in Spanish | Read full review
A triumphant follow-up that sets the bar for the looter-shooter. There are some teething issues, but The Division 2 is an incredibly polished product, and downright compelling at the same time.
The Division 2 is a seriously accomplished looter shooter, with a gameplay loop that keeps on giving, and an endgame that will keep you playing for months (or years) to come.
The Division 2 is by far the easiest recommendation at launch this genre has had in many, many years, and is very well positioned to become the definitive looter shooter experience out there.
The story falls short, but The Division 2 is filled with loops to keep you invested in upgrading your agent well beyond the endgame, including gear score optimization, Dark Zone ventures, and daily challenges
The Division 2 is a result of the studio listening to every criticism received in the first game and updating the system of multiplayer also game content and end game content which makes it surely the best Looter Shooter in the current generation without any controversy only a better story is all we were hoping for, but no game in This genre started with this quality and this stability so far
Review in Arabic | Read full review
The Division 2 presents itself as a thoroughly polished loot shooter with meaningful detail improvements.
Review in German | Read full review
The Games Machine
8.8 / 10.0
Defining Tom Clancy's The Division 2 as a "more of the same" is certainly unfair, but we have to say that the innovations introduced by Massive Entertainment are grafted onto the already proven mechanics of the previous incarnation of the series. Compared to its direct predecessor, the latest game developed by the Swedish studio already offers an impressive amount of content. The lack of a consistent plot and a poor optimization on PC are the only issues worth noting. This is however an excellent exponent of the "looter shooter" genre, surely the only one presenting itself in the most complete form at launch.
Review in Italian | Read full review
After spending three years effectively processing the community feedback of the first chapter, Massive Entertainment has put together a fun and well-rounded play package that leaves behind many of its predecessor's flaws.
Review in Italian | Read full review
Just Push Start
4.25 / 5.0
Many of the positives of the orignal have been captured and bundled with a host of improvements, yet The Division 2 still feels like more of the same. Taken on face value this might sound negative but as the original helped the hours pass by, and the sequel matches this, and you start to realise this is another great game from Ubisoft. Built on the core shooter gameplay, the cover based combat is fast paced and explosive – without being too over the top.
PlayStation Universe
8.5 / 10.0
An ultimately conservative though meaningful improvement upon the previous Division title in every way, Tom Clancy's The Division 2 stands as a sterling third-person loot shooter experience that is best enjoyed with friends and is one which plays host to an evocative setting that lingers in the memory.
Witnessing an entire squad full of players who are using completely different abilities in what is essentially a cover-based tactical shooter is quite the sight. It still has that semi-grindy feel, but it's engaging in the sense that the grind is never a chore.
As flawed as the first The Division ended up being, it was still an enjoyable experience. The sequel doesn't take a revolutionary leap forward and rather just settles on improving every flaw, but sadly this comes with a downgrade in the scope of the story which is unfortunate.
Flickering Myth
8.5 / 10.0
The Division 2 keeps an impressive number of plates spinning while skirting clear of the soulless live-service void. It isn't perfect by any means, but Massive has done a remarkable job of making a potentially messy experience feel uncommonly holistic.
Tom Clancy's The Division 2 expands the established gameplay mechanics and the world from its predecessor with amazing endgame content and lots of surprising enemy variety that was missed in The Division. Sadly the story sinks in the crowd of countless objectives and new content, which together with some gameplay bugs and glitches doesn't let the title reach its full potential.
Review in German | Read full review
The Division 2's campaign is full of great gunplay, loot, and missions. Only toward the end of my 60 hours of play did it start to suffer from a lack of interesting incentives, but the journey was enough fun that it made up for the destination.
The Division 2 is everything a player could want in a sequel. It reinvents and recalibrates where it must, but it also wisely builds off all the work Ubisoft put into refining the first Division. This sequel definitely makes you work for your rewards, but its fine-tuned gameplay and expansive suite of different activities ensures the journey towards earning those rewards is one worth taking.
Ubisoft Massive learned from its errors in creating The Division 2, which is somehow similar, but bigger and better for the most part.
Review in Italian | Read full review
While The Division 2 may have some things that still need fixing, it's a work of testament for the team at Massive Entertainment, showing that they've learned from previous mistakes (for the most part), and that they're ready to move forward with the model that players rightfully deserve.
The Division 2 is almost certainly a step up from its predecessor, offering more content than you can shake a stick at and enough tweaks to make it feel somewhat fresh. While Massive has attempted to rectify the issues of the original, it hasn't quite managed that yet: yes, enemies are still kind of bullet-spongey and the missions can get quite repetitive after a while, but aside from that, The Division 2 is an impressive follow-up, building upon what was already a solid foundation.
The Division 2 does not suppose any massive revolution in its formula, nor pretends to be it, given the good taste of mouth that the first one left. It more than meets the "more and better" expected of a sequel.
Review in Spanish | Read full review
Despite the bland and forgettable story, The Division 2 offers a sizable expansion on the first game's foundation, providing an excellent loot-shooter with great combat, sharp AI, compelling loot, and a polished presentation.
The shooting and looting of The Division 2 each are strong enough on their own that a lackluster story and proliferation of glitches aren't enough to sour this trip to America's capital for a bit of R&R in the Dark Zone.
A packed, rewarding, and frequently thrilling looter shooter that should have a bright future.
Although The Division 2 is not a perfect game, most evident in its story and murky politics, it improves on almost everything from the original.
Tom Clancy's The Division 2 surpasses The Division in all ways. It's a great co-op shooter with nice graphics, detailed environments and interesting battles.
Review in Russian | Read full review
The end result is a loot shooter far more confident and coherent than what we've seen before. Ubisoft Massive has learned from past mistakes, side-stepping those same pitfalls to deliver a sequel that feels dense without becoming tangled. There are still some rough edges and the burden of carrying a limp story but, ultimately, The Division 2 triumphs over everything else this genre currently has to offer.
The Division 2 is not a new game that upturns the tea table on Washington. It obviously uses all things that made the success of the first one and it is difficult to blame him on that. However, it refines a large number of aspects with small adjustments. This makes it more enjoyable and even more effective if you can play regularly as a team to go even further and live intense moments in the Dark Zone. Did you like The Division? You will love the Division 2. But do not ask this sequel to turn black in white.
Review in French | Read full review
Tom Clancy's The Division 2 raises the bar for the looter shooter genre. Put simply, it is the complete package.
USA needs help of agents... again. This time to save Washington, DC. It is still amusing fight, escpecially in cooperation. However without big inovations.
Review in Slovak | Read full review
The Division 2 is an improvement on the first game in almost every way, and it's both a fun game and a satisfying investment.
The Division 2 is an online, shared-world looter-shooter done properly from the start. Massive Entertainment have crafted an engaging experience worth sticking to for the long haul.
In an age where it's become all too common for live service games to release as incomplete products that require a few months' worth of patches to become the game we were "promised," The Division 2 is a revitalizing breath of fresh air.
These concerns notwithstanding, The Division 2 is a welcome sequel to The Division 1 and a great game to play with friends or solo.
Tom Clancy's The Division 2 is good overall with some shortcomings.
Tom Clancy's The Division 2 is the ideal sequel for those who enjoyed its predecessor. It builds on what worked, changes what didn't, and delivers a great new map to explore.
The division 2 offers many enhancements over the first game. End Game content especially is very well done and a lot of fun.
Review in Arabic | Read full review
Cultured Vultures
8 / 10.0
Despite squandering a great setting and premise, The Division 2 is an incredibly fun game to play which improves on almost everything the first one brought to the table.
Ultimately, The Division 2 is a safe sequel for Massive Entertainment to have made and is a safe purchase for anyone looking to grind for loot in a well-paced, co-op experience set within a gorgeous open world.
All of the good traits from the first game have been amplified, and the changes feel like better implementations of the original ideas. The endgame content is substantial, and the introduction of classes so late in the game changes things enough to make the experience feel renewed. Add to that the promise of lots of free future content, and you have a loot shooter that is well worth your time.
Post-apocalyptic Washington DC is a joy to explore with the game offering so much from the very start
Ubisoft's latest entry in its third-person shooter franchise The Division is a breath of fresh air in a world filled with flawed loot shooters.
Recent games have reminded me that sometimes great execution is better than a noble failure, and The Division 2 executes on its concept with finesse. The story is lackluster, and the real-world aesthetic will turn of some players, but it doesn't matter because the core and flow of this looter shooter is great. There are something things that could be tweaked, like enemy density and their ability to one-shot you, but overall The Division 2 is a sequel done right.
With a decent end-game experience, The Division 2 becomes much better than its prequel, and I believe it's even better than Destiny 2 and much superior to Anthem. However, the PS4 version has been suffered a serious Bug which repeatedly crashes the game since its initial release day.
Review in Chinese | Read full review
If the first Division never did it for you then the sequel is unlikely to win you over. This is a sequel with a small 's', refined rather than revolutionary, squarely aimed at fans of the first game who are eager for more.
An ambitious but competent sequel that already has some of the best endgame content of any similar game… if you can stomach the offensively apolitical, and thoroughly boring, storytelling.
The game doesn't rely on narrative reasons to entice the player, leaning instead on endorphin-releasing gameplay hooks.
Right now, The Division 2 stands strong as an addictive, well designed, and complete looter shooter. For how dynamic and intricate it is, its open world sets the bar for the genre, and its tense, tactical combat is, for the most part, a real joy.
Shooting the bad men and tinkering with your loot in The Division 2 is good enough to keep you coming back to something that's regularly monotonous and lacks any real message.
Cheat Code Central
2.8 / 5.0
Loot shooters are an increasingly crowded space, and The Division 2 is fighting a losing battle for my attention
With a stronger endgame and a solid loot treadmill, The Division 2 preaches to the choir, fully uninterested in converting those who find the series unpleasant to play for one reason or another.
Post-apocalyptic Washington DC is splendidly imagined but the insipid techno-thriller plot ensures the struggle to save civilisation can't be won