Percentile Rank
Yoshi's Crafted World is ranked in the 81st percentile of games scored on OpenCritic.
Rating Summary
Based on 107 critic reviews
OpenCritic Rating
Based on 107 critic reviews
Score Distribution
Unscored Reviews
I thoroughly enjoyed my time playing through Yoshi's Crafted World. It's smooth to play, easy to pick up and put down while also offering a degree of challenge to those who might be a little rusty in the platformer department. While I don't think it necessarily does a whole lot in terms of taking the genre to the next level or revolutionising it in any way, what it does do is actively showcase the solid foundations of its predecessors while also making small quality of life improvements to the gameplay. At this stage of the franchise's development, I think that's a reasonable place for it to be. I'm also curious to see where the series progresses from here on out, and what future improvements will look like to an already well-rounded bundle of dinosaur shenanigans.
Easy doesn't mean a lack of fun, and if Yoshi's Crafted World is anything, it's fun.
Gentle and generous, Good-Feel delivers its best game yet in this imaginative and breezy platformer.
Checkpoint Gaming
Liked-a-lot
Yoshi's Crafted World combines solid gameplay with enough new ideas and a vibrant, creative visual twist that makes it more than worthwhile for platforming fans.
Unboxholics
Worth your time
A charming piece of pure family entertainment.
Review in Greek | Read full review
There's true charm and a surprising amount of substance in this delightful little romp. Every time I booted up my Switch to play, it felt like the console was giving me a loving hug and when my time was up, it left me with a warm glow inside. With its gleeful tunes, soothing sounds, and stunning design, Yoshi's Crafted World is another wonderful jewel in the Switch's platforming crown.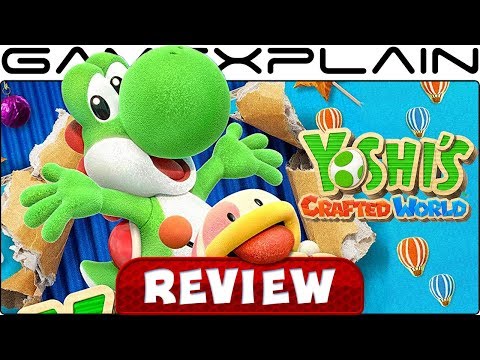 By channeling Labo's construction spirit into the long-standing conventions of a Yoshi game, Crafted World's carved out a similar work-play functionality. I'm not always having fun, but I want to get it right. Yoshi's counting on me.
This is a game that's elevated by that choice of art and the way that design interlaces and works to create new play opportunities within the sweet sandbox of each level.
I'd thoroughly recommend Yoshi's Crafted World to young gamers, Mario fans and people with a passion for platformers, but it's not going to do much for hardcore gamers with such little meat on its bones.
Scored Reviews
Don't let the green dino's mid-tier status fool you. With fluid platforming, incredible attention to detail, and a huge variety of content, Yoshi's Crafted World is a must-have Switch game.
Yoshi's first Switch game is as beautiful, fun and complete as we expected. A feel-good game that will convince most gamers.
Review in Spanish | Read full review
Fans of Yoshi will love it, as it is everything you would expect. Meanwhile, those who haven't taken the dinky dino for a spin before will pick this up quick enough and possibly wonder why they've never played the previous games. It is one for the collection for sure.
Yoshi's Crafted World not only change wool by cardboard to offer a charming plaform game: it goes beyond offering a "collect-a-thon" with a extremely varied levels, full of surprises and distinct gameplay mechanics. A very enjoyable game with local coop and a magnificent example that remind us that in 2D gaming, not all is done yet.
Review in Spanish | Read full review
Nintendo's trademark charm runs through the core of Yoshi's Crafted World and as a result it shines brightly. Perfectly quaint visuals abound as much as interesting level designs and puzzles that test a player's ability to use Yoshi's abilities to their fullest.
Yoshi's Crafted World is so cute and adorable I wish it had chubby cheeks I could squish.
Yoshi's Crafted World is a terrifically simple platformer with a gorgeous art style and a focus on exploration over challenging gameplay
Games like Yoshi's Crafted World always get overlooked and quickly forgotten - they're not explosive enough, the graphics aren't realistic, and you can't make memes about how it's "destroying" you. But, this game is the perfect foil for all those other titles being produced, and while it's a different manifestation of quality, it's every bit the standard of any expensive, open-world blockbuster out there.
With Yoshi's Crafted World, Good-Feel should be very proud of themselves for what they have achieved with this heartwarming adventure. Not only have they created a Yoshi game that convincingly pulls the series out from under the ever-widening shadow of Super Mario World 2: Yoshi's Island, but they have also managed to prop it securely on its own aspirational eye-candy pedestal as a result.
The Games Machine
9 / 10.0
Yoshi's Crafted World is a window into the mind of a child. Colourful and cheerful, the newest video game by Good-Feel is able to put the player in a good mood.
Review in Italian | Read full review
Overall, Yoshi's Crafted World is hours of fun for you and your whole family. Being able to step into a world with Yoshi as your main character will bring glee to any fans heart. He acts just as you remember from Super Mario World with all new tricks up his sleeve. For $59.99 USD you can own a copy of Yoshi's Crafted World and you will not regret it.
If you're looking for a cute and comfy game to play and just want a nice, relaxing experience that will make your heart melt, by all means, you could do a lot worse than picking up Yoshi's Crafted World. It's a fun little diversion that will just make you feel happy and lighten your heart.
The Outerhaven Productions
Yoshi's Crafted World proves that Yoshi can have a deep and fun title that everyone can enjoy. If you have a Nintendo Switch, this should be in your library.
I spent 15 hours with Yoshi's Crafted World. I tried to hit such a balanced center between gathering collectibles and flowing through the game without ever needing to go back and collect more daisies. The graphics did not stop surprising me to the end, and gameplay tossed me new ideas every now and then. I would recommend Yoshi to both: younger and older players. Everyone will find something here.
Review in Czech | Read full review
Nintendo Enthusiast
9 / 10.0
While the bosses and music aren't perfect, they do little to detract from the overall experience. Yoshi's Crafted World is well worth playing with friends or alone.
Yoshi's Crafted World may be a new game but that doesn't mean it throws its legacy away. Quite the contrary, it's a new adventure with the distinct Yoshi series' feeling, this time based on objects that can be found in every household. Thanks to its beautiful visuals, interactivity of the settings and overall heartwarming, fun and enjoyable gameplay, Yoshi's Crafted World is a game for everyone.
Review in Portuguese | Read full review
Yoshi's Crafted World is the type of game designed to take you away from the stress of modern life. Featuring gorgeous visuals, a refined control scheme, and a mountain if content to be uncovered, it's one I find myself able to recommend to almost any Switch owner.
Yoshi's Crafted World is another great chapter in the lucky story of Nintendo Switch, thanks to its inventive level design and captivating gameplay.
Review in Italian | Read full review
Yoshi's Crafted World is a refreshing, modern 2D platformer from Nintendo that, for once, truly feels new. From its gorgeous aesthetic to its myriad creative level motifs and gameplay ideas, Crafted World embodies the spirit of fun. While the game's soundtrack is decidedly lackluster and its co-op feels underbaked, this is undeniably the most ambitious and fun 2D platformer from Nintendo in a long, long time.
Thanks to many ideas, great gameplay and the unmistakable crafting look, Yoshi celebrates a great switch debut.
Review in German | Read full review
Effortlessly charming, fun for any age and an imaginatively designed spectacle of origami originality. Yoshi's Crafted World is fine art fun on the run or at home.
Yoshi's Crafted World takes many elements that made Super Mario World 2: Yoshi's Island one of the best platformers ever. It hast an excellent level design and its art style is full of life and personality. A worthy successor to the SNES classic.
Review in Spanish | Read full review
All in all, Yoshi's Crafted World is a delightful adventure that is held back only by being a bit too predictable. It's a solid platformer for gamers of all ages, and it's easy enough for the youngest players but has enough charm to keep adults playing. It's also easily the best Yoshi game since the SNES original, and while it's difficult to live up to a classic, Crafted World does a good job on its own merits. Even if you're not a fan of Nintendo's multicolored dino-horse, it's worth giving Crafted World a shot. You might be charmed and surprised.
Yoshi's Crafted World is a charming game with a fun co-op that is sure to please kids and their parents. It is incredibly easy, which is one of the side effects of making it more accessible, but it doesn't mean the game is not fun to play at all. It is a gorgeous platformer with incredible visual style and some clever level design.
Walmart Tips & Ideas
8.5 / 10.0
The bottom line—and this seems to be a common theme among Nintendo's releases—is once again we have another must-have game to add to your Switch library.
Yoshi's Crafted World is a funny, clever platform game that you don't want to miss.
Review in Italian | Read full review
Despite a few minor complaints here and there, fans of Yoshi games and platformers in general should give Yoshi's Crafted World a go – there's even a free demo, so there's nothing to lose. I highly recommend the game to gamers who enjoy playing with their family or a young child. Although I had a few complaints here and there, it was nothing to make me not want to recommend the game.
Escaping into a world of crafts and art bursting with life, is so cathartic in Yoshi's Crafted World. I welcome its unabashed cuteness and its simple, yet innovative level designs. Yes, it's an "easy" game if looked through the lens of a platforming challenge. But the world is hard enough as it is, and Yoshi's Crafted World wants you to have a good, charming time.
Yoshi's Crafted World is a blast to play and it's easily one of the best Yoshi games yet. It's even better played locally with friends or family, if you have other gamers in the house or neighbourhood. The wonderful, handcrafted visuals are a real treat on the eyes, and it's just as fun playing levels on the reverse "flip-side". Toss in a huge number of collectibles and 180+ costumes and you've got extremely high replay value.
Level Down Games
8.5 / 10.0
Fans of platforming games and Nintendo fans in general, if you haven't played Yoshi's Crafted World yet, you're doing yourself a disservice. While this isn't a perfect game and does have some drawbacks like the easy difficulty, what it manages to do with different platforming mechanics like having Yoshi control a freaking airplane by moving around it in one stage, made this title worth the journey for me. An incredibly cute and fun adventure, this title is sure to please even the most hardcore of fan when all is said and done.
NintendoWorldReport
8.5 / 10.0
That layer of protection circles back to the feeling of being comforted by a blanket while rolling through the variety of cozy levels and cute touches. Yoshi's Crafted World is a stable, enjoyable adventure that brings enough of a twist to the expected Yoshi adventure to make it stand apart in a way no Yoshi platformer has done in years. It has a few blemishes along the way, but just break out the duct tape and stick that cardboard back up so you can romp your way through this delightful easy-going platformer.
Despite a slow difficulty ramp, Yoshi's Crafted World is a delightful adventure thanks to fun-to-find collectibles, colorful levels, and creative boss battles
An extremely beautiful game that gets a bit boring with time due to its artifical replayability and its low difficulty.
Review in Spanish | Read full review
Yoshi's Crafted World is an art class plate heaped high with sugary delights that I can easily recommend.
Yoshi's unique brand of platforming is as solid as ever and comes with a brilliant visual twist, just don't expect it to bring too many new ideas to the crafting table
Yoshi's Crafted World is a treat to play and is highly recommended for any Yoshi fan out there, even for the ones who skipped out the most recent entries. Believe me, this may look cute, but Crafted World may fall into being one of the most entertaining and visually appealing games that the Switch has to offer.
Yoshi's Crafted World is simply lovely. The arts and crafts style is used in so many quirky little ways, the soundtrack lodges itself in your brain, and there's the same kind of laid back family friendly collectathon platforming that the series is now known for. Its one real new trick is its art style, sure, but that doesn't make it any less charming and wholesome.
Overall, the game is best played in short bursts, and it shines when in handheld mode. But the costumes don't really add anything, and sometimes you'll come across levels that are just there to complete - they feel like filler, padding stuffed in this wooly wonder to fill it out. The innovation in paper crafts and the ingenuity in how the collectables are hidden makes you come back for more, and to see just how the next stage will surprise you.
The visuals in Yoshi's Crafted World speak for themselves. Every corner you turn presents something new to wonder at. The game's a bit on the easy side, but that's not necessarily a bad thing if you accept Yoshi titles are more about exploration and collecting than serious platforming. It's a great little "spring game" that should fill out your Switch library nicely.
Yoshi's Crafted World is out this Friday, March 29th, for Nintendo Switch. Have we sold you on the game? Why not pick up a copy?
Yoshi's Crafted World is full of charm and wonder, which more than makes up for its lack of challenge or complexity.
If you're new to the series, Yoshi's Crafted World has colour and charm to spare, even if its inventiveness is largely limited to its looks.
Yoshi's Crafted World is a beautifully crafted title - literally. Excellent level design, and childlike creative charm combine to produce a very enjoyable platformer.
It might be charming but it plays safe and lacks challenge and ambition.
Yoshi's Crafted World meets the expectations by combining great visual style and friendly gameplay, suitable for all age groups.
Review in Russian | Read full review
Delightful and imaginative, Yoshi's Crafted World rewards your curiosity with the little things.
We can say that the first exclusive of the year in consoles does not disappoint anyone and it is a pleasant adventure that any public can enjoy without any problem. Full of unforgettable designs and a lot of tenderness the levels are a visual enjoyment from start to finish. But not everything is perfect and the errors of balance and abuse of some mechanics do not allow you to go further, however; We believe that the successor of Yoshi's Island arrived and we could not be happier.
Review in Spanish | Read full review
Yoshi's Crafted World is that game that when I played it for the first time, I never thought it would live up to what it has achieved.
Review in Spanish | Read full review
Yoshi's Crafted World is another successful main game Switch debut for one of Nintendo's favourite characters and is wonderfully accessible for every kind of gamer. The games adorable art style is a joy to behold, and it's always fun to play with a friend in co-op. It may not be perfect, but it's a lovely little adventure that should be experienced by all fans.
Yoshi's Crafted World is a wonderful little platformer to either play with your family or to hold you over as we head into the summer doldrums. It's not going to be Nintendo's big killer app this year, but it's a fine game that will appeal to platformer fans and Yoshi fans alike.
Despite this and other minor imperfections, Yoshi's Crafted World remains a virtuous representative of its genre segment, as well as a convincing start to the season for Nintendo Switch 2019.
Review in Italian | Read full review
Yoshi's Crafted World doesn't revolutionise the Yoshi franchise quite like Yoshi's Woolly World did, but this doesn't take away any aspect to this game. The new flip-side levels and ability to project your Yoshi Eggs anywhere throughout a 2.5D environment are clever dynamics that alone make the game worthwhile. Add to this the extensive replayability and family friendly co-op gameplay and you have a solid entry to the series that makes it a great entry to the Switch library.
From his laid-back nature to his optimistic look at the world, Yoshi is an easy character to love.
Yoshi's Crafted World's creative art style and imaginative level design have no limits, unlike its limited, mind numbing soundtrack.
Review in Arabic | Read full review
Reno Gazette-Journal
8 / 10.0
Wait, is that boss' weak point a MacGyvered Band-Aid on its butt? Why, yes. Yes, it is! That's the exact kind of kookiness to expect when playing Yoshi's Crafted World for the Nintendo Switch. Admittedly, the platforming leans toward the easy side and the mechanics don't add anything revolutionary to the Yoshi formula. What Yoshi's Crafted World has, however, is a wonderfully creative world, plenty of charm, lots of polish and family-friendly fun for co-op lovers. It's an egg-cellent addition to the Yoshi franchise.
Yoshi's Crafted World brings together everything that makes the series so amazing to begin with, and expands on it exponentially with new mechanics and design decisions. It's not perfect, but it's a magical adventure in creativity from beginning to end and a textbook example of Nintendo's dedication to pure fun.
Featuring the laid back atmosphere the series is typically known for mixed with enjoyable level design, Yoshi's Crafted World is yet another delightful entry in the series that is great for families and solo players alike.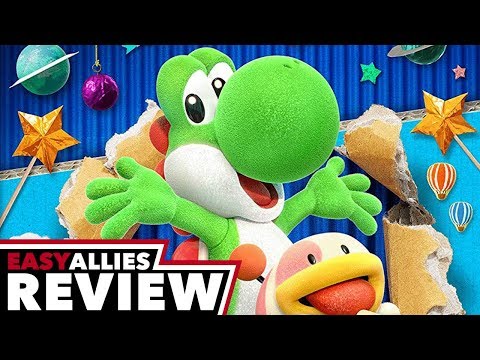 To enjoy the game is to believe that there can be purpose or joy in peeking around the most distant corners of our world.
Crafted to the highest calibre, fans of Yoshi old and new will find a plethora of collectables and platforming fun to keep them occupied and delighted throughout its joyful, laid-back levels.
It's a game that has a lot of hard work and passion poured into it, and the charm that's bursting through its seams makes it irresistible. It may not be as challenging as Yoshi's Island or Woolly World, but even with its minor flaws, this one is a well-crafted experience.
Yoshi's Crafted Wold is a fun, delightful and welcoming platformer for all ages
Yoshi's Crafted World is a pleasant, enduring experience that platforming fans on the Switch shouldn't miss.
Yoshi's Crafted World's unique diorama-style stages and solid platforming gameplay combine to make the game one of the better side-scrolling platformers on the Switch.
Yoshi's Crafted World sure doesn't reinvent the wheel when it comes to adventure platformers like this, but it doesn't need to when it brings this much joy, charm and cuties to your screen.
The minor nitpicks don't add up to anything that can topple the core art, charm, and level design; which levy the game's kinks and make it a solid addition to any Switch owner's lineup.
Yoshi's Crafted World is one of the cutest games that you'll ever play but it's incredibly easy to the point where it becomes unengaging.
Yoshi's Crafted World is a very fun platformer that's light on challenge or ambition, but brimming with creativity and charm.
New Game Network
77 / 100
Yoshi's Crafted World delights with indelible charm and endless collectibles. It doesn't effectively utilize its arts & crafts aesthetic that's brimming with potential, but collecting all the game's goodies provides an enjoyable romp which is more than worthy of the lovable dinosaur mascot.
Just Push Start
3.75 / 5.0
Yoshi's Crafted World might be a bit more style than substance but it isn't a bad thing. Levels are fun, with the learning curve being low enough where anyone could jump in and have fun. The levels themselves are nice to look at and the amount of things you can do is surprising. Sadly, it doesn't result in Yoshi's Crafted World being as engaging as, say, Super Mario Odyssey but certainly enough fun for a young kid, someone intrigued by the graphics or simply a fan of Yoshi.
New Yoshi game is beautiful and addictive, but it is quite short as well, and similar to Wooly World.
Review in Slovak | Read full review
A bright, fun and relaxing romp through a meticulously detailed and remarkably creatively-designed world that hits the mark of providing a family-friendly and very accessible entry on the Switch, while still having enough for more experienced gamers to enjoy.
Yoshi's Crafted World doesn't really deliver more than expected. The actual creative approaches are drowned in a monotonous soundtrack and generic story and level build ups. But at least the co-op offers enough fun for an evening with friends.
Review in German | Read full review
Most of my journey through the wonderful cardboard universe of Yoshi's Crafted World, littered with myriad ridiculous noises from Yoshi, was spent with a smile on my face. It's not the type of project that's going to set the world on fire like Tropical Freeze, but it still has more heart than most studios could ever hope to give in their lifetime.
Merlin'in Kazanı
75 / 100
Yoshi's Crafted World embraces players who love the platform genre with its unique style and fun structure
Review in Turkish | Read full review
This game provides a special platforming experience with its unique visuals and creative ideas, it's a game that Switch owners and platforming lovers should try.
Review in Arabic | Read full review
Nintendo Times
7.5 / 10.0
GOOD - Yoshi's Crafted World is creative in its set designs, but could have used some fresh ideas in the gameplay department. The game is still really fun to play, although it seems a little on the short side, unless you're OK with playing the levels three times through to find all of the collectibles. A solid effort from Good-Feel and Nintendo, but I was hoping for more.
Geeks Under Grace
7.5 / 10.0
Yoshi's Crafted World is a great addition for the family, but leaves much to be desired compared to previous entries.
Yoshi's Crafted World is a game utterly dripping with charm, but not that much challenge. It definitely can keep experienced and younger gamers occupied for hours, but this isn't a Switch essential. If you've got a soft spot for the green dino, then this might be worth your while. A great game for kids and younger gamers, but if you're looking for a challenging 2D adventure, this ain't it, chief.
Like a Pop-Up Book, Crafted World is creative and fun, but only paper-thin.
If you're after a cute time rather than a genre-defining one, this'll work just fine.
Yoshi's Crafted World doesn't use its clever conceit as well as it should or weave a poignant story, but it's still a solid and accessible Nintendo platformer.
Following the series trademark mix of platformer and exploration, Yoshi's Crafted World delivers a pleasing experience, thanks to its both sides levels, with plenty of items to find and collect. Unfortunately, the game tries to hard to increase its lifetime by making the player go through the same levels over and over again. With stronger efforts on the soundtrack and and a better emphasis on the technical part, Yoshi's Crafted World could easily have been one of the best episodes of the series.
Review in French | Read full review
Another highly competent Yoshi platformer that looks great and plays well, especially in co-op, but there's a disappointing lack of innovation beyond the charming visuals.
Yoshi's Crafted World is one of the most gorgeous and relaxing games on the Nintendo Switch, but its mellow atmosphere might not be taxing enough.
Yoshi's Crafted World doesn't provide the storming reinvention of the franchise Switch owners might be hoping for, but thanks to sharp, charming level design, it delivers the basic goods with a cherry on top.
Yoshi's Crafted World is an excellent Yoshi game. It doesn't do a lot to break new ground for the series, but it doesn't have to. It's a lot of fun, it's cute, and it's inviting for gamers of any age.
Everyone's favorite green dinosaur is back in Yoshi's Crafted World, bringing all of its good vibes to the Nintendo Switch.
Yoshi's Crafted World is exactly what I needed, when I needed it. I could turn off my brain and just have a good time. Nintendo excels at that. While it can get repetitive after a while, it never wears out its welcome. I loved collecting everything in the game and the hours I spent with it were joy-infused. The entry price might be a bit steep, but the Nintendo quality never fails to deliver.
Yoshi's Crafted World is a very self-aware and adorable game thanks to its impressive visuals and aesthetics. Simple and full of little surprises, it represents what Nintendo does best for the younger public in platform games with easy to play mechanics.
Review in Portuguese | Read full review
Not Yoshi's best adventure to date, but it does a sufficient job of being a kid friendly 2D platformer with an appealing visual style that lends itself well to crafting some interesting levels. Sadly, things can get a bit tiresome, and older gamers may find themselves rushing through to the end of stages in no time. Seek challenge elsewhere, because you won't find it with Yoshi's Crafted World. The quality is there, as expected of a Nintendo-developed title, but it is too simple for its own good.
This is yet another Yoshi game that doesn't come close to reaching Yoshi's Island greatness.
Yoshi's Crafted World has a style that erupts off the screen, but it leans too far into simplistic gameplay. That's great for kids, but it's not the all-ages fun that Nintendo is known for.
The problem with a game like Yoshi's Crafted World is that it seems to be stuck in sort of a time capsule. The hottest platformers from the last couple of years offer challenging gameplay, complex combat, rich lore, character progression, hidden areas... the list goes on and on. Yoshi's Crafted World offers almost none of those things. It's content to offer a very pared-down experience, and that's fine as far as a video game is concerned; it just doesn't make for an exciting experience.
Yoshi's Crafted World hasn't done much wrong, but held up against the other better (cheaper!) platformers you can currently pick up on Nintendo Switch hardware, it's hard to recommend. It's charming, it's sweet, it's peddling a message of kinship and harmony… but it does it all so dryly.