Gentle and generous, Good-Feel delivers its best game yet in this imaginative and breezy platformer.
Yoshi's Crafted World is a very fun platformer that's light on challenge or ambition, but brimming with creativity and charm.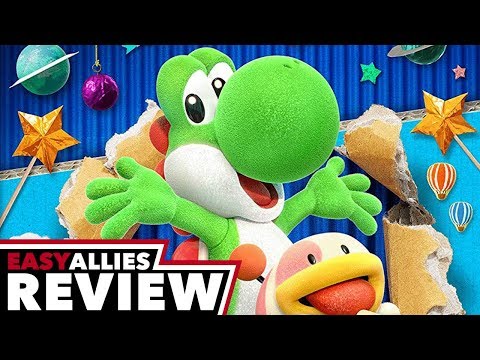 Another highly competent Yoshi platformer that looks great and plays well, especially in co-op, but there's a disappointing lack of innovation beyond the charming visuals.
Yoshi's Crafted World doesn't use its clever conceit as well as it should or weave a poignant story, but it's still a solid and accessible Nintendo platformer.
Despite a slow difficulty ramp, Yoshi's Crafted World is a delightful adventure thanks to fun-to-find collectibles, colorful levels, and creative boss battles
Delightful and imaginative, Yoshi's Crafted World rewards your curiosity with the little things.
By channeling Labo's construction spirit into the long-standing conventions of a Yoshi game, Crafted World's carved out a similar work-play functionality. I'm not always having fun, but I want to get it right. Yoshi's counting on me.
The visuals in Yoshi's Crafted World speak for themselves. Every corner you turn presents something new to wonder at. The game's a bit on the easy side, but that's not necessarily a bad thing if you accept Yoshi titles are more about exploration and collecting than serious platforming. It's a great little "spring game" that should fill out your Switch library nicely.
Yoshi's Crafted World is an excellent Yoshi game. It doesn't do a lot to break new ground for the series, but it doesn't have to. It's a lot of fun, it's cute, and it's inviting for gamers of any age.
Most of my journey through the wonderful cardboard universe of Yoshi's Crafted World, littered with myriad ridiculous noises from Yoshi, was spent with a smile on my face. It's not the type of project that's going to set the world on fire like Tropical Freeze, but it still has more heart than most studios could ever hope to give in their lifetime.
Yoshi's Crafted World is that game that when I played it for the first time, I never thought it would live up to what it has achieved.
Review in Spanish | Read full review
Yoshi's Crafted World is simply lovely. The arts and crafts style is used in so many quirky little ways, the soundtrack lodges itself in your brain, and there's the same kind of laid back family friendly collectathon platforming that the series is now known for. Its one real new trick is its art style, sure, but that doesn't make it any less charming and wholesome.
Yoshi's Crafted World not only change wool by cardboard to offer a charming plaform game: it goes beyond offering a "collect-a-thon" with a extremely varied levels, full of surprises and distinct gameplay mechanics. A very enjoyable game with local coop and a magnificent example that remind us that in 2D gaming, not all is done yet.
Review in Spanish | Read full review
The problem with a game like Yoshi's Crafted World is that it seems to be stuck in sort of a time capsule. The hottest platformers from the last couple of years offer challenging gameplay, complex combat, rich lore, character progression, hidden areas... the list goes on and on. Yoshi's Crafted World offers almost none of those things. It's content to offer a very pared-down experience, and that's fine as far as a video game is concerned; it just doesn't make for an exciting experience.
This is a game that's elevated by that choice of art and the way that design interlaces and works to create new play opportunities within the sweet sandbox of each level.
Yoshi's Crafted World is a funny, clever platform game that you don't want to miss.
Review in Italian | Read full review
An extremely beautiful game that gets a bit boring with time due to its artifical replayability and its low difficulty.
Review in Spanish | Read full review
Featuring the laid back atmosphere the series is typically known for mixed with enjoyable level design, Yoshi's Crafted World is yet another delightful entry in the series that is great for families and solo players alike.
Yoshi's Crafted World is a beautifully crafted title - literally. Excellent level design, and childlike creative charm combine to produce a very enjoyable platformer.