Percentile Rank
Degrees of Separation is ranked in the 38th percentile of games scored on OpenCritic.
Rating Summary
Based on 33 critic reviews
OpenCritic Rating
Based on 33 critic reviews
Score Distribution
Unscored Reviews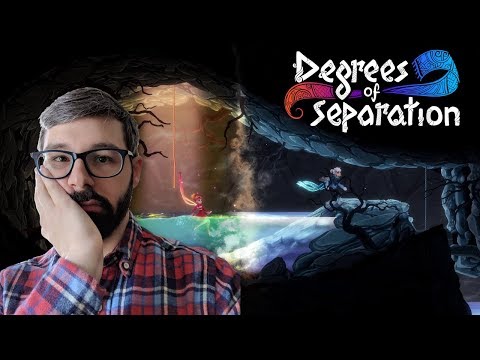 The puzzles themselves are well designed, thought provoking and require teamwork, and the various mechanics are cleverly implemented. It's beautiful to look at and the narrator Kira Buckland does a stellar job. But it is a game of patience and easy-going temperament
Scored Reviews
Degrees of Separation is an excellent platform 2D game. It doesn't matter if you want to play it alone or with someone, the game can make you have fun with the story and fall in love with the very colorful graphics and their constant alteration between ice and fire. Degrees of Separation is a game that deserves your attention among so many other releases this year.
Review in Portuguese | Read full review
The Game is a Lie
8.5 / 10.0
At the end of the day the game is very polished, including an innovative and creative gameplay mechanic, but requiring a bit of patience to get to the end, impacting how much I wanted to play it. If you like "light" games with nice graphics and don't care too much about repetition, Degrees of Separation will satisfy your needs.
Review in Portuguese | Read full review
Great puzzles, art design and narrative style help Degrees of Separation to become one of the best options for fans of the adventure genre
Review in Persian | Read full review
The Games Machine
8.4 / 10.0
Degrees of Separation is a little gem in a panorama that is becoming more crowded and full of expectations.
Review in Italian | Read full review
Two different characters must cooperate to pass through obstacles and solve puzzle. Great cooperation game!
Review in Slovak | Read full review
Degrees of Separation is quite a lovely game that fits right into the "hidden gem" category. Plenty of puzzles that lead to "aha" moments, gorgeous visuals the whole way through, and great music that will stay with you beyond your playthrough.
Overall, the mind-bending puzzles, unique gameplay mechanics and the fact that it is all wrapped up in an intense and heart-warming emotional story make it the go-to game for those who love romance, puzzle solving, and romancing while puzzle solving.
It's a cute indie quest that takes you on a beautiful journey. It won't change your world but I can't help but recommend that you share Rime and Ember's.
It is a simple tale, but a thoughtful and heartwarming one that explores duality, love and understanding
A pretty platformer with both enjoyable and frustrating bits, Degrees of Separation lacks the variety to stand out from the pack but can and does entertain while telling a heartfelt story.
Degrees of Separation is a challenging 2D puzzle-platformer with a unique core gameplay premise.
Degrees of Separation is a charming puzzle-platformer, though that charm occasionally gives way to devilishly challenging puzzles designed to prey on your expectations and force you to think outside the box. It's easy to respect the amount of effort that went into the constantly varying puzzles and puzzle mechanics on display here, even if one or two gameplay twists end up being more trouble than they're worth.
Cultured Vultures
7 / 10.0
Despite a stunning art style and puzzles as gratifying as they are numerous, a disappointing lack of features prevent Degrees of Separation from outshining others in its genre. When you're willing to overlook the repetition in favour of its intriguing central mechanic, however, this charming title will prove itself worthy of your time.
As beautiful as the game looks, it sometimes gets in the way of progression.
It looks beautiful, has a wonderfully relaxing soundtrack, and spins an interesting fairytale yarn, but Degrees of Separation only really shines when you've got someone to play it with. From its simple beginning, right to its very challenging end.
NintendoWorldReport
6.5 / 10.0
However, too many negatives just leave you underwhelmed. Whether it's the lack of polish, the short playtime length, or the number of weird bugs that can leave you completely frustrated. As it is, there are too many good 2D platformers on Switch to recommend it unless you're playing it with someone who really finds the presentation speaks to them.
Degrees of Separation has a great hook that it, unfortunately, squanders through mindless, repetitive puzzle solving.
Aside from the small gripes and varyingly difficult puzzles, each level is beautiful and brings in novel mechanics and an interesting outlook on relationships. Degrees of Separation is a fresh and challenging game designed to be played with a significant other but remains a worthwhile experience alone.
Entertainment Buddha
6 / 10
If you're a hardcore puzzle game fan that also loves non-linear world design, then you'll appreciate what Degrees of Separation has to offer. Otherwise, this pretty little Indie title is one you can pass on.
PlayStation LifeStyle
6 / 10.0
In a week where I had two puzzle-platformers land in my lap, Degrees of Separations comes out on the bottom. The entire time I was playing it, all I wanted to do was switch back to The Liar Princess and the Blind Prince. Especially once I hit the third world in Degrees of Separation, where puzzle solving was no longer a fun challenge, but a grueling test of my patience. I wanted to love it; the art, the soundtrack, and the story were what had my heart set on enjoying while playing this one. I hate to say it, but I'm not sure if I'll ever attempt to put all the stars back in the sky.
PlayStation Universe
6 / 10.0
Degrees of Separation has a great deal of heart built into it. Ember and Rime bring a light but appealing dichotomy to the world that's fun to solve puzzles with. However, both narrative and gameplay pacing suffer greatly due to creative choices. In the right hands, Degrees of Separation could be a personal favorite. However, a great companion is required to overcome this game's frequent, repetitive shortcomings.
Degrees of Separation opens like a touching fairy tale complete with well-written narration and a soft tone of lovers determined to find one another. Sadly, the game betrays them and the player alike by structuring progression exclusively around collectibles.
Degrees of Separation is difficult to judge. It features a traditional side-scrolling progression with hand-drawn graphic, but it's somehow limited by its own design. This brings to a lot of puzzles that are actually frustrating instead of brain-ticklers. But this game also features an incredible fairy-tale atmosphere together with a great soundtrack. And are these features that save it from the abyss. But only from it.
Review in Italian | Read full review
Degrees of Separation is a visually gorgeous and charming game that, while having some innovative mechanics, devolves into tedium due to a poorly paced story and repetitive puzzles
New Game Network
56 / 100
Degrees of Separation is definitely not great, but it's not exactly bad either. Instead, it's something potentially worse: forgettable. An intriguing premise is wasted on dull gameplay that never rises above simply being serviceable.
If you really like puzzlers then it will have something for you but be prepared for the odd frustration. And also bear in mind whether you will be playing this solo or linked up with a friend, the latter will probably keep your blood pressure down a touch.
Degrees of Separation is a beautiful puzzle game with a lovely story of a couple with conflicting backgrounds just trying to be together but is let down by a large amount of monotonous scarf collecting and various bugs.
In this Valentine's Day metaphor, it's six roses short of a dozen.
Favouring narrative and visuals, Degrees of Separation is a game that you'll either love or hate - with a decent range of puzzles and an almost frustratingly broad set of environments to be explored.