Percentile Rank
Need for Speed is ranked in the 28th percentile of games scored on OpenCritic.
Rating Summary
Based on 78 critic reviews
OpenCritic Rating
Based on 78 critic reviews
Score Distribution
Unscored Reviews
Rock, Paper, Shotgun
Unscored
Just how many fist-bumps you're willing to sit through may determine your longevity with its achingly desperate attempts to be millennial and street (the loading tips are a confusion of Twitter and WhatsApp or whatever it is the kidz are into these days), but perfecting your drift by practise and tweaking is an extremely rewarding – if ridiculously arcadey – fun time.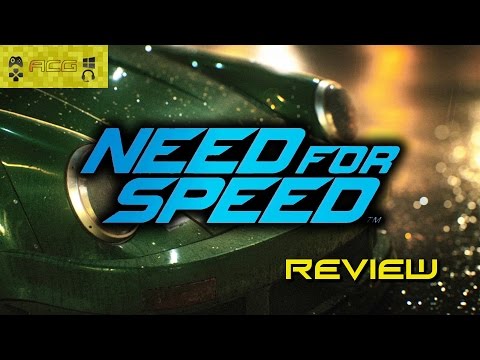 Eurogamer
No Recommendation / Blank
No Recommendation / Blank
Nov 4, 2015
Need for Speed's recent purple patch ends in the mixed influences of this flat and awkward reboot.
GameZone
No Recommendation / Blank
No Recommendation / Blank
Nov 3, 2015
The new reboot gets a definite recommendation from me, especially if you're a fan of older Need for Speed titles, and arcade racers alike.
Scored Reviews
Cheat Code Central
4.5 / 5.0
So if you're looking for a fast-paced, fuel-injected bit of fun with no strings attached, there's really no good reason not to at least rent Need for Speed 2015. In my opinion, it easily beats out juggernauts like Forza for the top spot of racer of the year.
Yes, there are better, more realistic racing experiences on the market, but few titles can match the pure engagement that this year's Need for Speed offers.
Need for Speed returns to its urban car culture roots with a gorgeous-looking, very well designed game that offers five different racing styles to tackle - and a bevy of interesting cars to modify and make your own. Its story is a lot of fun, and it's set in an impressively large environment that is very enjoyable to drive around. A great arcade racer that's both challenging and addictive.
Rectify Gaming
8.5 / 10.0
Need for Speed is a game that gets many things right, and brings it back to the glory days of Need for Speed Underground 1 and 2. I have not had this much fun in a racing game in some time, and even though it misses a few marks, it is definitely worth the time of racing fans.
2015's Need for Speed is in many ways more grounded than other recent entries. You don't throw spike strips at each other and you don't jump off buildings. It's more about the inherent excitement of dodging traffic and drifting down the side of a mountain. The customization features are a welcome return, and the five-layered career lets you play with different approaches to driving. Some aspects of Need for Speed could use more variety, but it's a solid foundation to move the series forward..
Who would have thought that Need for Speed is still going strong after two decades and given the last few instalments of this franchise, it's good to see the game go back to basics without the over the top arcade experience which the series has become.
Need for Speed operates in two parallel universes. There's the racing, which benefits from better customization, diverse handling models, competitive visuals, and assorted racing challenges. These are the things that you expect, and Need for Speed delivers. Then there are the full motion video sequences, which thrive on first-person fist bumps, Monster energy toasts, and people saying the word "hashtag" without irony. For me, this presented a distressingly serious alien world, and I savored every second of it.
PlayStation LifeStyle
8 / 10.0
I enjoyed my time with Need for Speed. Ghost Games is onto something seriously promising with this franchise reboot. However, being unable to pause the game as well as no option to play offline may prove two obstacles that are not surmountable for some players.
Need For Speed borrows from the series' past to create an excellent street racer with a handful of obnoxious but ultimately forgivable problems.
Marooners' Rock
7.5 / 10.0
The best thing I can recommend is take it for a test drive and see how it fits for you. It definitely has the Need For Speed ebb and flow, which is good, but there are also a few takeaways that keep it from peak performance.
Not the best of reboots, but certainly not the worst, the latest Need For Speed plays it safe with a reborn franchise that is focused on finding the lust for momentum that it had lost in previous instalments. A solid start, even if it doesn't finish ahead of the pack.
Need for Speed is an excellent racing title with a laid back attitude and plenty to enjoy – if you can get past a few of the glaring design choices that is.
Need for Speed is an entertaining racing game, strangely, being a reboot, it doesn't quite manage to do some things in the best possible way. For instance, we can't pause the game, there is no in-car view, no rear-view mirror and the mini-map is too far from my field of vision, trying to look at it will most likely result in a crash. For a full priced game it feels like it's missing some content, the online mode is there for no reason at all. The different events we can compete on eventually feel very repetitive. Luckily there are daily missions we can complete that do add some variability. The IA is cruel, it always catches up, no matter what. EA has promised to fix this in an update along with adding Neon lights and other customizables to the already very complete and amazing customization system. Can't wait for the patch to hit so that these little quirks are fixed and the game is improved overall.
Review in Spanish | Read full review
When the pedal is to the floor, its a great experience. However as soon as you let up and are left to explore the other aspects of the game, things start leaving a lot to be desired. The new direction of the franchise shows promise, but there is still a ton of room to grow.
With completely acceptable racing, cringe-inducing cutscenes and a questionable online mode, Need for Speed for PC is a worthwhile racer, if not the best one available. You won't regret your purchase, but you're not likely to be recommending it to all of your friends either. Maybe wait for a sale, but rest assured that this is a well optimized port of a decent, if not amazing racer.
Need for Speed is a fun, accessible racer that's both aesthetically impressive and technically stable. The always-online requirement means server problems can affect your game and oh yeah, you can't pause, either. I'm sorry but it just wasn't necessary.
While Need for Speed may look and sound great from afar, it's sadly little more than a mostly empty box wrapped in shiny wrapping paper (and one which you can only open when connected to the internet to boot). If you're desperate for a new racing game experience, you could do worse, just bear in mind that your mileage will definitely vary.
Das neue Need for Speed klang im Vorfeld prinzipiell nach einem sehr ambitionierten Projekt, scheitert aber an der Umsetzung in fast allen Bereichen. Falls ihr einen auf Tuning und Drifting ausgelegten Racer sucht, ist das neue Need for Speed genau das richtige für euch. Lange Spaß werdet ihr beim ständigen Online Zwang und der schwachen Geschichte wenig haben. Die wenigen gut gemachten Gameplay Parts, überzeugen im Gesamtbild leider zu wenig.
Review in German | Read full review
Blazing through the night provides some fun racing moments, but NFS doesn't support or assemble its constituent parts to any cumulative positive
I spent a lot of time wondering exactly who Need For Speed was aimed at.
The Need for Speed reboot improves upon several of the more recent installments in the game, which were plagued with problems more serious than these. But I was disappointed when my pure joy in the look and driving feel of NFS drained away over time, sucked out by boring treks across the city and one too many encounters with unfair A.I.
Post Arcade (National Post)
7 / 10.0
EA's famous racer is promisingly rebooted in its 21st installment, but still needs some work under the hood
Need for Speed features a great line-up of cars, backed by the most authentic customization in the history of the franchise. The 'Five Ways to Play' and icons entice you to change up your style as you progress through Ventura Bay. While some issues might be frustrating, such as garage-space, no daytime and frame-rate drops; Ghost Games will hopefully continue to update and enhance Need for Speed in the months to come.
A slightly disappointing return for EA's racing franchise, Need for Speed doesn't do anything to push things forward. You'd think that a hiatus might have given Ghost Games time to inject a little extra vigour into Need for Speed, but the overall result is falls woefully short of expectations. Still, the racing part remains good, clean fun, which is what really matters.
Red Value Gaming
70 / 100
Need for Speed is a great option for someone looking for a casual racing game. If you want to have the ultimate racing experience though, you are better off looking elsewhere.
Operation Sports
7 / 10.0
A title which offers good action, but perhaps a hair too repetitive and lifeless for some.
Even with its missteps, I really enjoyed Need for Speed. It tried to return to form in some aspects and it really scratched that itch I was looking for with a car customization game. It handles how the player wants it to, and while performance can be spotty in some instances, it's still a great looking and playing racing game.
You'd be hard pressed to find an automaker willing to take an extra year to reset their car line much like Ghost Games did here with their second run on Need for Speed. What we get is a more focused and competent racer but one seemingly unwilling to risk standing out from the crowd.
It's a good game but not necessarily a stronger one when compared to prior titles, especially if the stuttering on the Xbox One isn't addressed. For that reason, race fans may want to hold off on this title to see if things get smoothed out on this platform.
This year's installment of Need For Speed isn't the end-all-be-all, but it has proven there are still great things to be offered to the genre. Each car is crafted extremely well both visually and audibly. Engines give strong roars as they power up for quick releases. Tires scream with a certain screech when pulling off the perfect drift. Through the nuts and bolts, getting to the core of the title, it's all mostly safe and directed in a simple form. It's a solid base to grow from—few complaints but few things to gush over.
Need For Speed feels like a plucky contender, that is close to greatness but tragically falters at number of key moments. There is genuinely plenty of fun to be had in its world, and the return to the themes of Need For Speed: Underground are welcome. However, there simply isn't the level of consistent quality that the franchise has had during Criterion's stewardship, despite a large number of their staff moving to Ghost Games, and indeed in a number of ways it feels like a step back from 2013's Rivals. This year's Need For Speed is close to greatness, but it doesn't quite make the podium.
Like the stereotypical school heartthrob, Need for Speed is vapid but beautiful and strangely exciting. It's a surprisingly enjoyable arcade racer, but one that's more for casual downtime than for a serious commitment.
Need for Speed is not a horrible game, but it is definitely not the amazing 'reboot' experience I was looking for.
Utilizing the full extent of the current-gen hardware, Need for Speed revs up into a promising experience that is all about underground and urban street racing, but that doesn't necessarily guarantee a smooth ride.
The biggest shame about Need for Speed is that the driving is so satisfying that it makes the fact that the rest of it is so throwaway stand out that much more. This game would have benefited greatly from a mode where you can just get matched with other players and do a bunch of different race types back to back. Instead you're stuck in an online only game with other players who you won't actually be doing any races with. It's got a damn good soundtrack though.
Need For Speed was an okay try at rebooting the series. It comes with positives like the newly added features to the franchise such as daily challenges, wrap editors and the play styles which I really liked more than any other addition. The visuals and sounds in Need For Speed were stunning, and a real high point for the game. There are also some negatives like having no pause button plus the always online gameplay which was an odd decision to make. If you are a racing fan it's a recommendation from me, but non racing fans might not be that accepting for this reboot. I do however look forward to the future if the mistakes of this game are improved in the sequel.
PlayStation Universe
6.5 / 10.0
With strong arcade-style racing, great visuals and sounds, Need for Speed looks the part, but falls short in other areas such as poor A.I., limited body part options and lack of incentives to keep you motivated to race.
The online requirement seems pointless, but it's an enjoyable racing game overall.
Need For Speed promises so much yet fails to deliver to any high standard. While it is one of the most gorgeous street racers you'll set eyes upon, cringeworthy live action cutscenes, an empty world and a lack of singular gameplay direction mean it's nothing more than another average addition to the series.
New Need for Speed could be called a succesor of the Underground sub-series. It looks really good thanks to the Frostbite engine, but there are some unnecessary mistakes that drag the gameplay down.
Review in Czech | Read full review
A perfectly serviceable racer with great looks, plenty of customisation options, and passable driving, but it's a real shame that latest reboot of this franchise had the hallmarks of the greats in the series' past and could have been truly special.
Instead of exciting racing, Need for Speed seems more focussed on tapping into trends and desperately trying to stay relevant. Instead of bringing something new to the table, it aims to recycle ideas from its peers.
Need for Speed looks the part, sounds the part, and is surprisingly reverent to real-world car culture. I like the direction Ghost has taken here, and I think it's the right one, but beneath its flashy exterior it's not quite firing on all cylinders.
One of Need For Speed's most successful aspects is its car customisation, which is both deep yet easy to use
There are so many glaring flaws right up front; the framerate bottoms out, the story characters forced upon the players are atrocious and the always online requirement simply eats up bandwidth while adding nothing to the experience. When it hits that perfect line, however, this manages to be a satisfying and beautiful experience.
When you factor in Need for Speed's forgettable story, you're left with a slightly above average racing game that's not as enjoyable as past series entries. From a pure gameplay perspective, it works, but it never manages to elevate itself. If you're in the mood for a new cinematic racer though, you could do a whole lot worse.
If you're a long-time fan of the series, you'll find something to enjoy here, but if this is your first time behind the wheel, you're going to want sit this one out and check out some of previously-released Need for Speed titles.
Either you never thought Need for Speed was top of the arcade racing pack or (like me) you at least think they abdicated the crown a long while back. I don't anticipate much dispute there, and this Need for Speed is unlikely to put them back on top. A lot of love's been put into this PC port, but the game that's been ported over is a mediocre arcade racer at best.
Need for Speed takes driving into a gorgeous world with a modern edge, but its pesky attitude and strict online-only requirement make you yearn for the good old days.
Need For Speed is an okay racer. But with the likes of Forza 6, Project Cars and others that completely out performed this one, it's very hard to recommend.
This latest entry in the Need for Speed series seems to be a reboot in name only. It neither feels like a reimagining of earlier ideas or a refining of the series' roots, but more of a mishmash of parts from the franchise's long history. As such, it lacks any sense of real identity. Ventura Bay often feels empty, the story is inconsequential, and the AI opponents are infuriating at times. That said, vehicle handling is quick and responsive and makes driving a real joy, while performance upgrades and customisation gives players an almost unlimited number of ways to make their cars their own. Those looking for a racing title to surpass all others should look elsewhere, but fans of the series' earlier street racing scene won't be disappointed.
Without much new, Need for Speed is less of a "reboot" and more of a "rehash."
What Need for Speed has done spectacularly is put the focus on the car. In every opportunity possible the game showcases these machines, almost fetishising them. And that's great, but in achieving this, Need for Speed has left behind what makes players stay for these games. Not matter how great my car is, if I'm not driving down interesting streets, or being able to compete in diverse challenges, then slowly the thrill of the car will fade.
As it stands, you can do better than this year's Need for Speed. Sure, it possesses all the traditional EA spit and polish we're used to what with a punchy soundtrack and fantastic production values, but they do little to elevate one of the lesser entries in the franchise.
Ghost Games' Need for Speed reboot came with lofty promises, but fails to achieve greatness in any category, be it racing, building or customization. The core gameplay experience is half-decent, but it's marred by frustrating AI, technical imperfections, handling hiccups and constantly wet roads.
The new Need for Speed does a good bit of justice towards the original Underground games, it falls a bit short on the new aspects it tried to incorporate. The open city aspects and the way you start races might feel familiar to Burnout Paradise players. It honestly seems to share the same setup, which isn't a bad thing. The cars are certainly the focus, as they should be, but the tacked on story and constant interruptions hinder the experience. Add to this the A.I. uses rubber band aspects. The racing is solid enough, and it is pretty cool to see other people on your server completing challenges across the bay, live.
The customization and racing itself is fantastic, but Need For Speed reboot has certainly not gotten out to a fast start behind frame rate issues and the insistence to be always online.
My eightsix hovered between control and chaos, ready to spin out on every oversteer. The atmosphere was there, the game was there, the history was there, in that moment. Yet in Need for Speed the handling, the fun, the art, all of this, they are so stacked under layer after layer of meaninglessness, multi-faceted surfaces that gesture at everything and deliver nothing.
The aesthetic of the game is immaculate, stark yet beautiful, suggesting what a Fast and the Furious might look like as helmed by Michael Mann.
This year's Need for Speed reboot feels like a fresh start for the series — and one that will likely be improved upon when its inevitable 2016 sequel rolls around.
New Game Network
58 / 100
Despite a few redeeming qualities, Need for Speed is a lackluster reboot that fails to reinvent the franchise, or live up to the name of the original game.
Need for Speed is likely to disappoint just about anyone who tries it out. Whether you're a casual fan looking to scratch a racing game itch, a younger player, or a loyal fan, there's bound to be something that frustrates you. Its story is run-of-the-mill, its competitive gameplay is undercooked, and its open world features are dull. Need for Speed tries to cast a wide net and instead comes up empty.
The live action cutscenes make Need for Speed painful to witness and the bland events and dull tracks mean you'll soon tire of hanging out in Ventura Bay. It's a shame, as the graphics are fantastic and the customisation options are top quality. If EA continue with the Need for Speed brand, they need to focus more on what's under the hood.
Need for Speed's got many of the parts required of a great racer, but it's lacking a mechanic to assemble them and apply a lick of paint. The cutscenes, as obnoxious as they may be, are the real stars here, which may just be an indictment of the game as a whole. Sure, the handling's good, but the events are insipid – and the visuals may sparkle, but Ventura Bay is as vanilla as open worlds come. For as pumped-up as its excitable cast of characters are, this reboot quite simply lacks energy. Now, has anybody got any Monster?
Given the lack of content, the game feels like a work-in-progress with some poorly conceived features and contrivances that only diminish the game's few strengths.
It all looks pretty nice and tries very, very desperately to be cool, but the actual game behind the graphics isn't close to being polished enough for a recommendation. The always-online requirement which is apparently only there because you have to be online to be able to share snapshots (seriously, that's the claim) is an absolute abomination but you'll be able to live with it, at least until EA kill the servers in a year or two and you won't be able to play the game anymore. Need for Speed isn't unplayable by any means, but there's a laundry list of things that can – and often do – stop that playing time from being very enjoyable.
Slow, boring, and rarely challenging, Need For Speed is a serious misstep.
A tragically misjudged series reboot that gets all of the fundamentals wrong, while adding absolutely nothing new to the franchise except flashier graphics.
Electronic Arts' newest PC racing game is gorgeous, and offers lots of customization options, but it's super-buggy and features some of the most annoying characters in video game history.
Despite its less impressive iterations over the years, the Need for Speed name has delivered some truly excellent games - from Underground's street racing to Shift's wannabe-simulation, all the way to Hot Pursuit's absurd action. But rather than build upon this rich diverse history of fun, Ghost Games has sucked the fun out of a game that should epitomise the outlandishness of going really bloody fast. When you could be playing Driveclub, or Forza Horizon 2, or Project Cars, or even the beautiful and superiorly quick Forza Motorsport 6, offering a racer without speed? That's suicide.
The quality feel of the driving and nice-looking environment are buried under heaps of technical issues and bland objectives.