Percentile Rank
Doom is ranked in the 94th percentile of games scored on OpenCritic.
Rating Summary
Based on 139 critic reviews
OpenCritic Rating
Based on 139 critic reviews
Score Distribution
Unscored Reviews
What "Doom" gets noticeably right is its pacing. The ebb and flow of combat is as balanced as a keystone.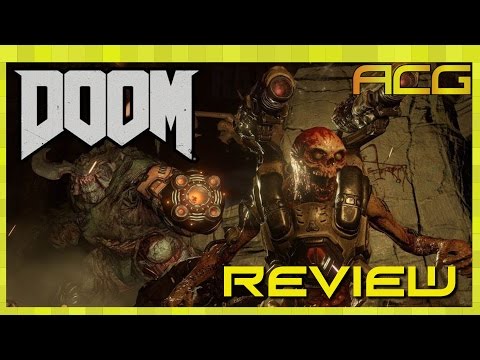 Doom's superb campaign makes up for underwhelming multiplayer in id Software's remarkable comeback.
A breathtakingly intense shooter that drags a little towards the end.
DOOM's standout single-player mode and an amazingly innovative map creation tool will make gamers new and old very happy
Rock, Paper, Shotgun
Unscored
Propulsive, thrilling and breathless, DOOM is the triumph I never expected. I just can't see there being a better shooter this year, I really can't.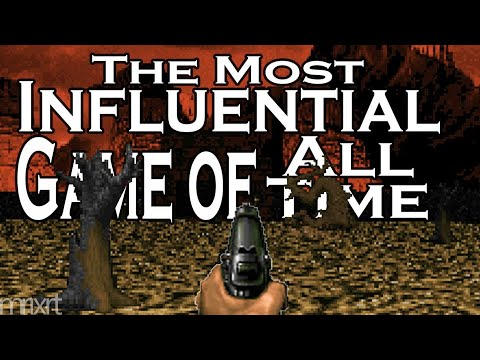 Scored Reviews
Intelligent, involved, and relentlessly exhilarating, now, just as in '93, the most exciting FPS around is a game called Doom.
Instead of naming this current installment Doom 4, id Software decided to rebrand. The all caps'ed DOOM makes sense to me; this game is very much so the original rebuilt with modern technology. We were once given a glimpse of Hell on Mars through a view of 8-bit, now the pain and all its glory shines at 60fps. Changes have been made: the story has been spiced up, Glory kills now fly in your face, the double-jump now creates a ton more platforming, and upgrades of all kinds are everywhere! These changes put DOOM at odds with any current first person shooter out there.
It's hard to imagine a better Doom game in 2016 than this exhilarating, darkly witty new take on id's classic.
DOOM'16 is a masterpiece, unique, and a marvel of a game. Well done and follows its core which made the original two DOOM games stand out from the rest. Great visuals, good story, fantastic gameplay and a ton of replay ability with tons of content truly makes DOOM16' a game of pure genius.
Just buy it. If you ever played the original two Doom games and/or Doom 64, then you owe it to yourself to buy DOOM right now.
…the verticality of DOOM's level design and the sheer audaciousness of the constant balls-to-the-wall action quash any notion of repetitiveness or mundanity that could usually be associated with such a simple game structure
Intelligent, fresh and endlessly enjoyable, Doom is more than a tribute to its beloved progenitor. Taken in its own right, this is the most finely crafted, technically impressive pure shooter in over a decade, proving that id Software, even after 26 years, is an adept, sophisticated game-maker.
The Game Fanatics
9.7 / 10.0
DOOM has no business being a good game, yet it may end of being one of 2016's best.
Digital Chumps
9.6 / 10.0
DOOM is a masterful reboot of one of the most important and legendary franchises in the history of games; bravo to id and Bethesda.
Paste Magazine
9.5 / 10.0
The player, a gun, and things to kill. That has always has been DOOM, and id's legacy has been rekindled with DOOM (2016). You may argue that a good sequel's job is to iterate on past successes, to further develop mechanics, or to evolve a title to the next step in its life cycle. But DOOM (2016) isn't a departure or a reimagining. It's something much better, much more pure. DOOM (2016) is a homecoming. And boy, does it feel good to be home.
Doom is back and it's better than ever. It's a rage and adrenaline fueled murder fest that won't challenge your perception of what is possible in a game, but it'll help to reinforce the belief that maybe, just maybe gaming has a future that doesn't involve quick time events and pointless cut scenes.
Doom is exactly what I wanted from a modern take on one of my favorite franchises. There is more than enough meat here to satisfy even the most jaded player.
With a revived, classic feel, an easy-to-use community-focused map editor (SnapMap), and even the ability to unlock classic DOOM maps to play through, this is how a reboot is done.
Doom is the best possible way to play, in 2016, something that was great in 1993. Unmissable.
Review in Italian | Read full review
The Loot Gaming
9.1 / 10.0
In conclusion, DOOM is the best game (and also best looking game) I've played this year so far and I think it has managed to deliver according to the high expectations about it. Despite its flaws and the -poorly explained- negative reception by some of the media, this is one of the biggest 2016 titles that will be hard to skip if your are able to see how glorious it is. Whether it's due to the challenge of completing the campaign in every difficulty setting or the huge amount of hours multiplayer mode and snapmap delivers, DOOM keeps giving you a reason to come back.
id Software beweist mit bravour wie man einen Oldschool nach 2016 verfrachtet. Die Kampagne liefert nach einem holprigen Start ein Feuerwerk an Action, Gore und Dämonen und auch der Multiplayer und Snapmap sind absolut gelungen und bieten im Gesamtpaket einen der besten Shooter der letzten Jahre. Von uns gibt es eine klare Empfehlung sowohl an Oldschool Doom Fans als auch Neueinsteiger in die Serie. Gerade die vielen Schwierigkeitsgrade und Oldschool-Mechaniken, werden einige Shooter Fans an ihre Grenzen bringen.
Review in German | Read full review
Doom is a truly spectacular bit of ultraviolence, but it's deceptively smart in how it goes about it. It knows that all you want to do is blow stuff up in increasingly more brutal ways, leading to a single player that is probably the best FPS campaign since Wolfenstein: The New Order. While multiplayer is almost a damp squib, Snapmap allows for those with creative minds to unleash their creativity with an easy-to-learn map editor. To describe Doom in two words: Bloody brilliant!
DOOM is unrepentantly old school. It's gore porn to the max, a ballet of bullets and blood that I can't get enough of. Satisfyingly brutal, solid and most importantly, fun.
Guns, gore and demons. The classic DOOM is back and it's better than ever. With a glorious and immensely satisfying single player experience, DOOM is one of the best shooters of year. Shame it can't be said about the multiplayer, but at least with the addition of intuitive SnapMap you can create your very own Hell.
As one Bethesda employee put it: "If you're not into violent, bloody games… DOOM's probably not a game for you". For everyone else, it's impossible not to recommend trying the title. The campaign is where DOOM really shines with its fast-paced, slick, brutally bloody and exhilarating action that mixes old-school gameplay with modern design. The multiplayer is solid if not spectacular, but that may change in time once the game's community begins to experiment with the creation tools in SnapMap. DOOM is back and it's hellishly good.
Doom may not offer some gameplay mechanics that modern shooters heavily rely on, but it definitely provides everything a hardcore shooter fan has ever wished for. The game is filled with fire and blood, the gameplay is fast-paced and the visuals are cutting-edge. Welcome to Hell!
Review in Persian | Read full review
Overall DOOM is one half of an impeccable package. If it shipped without any of the multiplayer at all I'd still believe it worthy of the score below; the tepid multiplayer does little to sway it on either side. For fans of single-player FPS campaigns DOOM is a juggernaut, and some of the most fun I've had in gaming for years. It's never going to grab you with an engrossing plot of spectacular linear set pieces, but the flawless combat ensures DOOM just never lets up. Now it's just fingers crossed time that Quake can get the same treatment.
In it's full splendor, Doom is a complete package, and a very good one. What stands out above all is it's single player campaign, which is enjoyable from beginning to end, putting us in the least-likely-to-survive situations while queueing and outstanding music reminiscent of the 1993 classic. Multiplayer is not as good, but it's worth a try, especially worth trying out is the ingenious Snap-Map level creator.
Review in Spanish | Read full review
With an incredible level of visual quality, responsive controls and a kick ass lineup of monsters, it's not to have fun. Everything has been executed in a way that brings the original game back to life for a new generation. This reboot could not have been executed any better. The game succeeded in being everything that it should have and was done with such a high level of polish that it was a huge pleasure to play.
Gaming Tree House
9 / 10.0
DOOM is a glorious return to form for the franchise. The game oozes classic design while improving itself with new-gen hardware. Exciting combat, glorious kills and enough heavy metal to give you lead poisoning, demons beware! Doom guy has returned!
Geeks Under Grace
9 / 10.0
DOOM offers nothing innovated, but instead, executes everything that we have already come to know and love about FPS games to perfection.
در نهایت استودیو id Software بار دیگر با DOOM توانایی های شگرف خود در خلق عناوین شوتر را به رخ کشیده است، DOOM یکی از بهترین و لذت بخش ترین عناوین شوتر سالهای اخیر است که در این اوضاع نابسامان سبک شوتر در نسل هشتم، غنیمت به شمار می رود! اگر شما از عاشقان سبک شوتر هستید و به دنبال یک بازی با گان پلی فوق العاده جذاب می گردید، DOOM برای شما خلق شده است! پیشاپیش ورودتان به رستاخیر مرگ را تبریک می گویم ...
Review in Persian | Read full review
Bloody brilliant. Both literally and figuratively. The gore flies as heads explode, as I bounce like a Satanic bunny all over the map at break-neck speeds within a beautiful engine.
It may not be genre-defining like its progenitor but it's easily the best shooter on the current crop of consoles and one of the finest first person shooters of recent years.
Pure Playstation
9 / 10.0
Doom is a game that I did not ever expect to be remade, but it feels great. The combat is fierce, and the game's focus on combat is right on target. The guns feel solid, and the monsters feel vicious. The game looks great and plays smoothly with music and sound that is responsive and as intense as the action in front of you. The glory kills and arenas keep the blood pumping from beginning to end and you definitely earn those upgrade points. Although the load times can be a little annoying, the levels themselves play without any issues after the initial load. Overall, the game is an excellent package, bringing Doom back into modern gaming with the spirit of the old gameplay intact for long time fans and adding features that enhance the experience. If you have a PS4 and you have a passing interest in shooters, do not miss this excellent game.
Bethesda had the right idea in mind when it brought back Wolfenstein, and reviving Doom back after a prolonged spell in development hell is just as welcome. The game offers more than enough for fans to sink their teeth into, while it injects some purely-optional new ideas to keep in-step with modern games. All in all, Doom is a big, bloody gore-filled romp that is well worth experiencing.
This is, in my honest opinion, the definitive First Person Shooter, locked and stocked with two smoking barrels. Get ready to fight like hell.
DOOM is one of the best first person shooters of this generation. Just go in without any expectations and it will provide you with an experience unlike any other shooter.
As the best possible compromise between shooters of old and the new trends in the genre, DOOM is just the game for anyone craving that sweet hyperactive and ultraviolent action and is a game that has absolutely earned the right to have its title written in full-caps.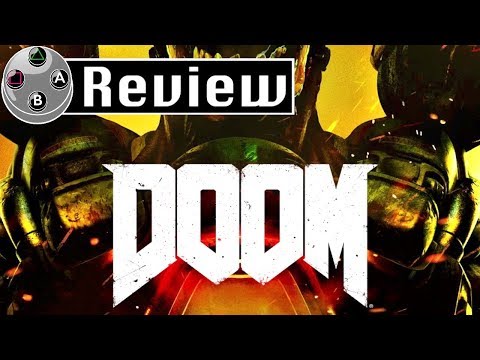 This is hands down the best DOOM ID Software has made. The gore, music, visuals, and more are all spot on. It's totally worth the $60 you spend.
Exactly the right amount of old and new, DOOM is an adrenaline rush that borders on overwhelming in the best possible way.
The Outerhaven Productions
What can really be said? DOOM is a beautiful return to form by Id and a magnificent show of tradition whilst accepting modern sensibilities. Sure, the two non-campaign modes are lacking, but this is DOOM. To give much weight to either snapmap or multiplayer would be like criticizing a steakhouse with subpar salad and dinner rolls despite the sheer quality of their world-famous Filet Mignon.
The Angry Joe Show
9 / 10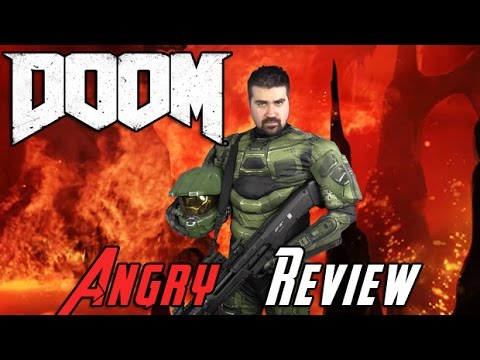 Overall DOOM is one half of an impeccable package. If it shipped without any of the multiplayer at all I'd still believe it worthy of the score below; the tepid multiplayer does little to sway it on either side. For fans of single-player FPS campaigns DOOM is a juggernaut, and some of the most fun I've had in gaming for years. It's never going to grab you with an engrossing plot of spectacular linear set pieces, but the flawless combat ensures DOOM just never lets up. Now it's just fingers crossed time that Quake can get the same treatment.
Doom captures the feeling of nostalgic fun without being cynical. Brutal, intense and incredibly fun.
Not even tacked-on multiplayer or a weak level editor can stop DOOM from being a total blast from start to finish.
Doom is a big, loud, visceral experience that not only impresses visually with a silky-smooth framerate and detailed texture work, but which reaches into your soul and jacks up your heartrate as it does so. Some would say that things are a little bland in terms of plot, but playing Doom for the story would be like watching a baseball match because you're a fan of diamonds. The multiplayer is playable but a little less so than you'd expect, but that's more than made up for by the campaign. It's fast, fun, violent, addictive, and highly recommended.
If you like first person shooters, if you're an old DOOM fan, or if you just like killing demons, treat yourself to DOOM 2016. It's going to amaze me if id Software decides to not do a follow-up to this game, and Bethesda/ZeniMax would be crazy not to let this studio basically do whatever the hell it wants to after this release.
Doom is a big name in gaming history, and this new entry offers a great and faithful encapsulation of its predecessors fast-passed shooting, trademark gore and infamous demons.
It's strange to be this excited about the singleplayer portion of game from id Software, but here we are. While multiplayer doesn't scratch the itch the way something like Quake Arena once did, the power of Snap Map puts the power to fix that entirely in the hands of intrepid and creative players. Doom has resurrected not only a series, but an entire flavor of shooters. Welcome back, unapologetic high-speed murder — we missed you.
That a first-person shooter like Doom exists in 2016 is shocking. Its levels are vast and intricately designed, its gameplay diverse and joyful, its toolset robust. Multiplayer is its weak link, but the adaptability of SnapMap is more than enough to offset that.
Putting aside the bad multiplayer mode and experience, DOOM was fun at best! It was fast-paced, and it was satisfying – that glory kill move on Baron of Hell was awesome. Graphics surely caught my attention. The world of Hell and Mars in DOOM is one place that every hardcore first-person shooter lovers would get into all over and over again. It was surely, again, enjoyable, and it didn't disappoint me at all.
Doom is back and true to the original. If you want to play the best FPS in years, you owe it to yourself to go to Hell (on Mars).
The Jimquisition
9 / 10.0
id Software knows what it's best at, and it works on honing that talent to a razor's edge. With Doom, id has delivered a highly polished, utterly shameless Hellbound hecatomb that confidently swaggers into the world with gaudy fervor. It's huge, it's preposterous, and it's absolutely bloody majestic.
There is a wealth of content here for the singleplayer gamer such as myself, and while the multiplayer is fun, I can't help but feel it will be dead within the year.
DOOM is hands-down one of the best reimagined and exciting FPS games this generation.
There can be no dispute that DOOM is back. The campaign brings the glory of the '90s screaming back with heavy metal, blood and guts. But the multiplayer mode feels confused and the Snapmap level editor needs to add some serious content for modders to play with. Regardless, DOOM's campaign is reason enough to dive back into Hell.
Despite a troubled development, Doom is a confident, cracking throwback that pays loving tribute to its much-vaunted forefathers while bringing the noise via cutting edge tech. In a world awash with sci-fi hitscan shooters, it's a breath of fiery air that will delight as it melts faces.
DOOM is almost everything I could have asked for. Its campaign has left my heart literally racing in my chest from sheer excitement. It's fast, impactful, and a damn good lot of fun. Multiplayer and SnapMap may be disappointing by comparison, but the perfection of its better half is greatly elevating and I cannot recommend DOOM enough. This is a first-person shooter you don't want to miss.
There's no Doom and gloom here; this new game is a hell of a good time.
Switching Worlds
9 / 10.0
It's Doom (2016) for Nintendo Switch. It has online multiplayer. You can play it at the barber shop if you wish. Just don't let it entertain the person with the clippers or you'll meet your doom.
PlayStation Universe
9 / 10.0
A confident resurgence of one of the FPS genre's pioneering efforts; DOOM not only manages to boast perhaps the finest single-player campaign in the genre but also a blissfully entertaining multiplayer suite and map editor to boot. Make no mistake, this is DOOM 2.0 and it's one of the very best shooters you can buy on PS4 right now.
DOOM may become repetitious near the end and doesn't take needed risks with mission variety, but it boasts some of the finest shooting mechanics and thoughtful levels we've seen in a first-person shooter in years, pushing it to the very fringes of excellence. The campaign's a head-banging, heavy metal hoot with a surprisingly good backstory, striking visuals, and two decent multiplayer-minded modes to back it up. We'd dare say this could be the Dark Souls of its genre, gripping you with its nonconformity while unleashing its own kind of glorious Hell upon you. However, where this illustration falls apart is how you can raise Hell in return, going on the power trip of a lifetime to rip and tear through legions of demons.
I have little to complain about regarding the single-player campaign. It's a fun shooter that brings back aspects of classic design (like health packs and sprawling levels) that I didn't realize I missed so much.
In the end, Doom is a worthy successor to the original and although there was mixed reviews of Doom 3 way back in 2004, id Software should be praised on not only paying homage to the original but successfully rebooting the franchise on high-end consoles and of course the PC. Sure, it's a little old school at times but that was also the beauty of the original and if you're looking for a fast paced first person shooter than Doom is the game for you. Even though the game is quite linear, there's plenty of secrets to be found which definitely gives you incentive to either explore all the levels totally or play the game again, so Knights of Hell beware!
id Software has taken its original, no-BS Doom formula and very successfully repackaged it for the modern era. The result is a thrash metal loud, gloriously gory, blisteringly fast, and thoroughly entertaining oldschool shooter. Both the single-player and multiplayer modes are basically throwbacks to simpler times, but are wrapped up with contemporary trimmings to create a package that fans of the original Doom games should really enjoy.
Doom is back to its fast, frantic and gruesome best. Marine! Get ready to kick some demon scum ass as this is one of the surprise hits of the year, find out why in our review.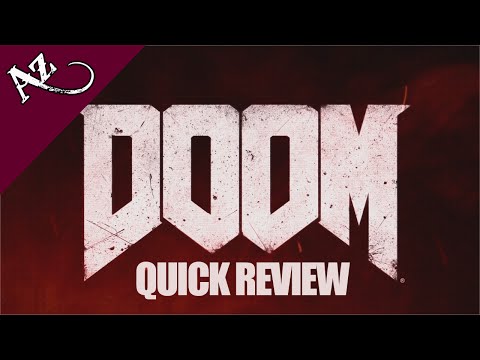 Exaggerated, violent, ruthless. Bethesda and idSoftware took the essence of the shooters you played in the 90s and rewrote it with a modern language. DOOM is an unstoppable FPS, with a bloodthirsty single player campaing and a solid Multiplayer, unfortunately showing some balancing problems.
Review in Italian | Read full review
The campaign is a glorious, bloody return to form for the godfather of first-person shooters, but the multiplayer and SnapMap can't match
Beautiful to look at, thrilling to play and infused with the gleefully anarchic spirit of the original, *Doom* offers the best and most refreshing shooter campaign in years. This alone would justify the price tag, but abundant secrets and potentially endless content via SnapMap add further longevity. *Doom* is back.
Despite a drab multiplayer mode and limited level creation tools, Doom is a cheeky and fulfilling return to pared-down acrobatic gunplay.
IGN Middle East
8.8 / 10.0
If you're a fan of single player games or old school shooters, then DOOM will definitely get your satisfaction make you thirty for more blood over 10 hours of back-to-back action and excitement. You can also unleash your creativity and create your own levels and challenges with the SnapMap. However, you'll be let down by the multiplayer modes that lack any challenge or improvement.
Review in Arabic | Read full review
Red Value Gaming
88 / 100
Doom is a fantastic power fantasy that is great for any fan of first person shooters.
Cheat Code Central
4.3 / 5.0
I honestly think we're looking at a spring blockbuster and a truly worthy reboot of a timeless classic. DOOM isn't for everyone. The blinding speed of play, demonic symbolism, demanding controls, and hyper-violence may discourage some from jumping in. If you can handle it, though, it really is a thrill ride. It's a brass-knuckle punch in the mouth. It's a 2-ounce shot of hard scotch from a skull chalice. It's a shot of adrenaline straight into your eyeball. It's DOOM.
If you've been searching for a bombastic single player FPS, then you need not look any further than this new DOOM game. If you want a special multiplayer experience, though, DOOM doesn't deliver as well.
Doom struggles somewhat to finish what it starts, and for a franchise that practically created what we understand as shooter multiplayer 22 years ago, its largely flavorless multiplayer is surprising. But on the whole, as a new interpretation of one of gaming's most formative, difficult to pin down cyphers, id has done a pretty great job in making something that feels familiar and fresh, and, most importantly, pretty damned fun.
The multiplayer and SnapMap portions will likely improve over time, especially with the Season Pass content, as no one will want to purchase extra content until the multiplayer smooths out. The multiplayer aside, the true appeal to the game remains in the single-player campaign, which is how it was and should be with a DOOM title.
Doom was crafted by a team that clearly loves the series, delivering chainsaws, explosions, and demon-slaying heavy metal all sealed with a kiss.
The 2016 DOOM's rebellion is smaller than its predecessor, but still impressive: it is unabashedly itself. It's a game with confidence in the worth of revisiting its history and an earnest belief that doing so can result in much more than an empty exercise in nostalgia.
Readers Gambit
8.5 / 10.0
Given that my love for the original DOOM games continues to compel me to keep playing them till this day. I can happily say that DOOM (2016) scratches everyone of my itches. The Singleplayer is definitely the highlight. With tons of gibs, gore and shotguns to pass around, I was head over heels in love with the campaign.
Your enjoyment of Doom is going to depend greatly on the mode you're playing and your acceptance of the tweaks to the classic formula. In multiplayer, you'll have fun as long as you keep in mind that this is a blend of every other multiplayer first-person shooter instead of simply being Doom with prettier graphics. If you're playing the campaign, it feels like a welcome evolution of the series, since the classic elements meld rather well with the modern touches. If your attention is on Snapmap, then you'll find that the game has some long legs thanks to an easy-to-learn system that has already produced loads of content for solo and multiplayer situations. Either way, you're getting a complete package that celebrates the pure adrenaline-pumping action that brought so many to the genre in the first place. Doom is absolutely a worthy entry to any genre fan's library.
DOOM is a fun, fast-paced arcadey shooter. As long as you're not looking for a deep, serious story that reflects upon the nature of humanity and hubris, and you love fast paced games with engaging gameplay, you will really enjoy DOOM's single player campaign. Multiplayer can hold it back depending on your orientation. Great graphics and audio really make the game shine.
Reno Gazette-Journal
4.25 / 5.0
Doom (2016) is a great addition to an oversaturated genre thanks to an excellent campaign, a polished old-school shooting experience and a creative SnapMap mode. Admittedly, the multiplayer, while competent, pales in comparison to the single-player experience. For Doom fans and newcomers looking for a different experience from today's typical shooters, however, this game's back-to-the-basics approach is devilishly fun.
DOOM is available now on the PS4, PC and Xbox One. It was developed by id Software and published by Bethesda Softworks. This review covers the PS4 version of the game.
It's hard going back to the real world after a few hours with Doom. It will feel slow and mundane when compared to the experience of being an over the top, badass action hero, who destroys Hell one demon at a time; half the time with his cool arsenal of weapons, the other half with his hands! Sure, it won't create a revolution like the 1993 original, and some of its aspects (like the multiplayer) are flawed, but id Software's newest creation deserves carrying its heavy name, and is one of the few triple-A titles worthy of a full price-tag.
If you are a shooter fan, you owe it to yourself to play DOOM, just for the campaign alone. The game is a master class in how you design a level; not in how it looks like, but how it functions.
For those of us returning home for that rare visit, it's a fun game that'll bring you back to the good ol' days. For everyone else, it's just another game of Euchre..
When it comes down to it, the new Doom is superbly fun. While there are nods to the previous games in the series, there are times where it does not "feel" like a Doom game. That does not deter from the overall experience. The game is gorgeous, sounds great, and offers reasons to come back and play.
Doom is a fantastic single-player experience bundled with a weak multiplayer component. If you're looking for a fast, intense and fun shooter, you'll have a hard time finding anything better on the market than Doom. If you're hoping for something that carries that same intensity over to multiplayer, you'll be disappointed. Snap Map adds some extra value to the package, but at the end of the day, the real fun is slaughtering the forces of Hell with your super shotgun. It's not quite a return to the days of old, but it's still one of the best shooters on the market.
DOOM is a fast-paced and balls-to-the-wall symphony of carnage. It's gory, action-packed and holds no punches, and is successful because it puts fun first.
It may not be as influential or creative as either the original Doom or Doom 3—which, although it hasn't aged well, ushered in a dozen monster-closet copycats. Still, Doom in 2016 is successful because it knows it's dumb and leans into the fact. There are no pretensions towards artistry here, no delusions of grandeur. It's a popcorn flick where the main character can only speak in gunshots.
Developer id Software is able to hit players hard and fast with gameplay that calls back to an era that many may think was left in the past. However, DOOM instead brings the past roaring back to life, and for once makes the phrase "go to Hell" seem like an invitation more than anything else.
Doom doesn't shy away from the spirit that drove its forebearers to greatness; a decision which cements its relevance despite its predictable structure and unimaginative multiplayer.
This is the Doom you've been waiting for, packed with gruesome, unrelenting action, gore and one of the finest monster menageries in gaming.
Buy it for the brilliant single-player, then stick around for the multiplayer and community content. You won't regret that you did.
The rebooted take on DOOM is a visually impressive and chaotically-paced affair that stands out amongst a sea of other FPS titles, but it's not without its monotonous moments.
PlayStation LifeStyle
8 / 10.0
Defying the odds, id Software has made DOOM not only a relevant series in 2016, but a great one. They've also managed to create three distinct modes that all have their own appeal and feel to them. It's an amazing package, and one that I'll continue to come back to.
If you're a fan of fast-paced games, or you love classic shooters with great campaigns, you have to play Doom, period.
A Satanic shooter that's as gratifying as Hell, DOOM pays due respect to its legacy with a game that delivers on everything that makes the series so great. You need DOOM in your life.
DOOM is 2/3 really good and 1/3 really mediocre. The single player campaign is an absolute blast and if you like the shooting action from that you can get all you can eat via Snap Map. DOOM competitive multiplayer is really unfortunate, however.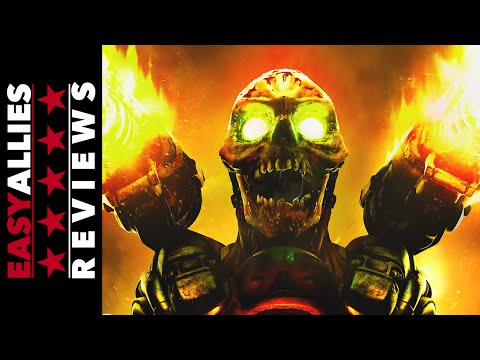 A solid, speedy, brutal, and surprisingly lengthy campaign combine with an intriguing map-making facility to make Doom a pretty easy recommendation. The multiplayer may not grab you, but there's plenty of content here without it.
There were no doubts that Doom would play fast, look stunning, or be gory; the surprise is that Doom is as relevant, smart and self-aware as it is; merging old ideas with new ones; injecting its near-flawless shooter mechanics into a campaign that's impeccably refined, hilariously dumb and fiendishly moreish.
Doom is a game that focuses on having a kickass campaign and tries to have a fun multiplayer but doesn't. The game also gives us a nice feature known as SnapMap that I didn't expect to be so good. Doom isn't perfect but it surely isn't a bad game. If you are looking for a different type of shooter or just a new game to add to the shelf, then Doom is an excellent choice. If you are looking for a multiplayer experience that will blow you away, then Doom probably isn't a good choice.
Temper your expectations, accept that you're essentially blasting cans off a fence, and Doom is, unexpectedly, the best shooter of 2016 so far.
DOOM is an excellent and exceptionally fun first first-person shooter. That's all you need to know.
Overall, I feel that this is a solid addition to the DOOM franchise, and I am looking forward to what Bethesda has in store for the future of the series. If you are a fan of the game Killing Floor, then this is a game for you.
The new DOOM is a great example of how a modern game based on concepts from 23 years ago can work. Despite the fact that the game doesn't bring anything new, it is a grand entertainment, which is only let down by the unremarkable multiplayer.
Review in Czech | Read full review
The classic hellish game you love, with a few enhancements. First person shooter fans will love it.
Despite its shortcomings in the multiplayer — easily forgotten and waved off as an unnecessary add-on — and the rare instances of a mechanically loose screw, DOOM is undeniably one of the best looking and sounding shooters there has been for some time.
id Software completely nailed the core experience of the single player campaign and although I did find myself suffering from the occasional craving of more detail and immersion in the story, by the time the credits rolled I had to put my controller down and take a breather. Only for a second before upping the difficulty and diving in again. What can I say, I'm a glutton for punishment.
A great single player campaign that pays homage to the original, but the multiplayer is forgettable.
Doom is a really decent revival of a classic franchise. It doesn't hide behind fancy cutscenes and narrative, and puts sheer gameplay first. The single player is genuinely fun from start to finish and it's the type of game that I didn't even realise that I wanted until now.
Gaming Masters
7.9 / 10.0
The level of customization for your multiplayer character is massive and on completion of a match you can get some nice rewards, these can include: new gear sets, colors and weapons.
New Game Network
78 / 100
Nostalgia is prominent throughout Doom's intense and repeating action encounters against glorious and tormenting foes.
Not the best shooter in the world but far from the worst, Doom returns to gory glory by delivering a solid - if standard - story-light single-player, a forgettable multiplayer mode and a third mode which plays out like Halo world building in the bowels of hell. If you are an FPS or Doom fan , you will love it but if FPS's aren't your thing, Doom isn't going to be the game to change that.
Post Arcade (National Post)
7.5 / 10.0
The 2016 Doom reboot shares more in common with the 1993 original than its 2004 sequel. But who cares when it cranks up the demon slaying to 11?
Doom's single-player recalls great FPS action from a simpler time, but its multiplayer misses more than it hits.
DOOM 2016, whether you call it an expansion of existing lore or a rebooting of the story for a modern audience, is a good game. It's not great though, as the run-and-gun pace and gore can only sustain gameplay for so long in a limited setting. It makes up for some of the repetitiveness, however, by providing fast and often tense battles that, even on the PS4, maintain a mostly high framerate.
DOOM has a fantastic campaign but its multiplayer and Snapmap bring it down from absolute greatness.
As graceful a marriage of old school action and modern sensibilities as you could probably hope for, despite the so-so multiplayer and repetitive setting.
Doom is a brilliant homage to the spirit, and hellish gore, of old PC shooters.
If you like a more-than-decent shooter and lots of blood splatters on your television screen, 'DOOM' remains a force to be reckoned with. I just wish the game was a little more fun to play. But be free to ignore my non-populist opinion, and buy this game. Regret your purchase, you won't.
It's a gorgeous, gruesome beauty, but only inches removed from shooter conventions 15 years past their prime.
It still lacks atmosphere. It's still remarkably competent without actually pushing the genre forwards. It's still a multiplayer experience that I'm betting will shrink to a tiny community in months.