Spread the word:
Game Information
Available on:
PC
Oct 23, 2018
Developer: Fictiorama Studios
Publishers: Alawar Premium, BadLand Publishing
Genres: Simulation, Strategy
Description:

YOU ARE INVITED TO JOIN "THE PRIMATE OBSERVATION CLUB", WHERE YOU WILL OBSERVE THE LIVES OF CAGED MONKEYS AND CAREFULLY ANALYZE THE INFORMATION OBTAINED. GLOSSARY OF TERMS: THE PRIMATE OBSERVATION CLUB: a shadowy group that observes other people through surveillance cameras and compromised webcams. YOU: the newest member of the CLUB, tired of your run-down apartment, dull existence and boring job. MONKEYS: dozens of strangers who have fallen prey to your voyeurism. VOYEURISM: Exactly what you think it is (and also the reason why we're rated "MATURE"). PRIVACY: Something that the monkeys think they have. PC (PERSONAL COMPUTER): Yep, we put a PC in your game that's on your PC so that you can work on a PC while you're playing the game that's on your PC! FEEDING THE MONKEYS: Interacting or interfering with the subjects in any way. Feeding the monkeys is strictly prohibited. SHIT HITTING THE FAN: What may (or may not) happen if you feed the monkeys. Oddly enough, club members keep feeding the monkeys as though they just can't abide by this very simple rule! How about you? Will you help those you're spying on, extort them, expose them and sabotage their dreams, or will you follow your instructions and sit twiddling your thumbs while the world burns?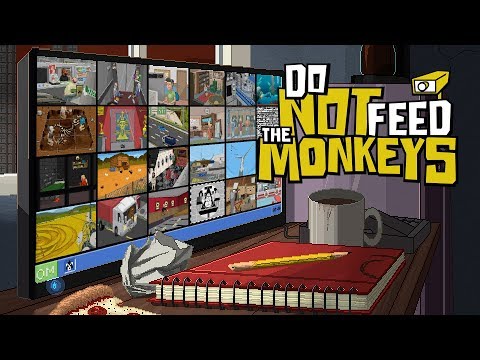 "Do Not Feed the Monkeys" - Trailer
Reviews
Do Not Feed the Monkeys is one of the most original proposals of the video game industry in recent years. His concept is different and fun from beginning to end.
Review in Spanish | Read full review
An interesting and unique point'n click adventure that falls short on lenght but manages to entertain while it lasts.
Review in Spanish | Read full review
Recent News