Spread the word:
Game Information
Available on:
Nintendo Switch
Dec 20, 2018
Publisher: Funbox Media
Genres: Arcade, Action
Description:

The player controls a ship in the centre of the screen, enemies approach from the top and bottom and the player is able to switch up and down to deal with the encroaching horde.

Different enemies react differently when they reach the horizon, some sit on the horizon, some destroy sections of the horizon and some run up and down the horizon. The player is equipped with a dash attack where they can knock enemies off the horizon and smash them into other incoming enemies for a score bonus. Dashing an enemy of the line refills the dash meter allowing for 'Dash chaining', this is where the big points are scored.

The player is also able to jump (jumping upside down is an interesting new challenge) and is equipped with a bomb which wipes the screen of enemies as well as restoring the horizon.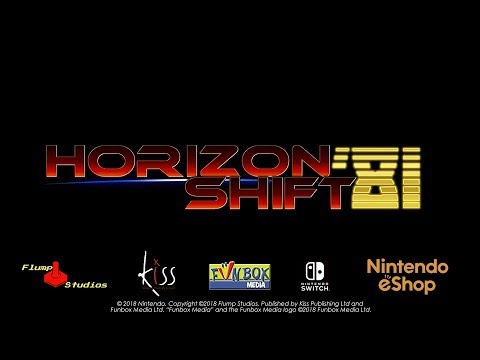 Horizon Shift '81 Official Trailer
Reviews
Horizon Shift '81 is certain to appeal to enthusiasts of 1980s-style space shooters: everything in this game is a tribute to that style and era, with plenty of hallmarks duly following the genre's conventions. While not very friendly to the beginner crowd, Horizon Shift 81 could only improve if it had a multiplayer component and an online option, as it is it will set to captivate the more niche crowd of arcade-based retro shooters.
Review in Portuguese | Read full review
Old-school gaming fans will find a lot to love about Horizon Shift '81 as it feels like a long-lost static shooting arcade treasure.