Spread the word:
General Information
Available on:
PC
Nov 27, 2019
Nintendo Switch
Nov 27, 2019
PlayStation 4
Nov 26, 2019
Developer: Brain Seal Ltd
Genre: Action
Description:

You are a common man who has lost everything in the war against the Roman empire. Your family is dead, your friends are dead, your house has been burned down and your land is now under Roman rule. Despite such misfortune you have managed to escape slavery or worse. You spend much of your time in the streets of Rome looking for some sort of meaning in your life and wondering why the gods have spared you. One day fate finally reveals itself, are you ready to accept it? • Learn combat skills and moves that will dazzle your enemies • Over 80 enemy gladiators and 20 animals each with unique fighting strategy • 3 arenas with 36 battles and 3 bosses • Win the favor of the crowd and receive unexpected help • Pray to the gods and call upon them to help you win battles • Train your very own tiger pet • Choose your origin, from Greece, Carthage and Egypt • Rogue-like mode available for those who were born gladiators • Full keyboard & gamepad support with customizable controls The arena awaits you, gladiator DIE WITH HONOR! Inspired by classic Capcom beat 'em ups and other classic's such as Streets of Rage, Double Dragon and Golden Axe. Story of a Gladiator throws you in the arena to survive, fight and win!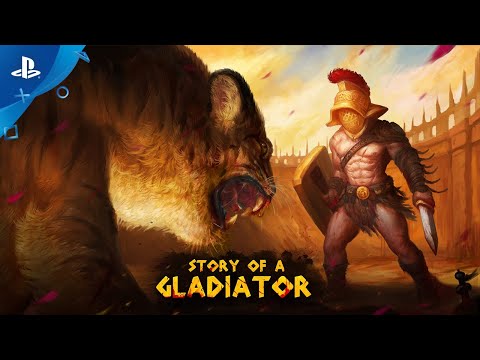 Story of a Gladiator - Launch Trailer | PS4
Story Of A Gladiator Reviews
An otherwise robust combat system is summarily undone by dunderheaded AI, repetitive grinding, a lack of modes and uneven presentation. We've wanted to return to Ancient Rome for years now on PS4, but not like this.
All in all, you can cleave your way through Story of a Gladiator in just a handful of hours, but it's reasonably rewarding while it lasts. Enter the arena with tempered expectations, and you'll find a basic but moreish brawler.