Kingdom Come: Deliverance – A Woman's Lot
Spread the word:
Game Information
Available on:
PlayStation 4
Jun 11, 2019
Developer: Warhorse Studios
Publisher: Deep Silver
Genres: Adventure, RPG
Description:

In the fourth DLC for Kingdom Come: Deliverance, you can experience two standalone series of quests.

In "A Woman's Lot", you play as Theresa accompanied by her loyal dog Tinker in a standalone questline. You will experience ordinary life in Skalitz and later witness the fateful events of Sigismund's raid and its aftermath from a wholly different perspective. "A Woman's Lot" provides the last piece of the puzzle in the Skalitz story, as you find out what happened just before Henry is found unconscious.

In "The Madonna of Sasau", Henry has to help Johanka, and old friend from Skalitz who survived the massacre and took refuge in Sasau Monastery, to overcome the terrifying nightmares that have recently plagued her. Henry will need to visit the places revealed in Johanka's visions and find out what's really behind them. Then he will help her with her new calling. Neither Henry nor Johanka knows what that will demand of them or what end it will ultimately lead to…

FEATURES

Two New Questlines:

A Woman's Lot - play as Theresa and explore Skalitz before the attack in a standalone series of quests

The Madonna of Sasau - major new questline for Henry with multiple endings

Dog companion for both Henry and Theresa

New Houndmaster skill

New items (weapon, shield and potion) and perks to unlock

New characters and one new historical figure to be met and interacted with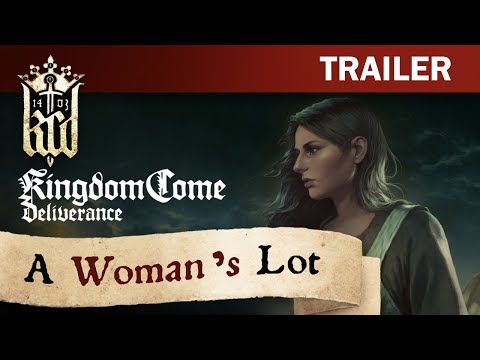 Kingdom Come: Deliverance - A Woman's Lot Trailer
Reviews
A focus shift from the main character to an important supporting character helps to flesh out the world and story whilst giving the player a change of pace.
A Woman's Lot is exactly what the previous three expansions for Kingdom Come: Deliverance should have been – a decently enough long and enjoyable experience just as good as the original game.
Review in Czech | Read full review