Stick it to the Man!
Despite its awkward aiming and lackluster platforming, Stick it to The Man is a delightful puzzle game with a peculiar world worth exploring.
It can be a little inconsistent in terms of both actions and puzzles but late entry or not this is one of the funniest and best-presented adventures of the year.
I reached the point of only sighing or shouting in frustration, despite sitting in front of a gorgeous-looking game with a ton of potential.
Zoink!'s new game about a paper guy with a pink telepathic hand sprouting from his mind defies description, but it had us in stitches.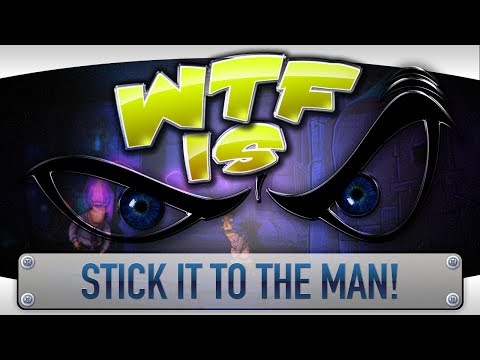 Stick It to the Man will make you laugh, and then it'll be gone. The game's short story and lack of additional content mean that this is a trip that you can take in a single evening – but its originality makes it more than worth the ride. Indeed, while this zany affair may be fleeting, its characters and dialogue will stick with you long after the credits roll, and that's reason enough to engross yourself in its wacky world.
For those who do enjoy something more obscure from time to time, what's on offer is a brief but relatively well-crafted title that incorporates several other sub-genres within it to create a weird and wonderful world.
Stick It to the Man is so much more than random insanity— it's also a delightful point-and-click-style adventure game draped in the wrappings of a platformer.
Stick It To The Man invites you into a world of cardboard streets, conjoined luchadores triplets and shady psychiatrists for just a few hours, but within that time are some of the funniest, most outrageous and original concepts seen on the Wii U to date. Its unique blend of psychic gameplay and surreal visuals won't appeal to everyone, but if you want to spend a free afternoon with something completely different then it's well worth a look.
Stick It to the Man! is a unique experience that fans of quirky humour and adventure gaming will truly enjoy.