Mortal Kombat 11 is filled to the brim with incredibly characters and game modes. You'll come for the story mode, but stick around for the Towers of Time.
I had a blast doing this MK11 review, a game I really enjoyed. Yes, there are some issues with the game being on the grinding side and I do hope work on these continue with patches incoming all the time. But with an epic story, with choices and different options to make you go back for more. Loads of towers and great online play. Plus, really deep character customisations and options. Mortal Kombat 11 packs quite the punch in terms of content.
Mortal Kombat 11 is an absolute brutal treat from start to finish with a level of depth unrivalled from any game in its genre.
All in all, Mortal Kombat 11 is a great package, and nicely fleshed out with a ton of content and modes for both the casual fighting game players like myself and the hardcore community who want to get stuck into the online battling. The heavy involvement of microtransactions can be an annoyance, for sure, but there's more than enough to get busy with to help beat the grind.
"Mortal Kombat 11" lives up to the epic beatings and turns out to be a true circumference bombast in the test. A revised fighting system, fluid moves and a reduced tempo make the fighting sequences even more complex and unique. Numerous game modes, lots of loot boxes and items as well as a brand new customization system ensure that the player's motivation remains at a permanently high level. If you want a bit of variety apart from the single player campaign, you can of course also fly your fists against other players in multiplayer. All in all, "Mortal Kombat 11" offers everything that an epic thrashing game needs and is as relentless as ever.
Review in German | Read full review
There's a lot to love about Mortal Kombat 11. The grind, though, can do one.
It's impressive that Mortal Kombat 11 plays as well as it does on Switch, but it loses a lot when you're on the go and away from wi-fi.
A deep, customisable fighter that just happens to include the best video game movie never made.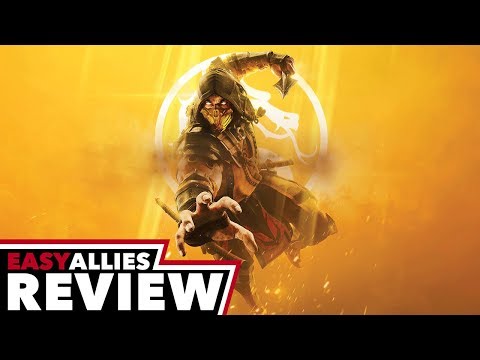 Mortal Kombat continues to excel in areas that other fighting games ignore, with a new sequel that impresses in terms of both visuals and gameplay.
Mortal Kombat 11's story mode, along with its gameplay, is the most intense and gripping narrative in a fighter that I've played in years.
Most of the content is amazing and fun, but the loot issues and microtransactions come close to being a self-inflicted Fatality for NetherRealm
Mortal Kombat 11 hits where it counts, with smart refinements to a deep and exciting fighting system, entertaining story mode, and rewarding persistent content.
Whether you're a longtime fan or just looking for a story mode to grind, or even just interested in learning a little more about fighting games outside of simply mashing the buttons, there is something for everyone in Mortal Kombat 11 — or at least, everyone who can stomach the extreme violence and gore.
There's a lot to love in Mortal Kombat 11. It's a fantastic fighter with a roster of 25 varied characters, tons of customization options, beautiful graphics, and one of the best story modes in a fighting game. It's a shame that modes like the Krypt and Towers of Time inject annoyance and tedium into what was an excellent experience. The progression is complex and obtuse, when it should be easy and straightforward. MK 11 could been an all-time best, but it's just a contender.
Mortal Kombat 11's toned down yet more tactical play gives it its own style that also remains true to the heart of the series. Although the franchise has been all about ripping out beating hearts, MK11 thankfully knew to leave that heart intact.
Nearly 30 years later, Mortal Kombat still deserves to hang in the top-tier of fighting games. With improved visuals, overhauled mechanics and exciting strategic potential, MK 11 offers a brilliant fighting experience. Unfortunately, the overall fun is bogged down with miserable modern-day business practices that frequently pump the brakes on your enjoyment. The Fight is the thing, however, and as long as the fists are flying, then Mortal Kombat 11 packs a helluva punch.
With this installment of the saga, we will enjoy visceral, fluid combats, a story in campaign mode that has no waste and everyone should play, but, above all, we will enjoy an unlimited fun with its game modes .
Review in Spanish | Read full review
A new proof of Netherrealm's expertise. It surely shows some lack of new ideas, but everything that's included in the game is really well done.
Review in Spanish | Read full review
This game is the pinnacle of Mortal Kombat action. Fights are fluid, weighty, and gorgeous to look at. Unfortunately, that tightly-designed gameplay is bogged down by a grindy system of loot and consumables that only serves to artificially extend your playtime in the most tedious ways imaginable. There is so much heart and care put into this game, from the combat to the gorgeous visuals and memorable story, but that effort feels nullified by the desperate attempt to twist an iconic video game franchise into just another endlessly online service game.