Risk of Rain
The relatively simple pixel art that makes up Risk of Rain's visuals, while minimalistic, is still able to be consistently appealing and, sometimes, even stunning
One of the better games currently inhabiting the discarded skin of the roguelike. Doesn't do anything particularly mind-blowing, but it's definitely fun while it lasts.
Risk of Rain brings roguelike elements to a challenging 2D platformer that glorifies the item hunt.
But any time Risk of Rain loses its sheen, you can always start again, with a new character. You can always go online with friends and enjoy the game's robust co-op mode. And starting that new game is always so appealing because of the slow opening. You're free to warm up, to find your first few items, and see where this game is going, before things slowly accelerate into panic, dread and near-inevitable death. Lovely!
All things considered, Risk of Rain is a lot of fun. Though it is held back by its technical faults (which can be reasonably expected from a project created by two students), it has the right stuff to elicit the "just one more run" response that roguelike games are known for. With a little more polish, it could be truly great, but as it is now, it's still totally worth checking out.
Risk of Rain is a fantastically deep roguelike that excels at offering you opportunities for success but only if you're willing to take them for yourself. It's really amazing how balanced this game feels despite its difficulty. And did I mention the soundtrack? Gorgeous ambient-techno makes this game more akin to Metroid Prime crossed with Binding of Isaac and if that doesn't sound like the best thing ever, I don't know what else to tell you.
Risk of Rain winds up feeling as insubstantial as its pursuing Wisps and free-floating Jellyfish. It looks small to me not because it takes such a wide view, but because I was given such a minor stake in it. The tiny figure of my Bandit character doesn't stand in for the sum of my decisions, or my engagement with rewarding systems of movement and attack. He doesn't begin to represent anything. He's a piece of the landscape, not part of a game.
Risk Of Rain is a retro-tough indie gem that pumps Roguelike and RPG elements into insane old-school run & gun platforming. You'll love every ridiculously addictive hardcore second of it, probably grinning and gurning like a sweaty lunatic as you do so.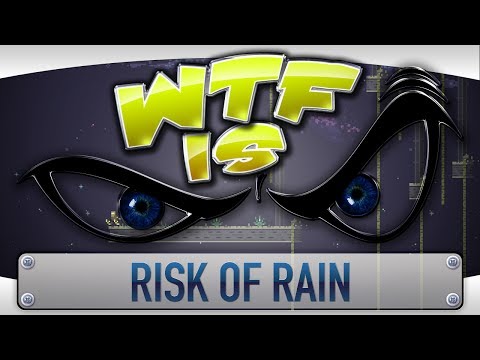 While frustrations will arise, they're quickly subsided by accomplishment, joy, and amazement that you were really able to live for that long against seemingly insurmountable odds.