Marvel's Spider-Man is undoubtedly the best Spider-Man videogame ever made, but it could have been a lot better.
A rare harmony of developer and licence makes Insomniac's open-worlder a total treat.
I wanted Marvel's Spider-Man on PS4 to make me feel like Spider-Man: To sail between the highrises of New York City, to nimbly web up hordes of enemies, and tussle with familiar, animal-themed villains. Insomniac Games' first foray into the world of Marvel handily delivers on all of that. But what I didn't expect from Spider-Man was to come away feeling just as fulfilled to have inhabited the life of Peter Parker. Aside from a few odd pacing issues, which momentarily took me out of the experience of being a superhero, and a world of optional missions that don't always quite live up to the heft of the main story, Insomniac has delivered a Spider-Man story that both surprised and delighted me, coupled with gameplay that made me feel like Spider-Man nearly every step of the way. The Wall Crawler's open world doesn't consistently deliver the thrilling moments of its main campaign, but the foundation laid here is undoubtedly a spectacular one.
An immensely enjoyable and fun to play superhero adventure.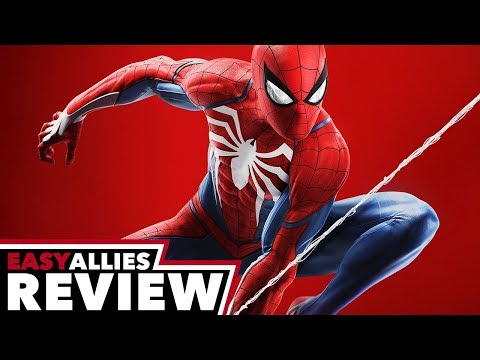 The best Spider-Man game ever made… but only just, since it fails to move the superhero video game genre forward in any important way.
The story shines as brightly as the gameplay – both deliver heart-pounding excitement
Filled with heart-pounding, high-flying action, Spider-Man is a polished, fun and sometimes frustrating PS4 exclusive
A spectacular cinematic presentation and sensational core mechanics help Insomniac's take on a Spider-Man game shine, in spite of some unimaginative open-world activities.
Spider-Man combines elements from plenty of other games to deliver a game with expansive combat, exciting traversal, and a solid, authentic story.
As a playground for one of the most idiosyncratic superheroes of all time, Marvel's Spider-Man is sheer bliss. It's a sandbox platformer first and foremost, and a damn good one. Throughout playing the game I was constantly hounded by the question of whether this—sublime superhero traversal in a gorgeous, idealized version of New York—were enough. After countless hours later spent cleaning up every last icon on the map, I'm convinced they are.
Insomniac Games takes Marvel's most popular character for a spin and the results are fantastic. The developer establishes its own Spider-Man with a unique supporting cast and a beautiful recreation of New York to play around in. This is an absolutely beautiful game, with solid combat and a great story. Most of all, it really sells the feeling of being Spider-Man. The gaming history of Spider-Man has been uneven, but this is an amazing entry in that history. Pun intended.
Spider-Man PS4 continues the awesome tradition we've seen emerge in the last decade or so of amazing licensed games. I wasn't a huge fan of some of the more repetitive side activities, but I had a lot of fun in general and gained a new appreciation of Spider-Man, enough so that I'll be checking out the comics when I get the time.
Spider-Man isn't just a great superhero game, it's a proof of concept for Insomniac as a company. This project shows that they can basically handle pretty much any universe, because if you can accurately recreate Peter Parker's nimbleness and gentle heart you can do anything: and with multiple teasers at the end, I think they'll get that chance.
Marvel's Spider-Man does a spectacular job of making you feel like the ultimate Spider-Man. From swinging through the city at high speed to fighting off legions of enemies by zipping between them and pulling them into the air, its gameplay looks like a scene from the films. It's remarkably well realised in terms of its world, design, and even technically, with short loading times and a rock solid framerate even on the base PlayStation 4. If Spider-Man is your thing then this is an essential purchase.
With the speed, agility and proportionate strength of an arachnid, Insomniac brings back the beloved super hero with a game that lacks novelty, but shines in every aspect. Marvel's Spider-Man is amazing, spectacular, sensational and superior to any other wall-crawling, web-slinging video game.
Review in Spanish | Read full review
Marvel's Spider-Man is one of the best exclusive games for the PS4 and one of the best games in 2018 so far. Its world has managed to surprise us due to the huge amount of content it possesses as well as because of its funny and deep gameplay. Finally, its visual level is movie-like and keeps the player engaged by means of a great story.
Review in Spanish | Read full review
Spider-Man is a fantastic action game with great movement and combat and a compelling story that's only dragged down from time to time with boring missions and QTE-based boss fights.
Marvel's Spider-Man is at once a fantastic action game, a dramatic story-driven adventure, and a love letter to fans of Marvel's ever-endearing wall-crawler. It's also one of the strongest titles in Insomniac Games' catalog, and will no doubt be counted not only among the best games of 2018, but also among the best PlayStation 4 exclusives ever released.
That's when it feels most special, and it's then that what Insomniac has achieved here is most plain. Much of its design is familiar, but it appears here in a refined, polished form that makes it an easy recommendation.