While it is annoying that Bloody Palace mode is not available day one, it is coming as a free update on April 1st. Capcom has proved this gen that they are truly the best at 3D action games. They took some bold risks with the style and realistic flavour, and it pays off by taking on this new look that has never been seen before in any videogame. Even spectators are going to be extremely entertained by the spectacle that is Devil May Cry 5. Everything feels so fresh, and the advancements in the controls and fluidity in animation makes playing this refined masterpiece so hard to put down.
Devil May Cry 5 modernizes a classic with one of the greatest character action games ever created.
Devil May Cry 5 is frigging great. I think I'll leave it at that.
Devil May Cry 5 is an action title worth playing, filled with bombastic action, over-the-top character moments, and fun mechanics. It's a game that forgoes any sense of nuance and relies on simply overloading your senses, and often succeeds at doing just that.
Capcom returns to its trusted formula for something that plays like a outrageously pretty PS2 game - and that's a very good thing.
Three great characters and a beautiful, fluid combat system make this a must-buy for hack-and-slash fans.
Devil May Cry 5's trio of outstanding combat styles set a new high bar for the series, and its mysterious story keeps things interesting along the way.
A perfectly judged comeback that's full of all the wild invention and stylish mayhem fans demand but proves surprisingly accessible and varied for everyone else.
Capcom has done it again, re-energising a classic series like never before, and pushing the genre forward in a fresh way. It looks better than ever, plays better than ever. It's Devil May Cry better than ever.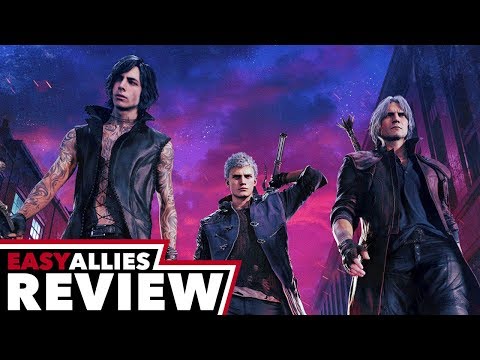 Chaining together impressive combos is as fun as ever, though hopping among three characters makes it hard to hone your expertise
DMC5 proves the series can still be brilliant and imaginative without compromising its longest-held traditions.
It's a gory, metalcore-driven, imperfect romp. It didn't ask me for much: just 15 hours of my time and a willingness to admit that, all right, dragging a motorcycle across a demon's face is, in fact, pretty b****s.
Devil May Cry 5 is a firework. If you're the one with the lighter, then setting the explosion off is a simple as flicking your finger.
Capcom fills fans' dark souls with light! Devil May Cry 5 is an excellent return to form for the franchise, setting it up for a bright future. Nero's here, Dante's back in pitch-perfect form, and V provides a brand-new style of play. All Capcom really needed to do with Devil May Cry 5 was repackage the classic DMC gameplay with a modern coat of paint, but DMC 5 is an excellent, thoughtful update.
Its reluctance to properly evolve keep it from being the king of its genre, but its commitment to its stylish and responsive mechanics still makes it one of the best hack and slash games, crown or not.
I'm going to be playing Devil May Cry 5 weeks from now in the short term and years from now long term. This is the sort of fine-tuned wacky action game the genre deserves.
On top of being one of the best looking action games ever made, none other hack'n slash has ever been so complex and varied, but also fun. It may be all about demons and hell, but Devil May Cry 5 is like reaching heaven.
Review in Spanish | Read full review
Hideaki Itsuno, my hat goes off to you and your crew. It's only March, and yet Devil May Cry 5 is another clear Game of the Year contender. The silly arguments on whether the original DMC or DmC is better can stop now, because DMC5 is here and it's bloody brilliant. This is a proper return to form for the series, something that fans of both can get behind.
DMC 5 is beautifully rendered and the action is fun. However, the weak story and less-than-compelling character development and audio presentation remove the game's heart