Dark Souls 3 sees the return of the king in a spectacular conclusion to From Software's trilogy.
If Dark Souls 3 truly is the last in the series as we know it, then it's a worthy send-off. Weapon arts allow stylish and versatile new moves without tarnishing the purity of the combat system. Lothric's awe-inspiring locations provide visually stunning arenas for rigorous exploration and fierce face-offs with hosts of deadly enemies and even deadlier bosses. While not all the risky changes land as neatly as others, Dark Souls 3 is a powerful journey and the sequel the series truly deserves.
Sprawling level design, thrilling combat, and masterful indirect storytelling make Dark Souls 3 the best Dark Souls yet.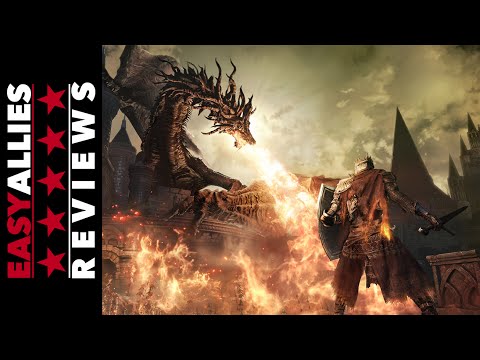 Dark Souls used to feel like a gigantic trap. Dark Souls 3, for better and for worse, feels like home. The third in the trilogy is bewitching while it lasts, but may not leave you wanting more.
A fitting end to the Dark Souls trilogy, that eventually overcomes the feeling of overfamiliarity with some daring new features and classic boss battles.
An excellent entry in the fantasy series featuring unique environments, bosses, and a massive wealth of secrets and surprises
Dark Souls 3 lives up to the formula in some respects but falls short a little too often
Dark Souls 3 is a harrowing trek through a dark and gorgeous world, and despite a few missteps, is well worth the challenge.
Though a handful of major bugs hold back the PC release a bit, Dark Souls III is a satisfying finale to the monumental series.
As a sendoff to the series, Dark Souls 3 is a fine one. It's time for something new.
From Software's amazing streak continues with Dark Souls III, which amounts to the finest game in the series. Returning players will find everything they've grown to love in a much better form, while newbies will be treated to the most accessible Souls to date.
Through climactic boss fights, bewitchingly forsaken landscapes, and heightened combat, Dark Souls III meets the lofty expectations of the Soulsborne series. Even with minor issues with linearity, framerate, and the originality of level design, Dark Souls III is an outstanding send-off for a seminal trilogy that has influenced and legitimized difficulty in games with unapologetic force. Its undying flames will be felt forevermore.
If Dark Souls III truly is the last game for now, it makes perfect sense, since it's just as much of a love letter to fans as it is a culmination of the series. I may not have like this iteration as much as the rest, but it's still streets ahead of most current action games and deserves a warm spot on your shelf by the bonfire.
Dark Souls III offers more of the same intensely difficult combat, ambiguous overarching story, and some striking locales and bosses in the franchises' history. The only real objective criticism on the PS4 version is that the combat doesn't feel responsive enough thanks to the 30FPS cap and frame drops. Dying in Dark Souls III is part of the territory and if that doesn't faze you, then this is an easy recommendation for those with the patience of a saint.
Dark Souls III does everything really, really well. It is the best looking Souls game hands-down. It's built with care and attention to detail, and all its systems work flawlessly.
Dark Souls III is one of the best episodes in the series and one of the best soulslikes ever. Wonderful boss design, amazing level design and a great progression system put it at the top of the genre.
Review in Italian | Read full review
This sequel plays with expectations while trying to exceed them. Buy it.
Though technically iffy, Dark Souls 3 is yet another example of how worlds should be built: interlocking, beautiful, and interesting. The combat feels quick and fresh, and despite a few bosses that feel unfair, it's a glorious return to form for the series.
Dark Souls 3 is exactly what fans want, more of the same. There are new elements to be sure, but overall the game is the same great action RPG formula as the previous games. Unfortunately this also means some pieces that should have been updated weren't. On top of this are some performance issues and a lackluster targeting system. Still, longtime fans will overlook these with ease. Newcomers will find a more accepting entry for the franchise, though the massive challenge is still there, and don't expect to understand all of the intricate mechanics that the game never really explains to you.