Despite eye-catching changes, the heart of this series remains gloriously unaltered.
God of War's outstanding characters, world, and combat come together to form an unforgettable adventure.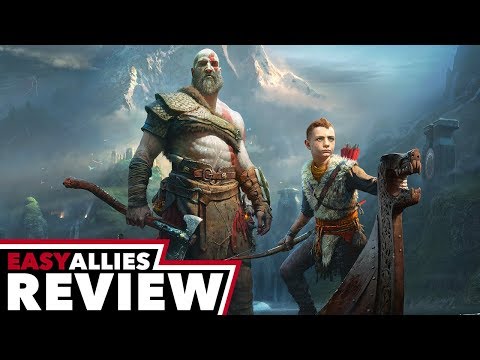 One of PlayStation's finest moments, Kratos has been reimagined for a new audience while keeping the best bits of what originally made him great.
A top-to-bottom revamp of the whole God Of War franchise that matches thrilling, if slightly shallow, combat and exploration with some impressively trenchant storytelling.
An enthralling experience from beginning to end, with a mixture of great narrative moments and engaging encounters. God of War is a well-paced adventure that knows when to let the action simmer and when to make it boil over
God of War is every bit the over-the-top action game you expect, but it's the story and setting that end up stealing the show.
Some die-hard fans may fear this isn't really God of War. I suppose they're right. It's even better.
Sony Santa Monica makes us care about Kratos in this stunning revival of the series.
This is how you do a reboot. After Kratos lost his way, Sony Santa Monica has set the God of War on a new path. A more measure, nuanced character, a great supporting cast, an excellent combat system, and some of the best graphics in the PlayStation 4 game to-date add up to a winner.
The graphics, sound, combat, world, and plot all come together to make an exquisite package that is a prime example of why games are art and God of War is right up there with the best films and novels when it comes to storytelling. If you have a PlayStation 4, you should play God of War. If you don't have one, you should consider getting one to play this game. Read more at http://www.gamerevolution.com/review/381919-god-of-war-review-an-olympian-feat#ovxu44mgz9GifWd0.99
God of War is a different game for a new era of the medium. While I'm a sucker for more frantic arcadey action there are plenty of studios left carrying on that legacy. Unless something catastrophic happens to Sony Santa Monica, there's more story to tell, and I hope the exact same team is able to tell it.
Every single aspect in God of War works perfectly in order to create a violent, yet moving masterpiece. Probably the best looking game of current gen consoles and a deep story, whose only weak point is that we get the feeling that the best is yet to come.
Review in Spanish | Read full review
A lot of what goes into God of War feels as though it was cherry-picked from the modern gaming zeitgeist. The semi-open world structure, loot system, and a much deeper narrative focus work well, but are all trends being pushed by most other big games. As a result, God of War can feel slightly homogenised in a way that some fans may find unappealing. Thankfully, a strong sense of setting and brutally satisfying combat help maintain that God of War identity. If it wasn't made abundantly clear already, this is the first in what will most likely be a new trilogy for the God of War franchise, and this first instalment serves as a pretty great foundation.
God of War is an excellent game that has evolved and with a great quality in every aspect. The game feels more mature, profound and solid than we have ever seen in the saga. Its gameplay is still dynamic and its story will keep us in the edge of our seats from beginning to end. However, it lacks magic in some moments and has a few repetitive bosses, which does not allow this game to reach the perfect score.
Review in Spanish | Read full review
God of War works for what it keeps and works for what it changes. It's a foundation for a series that's suddenly a tentpole once again.
God of War was never the deepest experience, especially with what feels like limited enemy types. But the PlayStation 4 makes up for this in spades with an incredibly vast world and a heartwarming story. Beyond Kratos and Atreus, the game is filled with some surprisingly lovable characters. On top of that, finishing the main story doesn't truly feel like the end. While previous games made it feel like treading old territory to find everything, the post-game in this God of War makes it feel like the world has truly opened up.
Santa Monic has set new standards for action-adventure games with God of War. The game has already attracted me from start to finish. It's an experience that happens only once every 10 years, and I can not wait to see how the series will become in the future, with a unique open world, interesting storyline, simple gameplay but difficult to master, and soundtrack and sound performance is the best ever, I can say God of War is the best game on PS4.
Review in Arabic | Read full review
There's a scene in God of War where Kratos decapitates someone to free them from a magical cage within the mangled roots of a tree.
God of War very effectively achieves its mission to be a good reboot of the saga and a good sequel. Each one of the days of the five years of development of this new delivery is evident in the great values ​​of production in each one of the sections, materializing perfectly in the constant sequence plane. Perhaps we only regret not having been presented with something truly original mechanically and not a mixture of ingredients that we have seen in other titles.
Review in Spanish | Read full review