A plodding and predictable 4X strategy game that's relaxing in its own way, but rarely challenging.
Gladius – Relics of War is a 4X game that relies only on one of those X: eXtermination. The combat is the most polished and deep aspect of the game, offering a war experience that fits so well the Warhammer 40,000 universe.
Review in Spanish | Read full review
A great addition to the 4X offer. There are only four factions, but each of them is well thought out and offers a unique playing experience.
Review in Italian | Read full review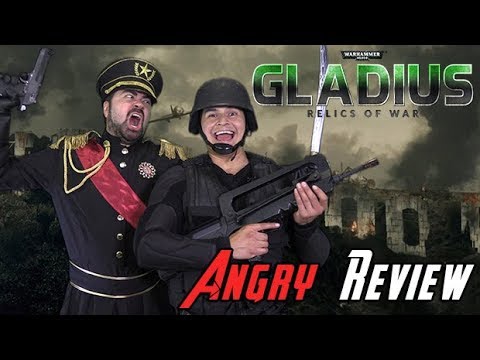 Proxy Studios has done subtraction work from the 4x genre and, for every element of this vein that has been eliminated, greater depth to the strategic components has been infused. Some technical limits are still there, but W40k Gladius - Relics of War remains a great game.
Review in Italian | Read full review
Warhammer 40,000: Gladius - Relics of War is a quite enjoyable 4X strategy game set in the Warhammer 40,000 universe, featuring four unique factions, each with its unique campaign, randomly generated maps and an engaging multiplayer mode. With an experience that's focused on war, however, the game can get a bit repetitive after a while, as diplomatic options might have made both single and multiplayer more varied.
Under-cooked is actually a really good way to describe Warhammer 40,000: Gladius – Relics of War. It's got all these good ideas, but they're not combined in the right way.
A pretty and novel use of the 40K license, brought down by uninspired design and plain bad game balance.
Warhammer 40,000: Gladius - Relics of War is a solid 4X, with some little defects, but it is a real pleasure fighting with Necrons, Orks, Space Marines and Astra Militarum.
Review in Italian | Read full review
Ultimately, Proxy Studios has stripped away some of the complexities commonly found within the 4X genre and distilled Warhammer 40,000: Gladius - Relics of War to an Ork-infested blood-fest. It's a bold decision, and to some extent, it works. There's a reason why folks created the Nuclear Ghandi meme from the Civilization series; at the end of the day, it's fun to make guns, destroy opponents, complete research, and make bigger guns is fun. However, in Gladius' case, the guns don't come without a few hiccups. Performance issues, counterintuitive visual design, and lackluster sound are prevalent concerns. It makes for a strategy game that is so close to succeeding but falls short of something special. After spending roughly 30 hours with Gladius and getting familiar with each of the factions, I'm comfortable recommending the game to fans of the genre who are desperate for something new or for those looking for a 4X game they can enjoy at a more relaxed pace. What's more relaxing than smashing Space Marine skulls on a Saturday morning with a maxed-out Warboss? Waaaaaghhh!
Warhammer 40,000: Gladius – Relics of War may not play like other 4X games that you're used to, but it treads a perfectly acceptable path of its own that fills the stomach, albeit not quite to satisfaction.
An interesting premise ultimately let down by poor execution and a lack of depth seen in most every other game in the genre.
Warhammer 40,000: Gladius – Relics of War tries to be an entertaining, challenging, and different 4X strategy. It has almost achieved this goal. Nevertheless, the lack of politics, economics, alliance, and other 4X features are some drawbacks causing the game to become repetitive after a while
Review in Persian | Read full review
You can find Warhammer 40,000: Gladius - Relics of War on GOG and Steam, and if you like TBS games and you're not afraid of a challenge, you should really give it a try.
Gladius is exactly the change of pace that the Warhammer 40,000 franchise needed!
Beyond a few quirks though, Warhammer 40,000: Gladius - Relics of War is an excellent 4x game set in a dark and gritty universe. In time I hope that we see the additional races, Eldar, Dark Eldar, Tyranids, and my personal favorite, Tau, as only 4 playable races does make the game feel a bit empty at times. That said, what is there within the four playable races equates to a solid turn-based strategy game that, Emperor take me, is an excellent Warhammer 40k title. Gladius - Relics of War is 2018's Warhammer Must-have.
While it's too focused on war and troops to feel like a full 4X, treated as a lavish wargame it measures favorably. A massive number of unit types, lots to research and satisfyingly durable troops makes the combat tactically interesting but there is no diplomacy, culture or any sort of flavor.