Reroll gives a whole new generation the chance to experience this wonderful Japanese fever dream.
Wonderfully weird and inventive. Katamari Damacy isn't perfect, but it holds its own impressively well 14 years on.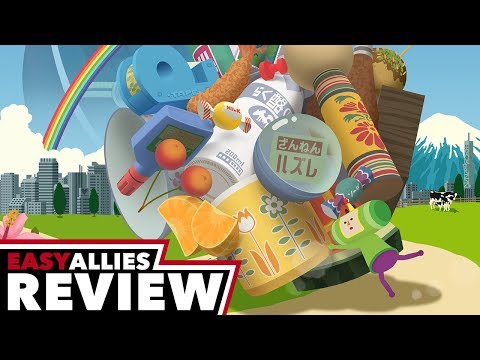 Still one of the most original and entertaining video games there's ever been, with a surreal sense of humour that permeates every corner of the gameplay and presentation.
For those who haven't yet given Katamari Damacy a shot, if you long for the unexpected and uncomplicated, Katamari Damacy REROLL offers respite from the norm of today's games. If you've always had a soft spot for the series, this is your chance to relive the joys of proving yourself through a brighter, more clearly defined lens.
Whenever there's a conversation about video games and if they can be considered art, Katamari Damacy needs to be involved. 15 years ago, it arrived on PlayStation 2 touting an absolutely unheard of style of gameplay, art and music. 15 years later on the Nintendo Switch, and it remains one of a kind. Katamari Damacy is a wholly unique video game, and it is an unabashed love letter to the copy-and-paste pop aesthetic of Japanese 1990s pop culture. It's bright, weird, silly and cute, and is a must play for anyone, anywhere.
A clean and easy HD version that doesn't mess with the perfect formula of the original. Katamari is amazing today as it was 14 years ago.
Review in Italian | Read full review
Katamari Damacy REROLL is a fantastic experience for people who have never experienced the game before but it is a pretty barebones port on PC.
This remains the magical, bizarre, joyful and utterly peculiar game that earned its place in gaming history. It also remains very short (about four hours at a slow pace?), but also extremely replayable, with so many targets to meet. And it's very funny, in a super-dark way.
Katamari Damacy Reroll is as simple, silly, and superbly entertaining as it was more than a decade ago. The main experience stays intact, but the remaster does enough to make anyone interested in this game smile. Here's hoping that Bandai Namco takes this reimagining and invests in the original sequel next.
Katamari Damacy Reroll doesn't really add much in regards to new content, which is disappointing, but not a dealbreaker by any stretch. Unlike other remasters, Monkeycraft went for the "optimize the crap out of it and make it look pretty" approach and instead gave us a visually updated version of what is already a very complete game with a surprising amount of replayability that is as immensely fun as it was back in the day.
A classic from the not so recent past, now remastered for the newest generations of gamers.
Review in Italian | Read full review
Katamari Damacy Reroll is short, simple, but so very sweet. And at a price point as low as this, it's honestly hard not to recommend, even with all the great games that came out this Fall.
This remaster gives Katamari Damacy the high-definition graphics and keyboard support that you'd expect in a modern PC game, but that's all. Considering the game's excellence, that's just fine.
Katamari Damacy Reroll brings the wildly original PS2 game into the modern era, with a true remaster perfect for the Nintendo Switch.
Katamari Damacy Reroll brings the original Katamari Damacy back for a new generation, and all of its fantastic gameplay and heart is now combined with beautiful high-definition visuals. There's almost nothing new here save for mediocre motion controls, but then again, nothing needed to be added to make this quirky classic worth playing again (or for the first time).
In a cynical era where nostalgia is pumped for all its worth with endless soulless remasters, Katamari Damacy Reroll serves up an engaging and rewarding game that hasn't let any of its original charm or personality be lost in the transition from one platform to another. With support for gyro controls and multiplayer – not to mention a degree of performance that sees it run smoothly in both handheld and docked mode – this Switch edition is easily the best way to play it outside of blowing the dust off your old PS2.
Katamari Damacy REROLL is a condensed, but immensely enjoyable experience. The controls are the main roadblock for sure, but they're not quite enough to detract from just how fun this game is. REROLL is a simple port of a simple game, refreshed for a newer audience, while also keeping all its charms and quirks intact. There's no better way to roll.
In the end, Katamari Damacy Reroll isn't perfect, nor was the original, but it is certainly fun. Not only is it simple fun, with relatively endless stress-free replayability, it makes for a fantastic portable game. With levels lasting anywhere from a couple of minutes to roughly 10, it makes for a good pick up and play game. When you consider the series charm and simple elements, it's honestly hard to say no at this price.
I found Katamari Damacy REROLL to be much more frustrating than fun. It lacks modern fundamentals like a good camera and intuitive control, made worse by ill-fitting time restrictions. It's a very repetitive game too, one that I really couldn't play for more than two levels at any given time. A minor HD coat of paint can't compensate here. I suspect Katamari Damacy, though a hit with most critics, will remain a sleeper of a game amongst players, even on Nintendo Switch.