Gears 5 tries to bombard players with tons of contents, and offers many days of entertainment as it aims to introduce itself as a true AAA+ game. The result is a very entertaining game, but is that enough to justify Microsoft's flagship? Not sure. Maybe the only part that Gears 5 shines at is visuals, and while everything else is also okay, we expect a lot more than that from a title like Gears of War.
Review in Persian | Read full review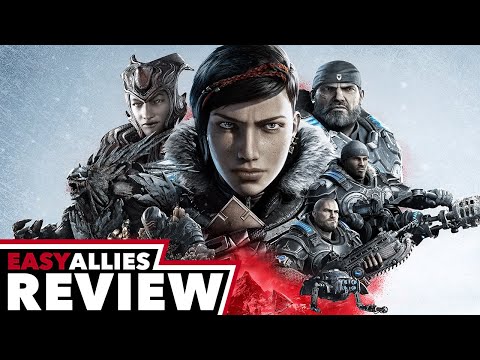 Gears 5 is the first time the series has made the brutality of its combat feel captivating and disturbingly intimate.
No matter which mode you approach it from, Gears 5 is an incredibly fun and polished game.
The Coalition has set a new benchmark for Microsoft's first-party campaigns. By taking huge risks, subverting expectations, and delivering a visual spectacle, Gears 5 is the best in the series.
Gears 5's campaign is the best the series has seen, and Escape mode is a brilliant new addition. It's fun to play, beautiful to look at, and full of some of the best characters the series has ever seen.
The Coalition has achieved a lot with Gears 5. The writing and action often rivals the best moments in the series, even surpassing its predecessors at times. The overall package is the most robust Gears has ever seen. But, the big structural alteration feels like an unequivocal misstep. Gears 5 is a rousing success, but it could've done without the needless change.
Gears 5 continues to prove the team at Coalition can tell a fantastic story while providing plenty of great content for fans beyond the campaign.
The Coalition adds a lot of smart new ideas to the Gears of War formula in Gears 5.
It's unfortunate that Gears 5 continues the trend of 'games that were clearly shipped before they were ready' since its diverse offering of different gameplay experiences is virtually unmatched by any other shooter game or franchise. Once The Coalition has ironed out the campaign performance issues and multiplayer network problems, this latest Gears of War game has a very bright future and is a must-play for any fans of the shooter genre no matter their individual tastes.
Gears 5 still feels like a series in need of an identity, but a more charismatic lead and experiments with open-world structure hold promise for the future—even if they don't quite pay off now.
Mixed multiplayer and a depressing grind can't dim the light of a superb new Gears campaign.
It's a solid title, just not a perfect one. If you enjoyed previous titles in the series then Gears 5 is an easy sale. If you are new altogether, well, there is a ton of stuff for you to dig your chainsaw bayonet in!
Gears 5 ambition and bold direction breathes new life into old legends.
Gears is finally back with it's fifth major game. The Coalition did a wonderful job making the Gears game the all the fans deserve.
Review in Spanish | Read full review
Luckily the foundation of the series is still strong in and out of the campaign, with the multiplayer suite of Horde and Versus being as fun as ever. Escape, clearly inspired by Left 4 Dead, is also a great way to kill an hour if you've got competent squaddies for the ride. Ultimately, I had a fair amount of fun tearing my way through swarms of foes with shotguns and chainsaws, but there's definitely a part of me that's disappointed Gears 5 isn't the evolution its bloody heart is set on being.
Gears 5 is perhaps the best entry in the long-running shooter series and stands as one of the best games of the Xbox One era.
Gears 5 is a beautiful balancing act of new and old, and it manages to offer the franchise's trademark action and gore while telling a compelling story that sets up the future of the series in a big way.
Gears 5 is still the same game it has always been, but in Katie it finds a fresh, new character with a more intriguing story.
Review in Italian | Read full review
Should you have read this much of a Gears of War-related review, I imagine at least one of the above four modes sounds up your alley. Just because Escape is currently wonky in action doesn't mean it's not a unique and satisfying co-op action experience. The campaign's herky-jerky start is likely worth enduring for a certain brand of shooter fan. And both Horde and versus are likely to delight fans old and new for entirely different reasons.