Red Dead Redemption 2 is a game of rare quality; a meticulously polished open world ode to the outlaw era.
An astounding open world unlikely to be rivalled until well into the next gen, saddled by a throughline from the last.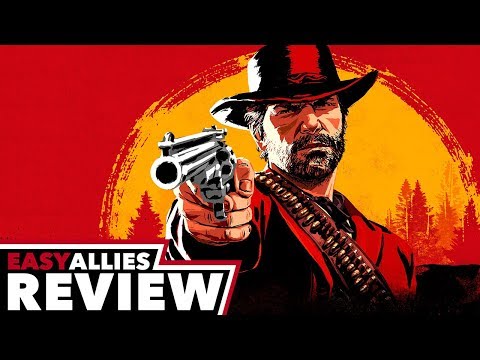 An incredible technical achievement and a hugely accomplished Western epic that, despite a few minor flaws, represents Rockstar Games' most engaging and ambitious work so far.
One of the top three open-worlds of all time, and the best game Rockstar has ever made. An all-time Old West masterpiece.
Rockstar has once again created a game that redefines the open-world experience. Red Dead Redemption II is a triumph that every gamer should experience for themselves
After Red Dead Redemption 2's story concludes, a huge epilogue begins, and the game's already gargantuan map grows even larger. I'm eager to dig into this postgame, where it seems I'll be free to focus on taking in the beautiful, meticulously simulated world, rather than hurling myself into the middle of it.
RDR 2 succeeds as both a prequel to Red Dead Redemption and a story in its own right, and though it can take some patience, your effort is well worth it.
Red Dead Redemption 2 offers up an astoundingly engrossing world that's remarkably easy to get lost in.
This game has heart; the kind of heart that is difficult to pin down but impossible to deny. It is a wonderful story about terrible people, and a vivacious, tremendously sad tribute to nature itself. There is so much beauty and joy in this expensive, exhausting thing. Somehow that makes it even more perfect—a breathtaking eulogy for a ruined world, created by, about, and for a society that ruined it.
Eight years after the masterpiece that was Red Dead Redemption, Rockstar Games is taking a second shot. New protagonist Arthur Morgan gets a better supporting cast, an absolutely beautiful open world with more visual variety, and a ton of things to kill or collect. There's some occasional tedium in travel, and a few bugs and annoyances, but nothing that prevents Red Dead Redemption 2 from being an excellent game.
The astounding thing about RDR 2 is that there's not only a staggering amount of story, side quests, and places to explore but that it's all high quality and doesn't feel tacked on.
Red Dead Redemption 2 is the epitome of ambition and like most things Rockstar, will meet the expectations associated with it. With all of the advancements since the last Red Dead and everything they've learned from Grand Theft Auto V under their belt, the series is in a better place, able to provide a more natural and less gamey world to explore.
The hype being created for Red Dead Redemption 2 and the expectations of the passionate fan-base made a part of me believe that Rockstar Games could never deliver on all of their many promises. They did, and then some. From the feeling of a realistic living world they've created to the emotional bonds you build, Red Dead Redemption 2 is the video game experience of this generation.
Rockstar delivers a masterpiece in every aspect. Its organic and evolving open world, characters, storyline and gameplay mechanics made us feel "free men". Red Dead Redemption 2 also brings the best technical elements of this generation.
Review in Spanish | Read full review
Red Dead Redemption 2 is, without a shred of doubt, a new masterpiece brought to us by Rockstar. The new entry by the company has managed to achieve excellence in gameplay, storytelling and technical aspects. In the end, Rockstar has been successful in pushing the franchise to its limits in order to create one of the most complete games of all time.
Review in Spanish | Read full review
If you have the time and the inclination, buy Red Dead Redemption 2. It's a great game. It's an impressive game. Just know what you're getting into, and do your best to make it through the story to what's on the other side. This review is now nearly 3000 words long, and not nearly long enough for one of the greatest and most vexing games I've played in years.
Whether I'm chasing the thrill of a daring train robbery, or the serenity of a solo camping trip, Red Dead Redemption 2 is an open-world game I will return to time and time again.
RDR II's work cycle creates a forgiving system where, no matter what vocation you pick, you can figure out a way to bring in some cash. But it's also an extremely simplified version of the hardships people actually faced in the American wilderness. Even with the simulated elements to contend with, Arthur seems to have inhuman stamina, and a constitution that strains believability, even as it provides a firm foundation for the playspace.
Red Dead Redemption 2 is a brave prequel that isn't afraid of taking risks. It is innovative, surprising, stunning, dramatic, and generous – a highlight of this generation and a benchmark for other open world games to aspire to.