Overall, Ace Combat 7: Skies Unknown is an awesome game and a must-have for any Ace Combat fan, as well as a great game for players who enjoy fast-paced, adrenaline-fueled thrill rides in short doses.
Ace Combat 7 is a marvel of combat flight simulation. Putting forwards a package both concise in nature and packed with features and quirks to promote replayability and exploration, it's a game I struggled to put down. If you enjoy flight simulation, air combat, or even just a mess of explosions, bullets and lasers, I encourage you to give it a shot.
Ace Combat 7 is looking amazing at first glance. It can give you lots of fun while watching the beautiful skies. If you are fan of the series, you shouldn't miss the game.
Review in Turkish | Read full review
It doesn't reinvent the wheel, but then again there isn't a great need for wheels when you're dancing between clouds.
The lesser spotted aerial combat genre makes a glorious return in this heart-pumpingly exciting game.
Ace Combat 7: Unknown Skies doesn't do a lot ot update its classic arcade-style dogfighting, but it does look great and its gameplay holds up for the most part.
Uncomplicated but gratifying flying, in scenarios of increasing silliness and therefore likeability.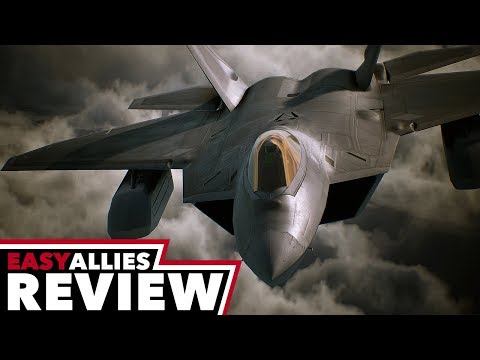 A successful return flight for the veteran franchise, with highly entertaining aerial action that remains accessible for new fans and old.
The game makes you work for each kill, and as a result you feel like you've achieved something notable with almost every ace you down
Strong aerial combat, an earnest story, and a varied campaign herald a victorious return to form for Ace Combat.
That being said, this is an excellent game and a fantastic Ace Combat game, and I'm glad to see the main series making a return after so many years
When it's firing on all cylinders, Ace Combat 7 absolutely soars as a return to form for a series thought dormant. It'll be interesting to see how Bandai Namco might take things forward from here on, but for now, the series is flying high and steady once again.
In Ace Combat 7 dogfighting games have a new Top Gun. The VR sadly turned my stomach, but the series' trademark action is bigger and better than ever, with the spectacular weather effects introducing a level of realism and drama that will win over any wannabe Mavericks.
Ace Combat 7 brings us 30 of the world´s most advanced war planes to engage different combat scenarios (escorting civilian planes, attacking refineries, evading enemy radar, facing an enemy ace...). Although it is an arcade, planes feel realistic and we enjoyed 8 player online mode and VR levels for PS4 version.
Review in Spanish | Read full review
Overall, I have had a great deal of fun with Ace Combat 7 and while it can be a demanding game at times, it is definitely a rewarding one. So if you want to fly through a beautiful blue sky filled with missiles, while surviving intense aerial dogfights, then Ace Combat 7 delivers on all counts.
Still, Ace Combat 7: Skies Unknown should serve to satisfy players craving a healthy serving of high-speed aerial combat, especially those who happen to have PSVR.
There are excellent gameplay and fighting mechanisms in this part, and the series lovers will no doubt be happy to maintain the priority and quality of air battles, but this priority has brought down several flaws that are difficult to ignore when talking about a seventh-line series. , And do not expect anything interesting in the story.
Review in Arabic | Read full review
The use of the Unreal Engine 4 raises the Ace Combat franchise to new levels. Exquisite gameplay, a long campaign... it's a pity that its multiplayer content is so scarce.
Review in Spanish | Read full review
A great restart for the Ace Combat series, a chapter perfect for both old players and newcomers.
Review in Italian | Read full review