I felt like Xenon was love at first sight. My first 4-5 races were absolutely a blast. Then the warts start showing up and really ruined the experience.
There's a ton of potential in Xenon Racer, but while it looks and sounds the part, its difficulty level and overly weighty handling keep it firmly stuck in the slow lane.
Xenon Racer isn't a terrible racing game, but in order to enjoy it you need to overlook the game's atrocious handling, horrible difficulty spikes, and general mediocrity. Not having big ambitions is fine for a game as long as it's fun, but developer 3D Clouds is wide of the mark on both counts.
Xenon Racer is a love letter to the arcade racing genre; too bad for the many technical issues.
Review in Italian | Read full review
Xenon Racer harks back to the simpler days of arcade racing. It includes all one might need and expect from a game of its genre. Buts it starts to choke thanks to a compromised handling of the vehicle. The races are unappealing, despite you being in a drop-dead set of wheels.
It's not often we recommend you play a Nintendo Switch game on a different platform, but there's simply no way we could advise you to pick this up right now in its current state.
Xenon Racer for Switch needs some serious work. Do not buy it unless there's an update. If you really want this game, get it on the other platforms—it's quite good, actually. But this, at a whopping $50 dollars? Hard pass!
Xenon Racer is a good game that so desperately wants to be great, but it falls short in too many areas to reach that status.
Xenon Racer inherits the legacy of the arcade racing games, with a solid structure, driving system and intriguing settings.
Review in Italian | Read full review
Xenon Racer doesn't have anything that makes it particularly unique, so even the best port would still be mediocre. The one way it truly manages to go above and beyond is by doing its best to hide its shoddy port right up to its pre-rendered gameplay footage in the intro that was clearly recorded on a different system. If you're in a desperate fix for a new racing game there are worse options than Xenon Racer, but make sure you pick it up on another system, because even the added portability on Switch can't make this version worth the cost of admission.
Xenon Racer has good mechanics at its core, however, the game doesn't utilize them to its full potential, becoming a weak title when compared to the competition.
Review in Portuguese | Read full review
Ultimately, while Xenon Racer's initially frustrating difficulty barrier can be overcome, its blurry visuals, brief campaign and awful announcer take the shine off of the whole experience.
There's no denying that Xenon Racer is a very promising drift-focused racing game but it doesn't quite reach the high notes that its inspirations achieved 20 or so years ago.
Xenon Racer is a perfectly serviceable arcade racer, but the significant technical shortcomings of the Switch port make it difficult to recommend in its current state.
Xenon Racer delivers a drift-based futuristic racing game with a fun, retro vibe, but that is let down a little by its slippery controls.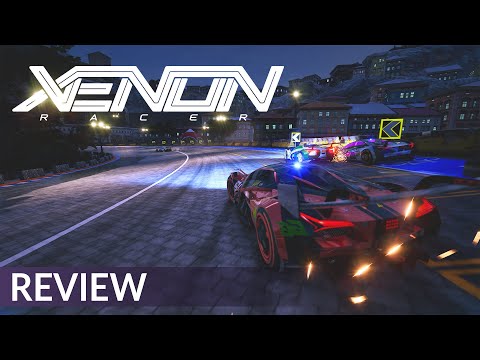 Xenon Racer hits its mark pretty well. There are many things that can easily over complicate an arcade racer, and even though not everything has a tonne of polish, Xenon Racer smartly focuses on just a few key areas. The result is an enjoyable, casual racing experience for those looking to step away from the higher profile simulator racing games and play something with a bit more style.
For those looking for a competent arcade racer that takes no prisoners; then Xenon Racer is definitely up your alley.
Xenon Racer looks and feels just like a game you'd find in the arcade. It's such an easy game to pick-up and play for any amount of time. It's a fun game that suffers from just being generic, and lacking any kind of personality. It's missing something I can't quite put my finger on, but I think for the right price this is a good get. Xenon Racer doesn't try to be anything more than it is, so with that, you'll find a solid futuristic racer to play.