Blood and Wine ends the saga of Geralt of Rivia in style, bringing with it a tale of charming vampires and troublesome friendship set in a stunning new landscape that departs from the bleakness we've known until now. The expansion also brings some welcome gameplay enhancements, including mutations, the ability to dye armor, and a vineyard for growing herbs. Most of all, it leaves Geralt in a good place.
Even in its immutable, heavily cutscene driven form, The Witcher 3: Blood and Wine is an accomplished piece of genre fiction with some characters I'll come to miss. Pour a goblet of the red stuff and join them, you won't be disappointed.
Blood and Wine is a fitting end to an exceptional video game.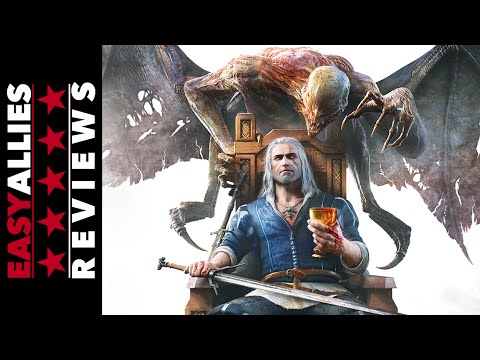 An excellent send-off for Geralt and The Witcher 3, and although the jokes don't always hit home the stunning visuals and breadth of content do.
Blood and Wine is a gripping murder mystery set in a picturesque new locale, and a fitting end to the story of Geralt of Rivia.
Blood and Wine is an impressive expansion that tells a captivating tale about betrayal and love
The Witcher 3: Blood and Wine concludes Geralt's latest saga with memorable quests, fearsome battles, and surprising wit.
Blood and Wine is equal parts triumphant and somber, a reminder of all the great times we've had with Geralt and some of the shitty things we've done in his shoes. It's about facing down the totality of Geralt's in-game legacy and—instead of regretting or redoing it—coming to terms with it.
Though you can tackle it at anytime, Blood and Wine is definitely CD Projekt Red's farewell to Geralt of Rivia. The great storytelling, interesting characters, and solid hunting mechanics all return in one last adventure, taking Geralt to a new region. If you've played Wild Hunt and Hearts of Stone, you owe it to yourself to experience this excellent finish to Geralt's tale.
This is a real treasure and a tribute to all-things Witcher, perfectly captured in the final moment before the credits roll: a close-up of Geralt, who turns to look directly at the player through the screen with a subtle grin, as if giving thanks for the chance to tell one last Witcher story.
However many little nagging issues I have with Wild Hunt (the combat is still a bit too simplistic), Blood and Wine is the best The Witcher has ever been since the first game. I came in merely expecting a bigger Hearts of Stone, but ended up getting something more expansive in nearly every sense of the word.
If Blood and Wine is to be The Witcher series' finale, then it's going out on a high note that befits the high standards that have been set over the years. If you've enjoyed The Witcher 3: Wild Hunt, then this expansion is essential.
One of my favorite things about Blood and Wine is the main storyline's ending. After you've completed the story, CD Project Red brings everything to a close. This means your decisions throughout the base game's main storyline is important, and it plays into one of the moments you come across as you finish up the final bit of the expansion's main quest. It's a nice touch to really help things feel connected, and to further hit home the impact that your choices have on the game world as a whole.
Simply one of the best expansion pack ever.
Review in Italian | Read full review
Blood and Wine, The Witcher 3's final piece of DLC, could not have given such a remarkable game a more fitting send off. With a beautiful new world to explore, Toussaint is brimming with hours of content, stories, monsters to slay, great characters and a whole new bloody Gwent faction. The best of all is how the writers have been allowed to write some genuinely hilarious little stories -- you can tell that their having a ball and it had me in hysterics on several occasions.
Blood and Wine feels like it was made as a loving goodbye to both Geralt and the Witcher series in general, as there's so much attention to detail that it's impossible not to regularly be in awe of it all. It's the perfect bow on a game that has been nothing short of a gift that keeps on giving, and I expect it will continuing doing just that for all who fancy an adventure with a certain Witcher.
Geralt's final hours are his absolute best.
Blood & Wine is so long, vast, and packed with content that it feels less like a major expansion and more like a small sequel
Much like Mass Effect III's wonderful Citadel expansion, this last outing is as much a victory lap, to remind us of the good times and end in the right spirit.