As someone who loves games like Portal and The Witness, The Turing Test definitely scratched that familiar puzzle itch, even if it fails to scratch more than the surface of most of its ideas. Its mechanics are solid but largely unoriginal, and its themes and world-building are genuinely great. And while it never reaches the originality and heights of its inspirations, it still manages to deliver an interesting world with one heck of a twist.
A playful examination of the relationship between human and machine, and a focused, entertaining puzzler.
The comparisons to Portal are many, and obviously intentional, but this smart and ambitious first person puzzler is no mere clone.
It succeeds in both its puzzles and story, and emerges as one of the nicest surprises of the year
It's easy to say that The Turing Test gets a passing grade. Lots of thought has clearly gone into how the story plays out, while the puzzles are designed to teach the player without overtly telling you how a new gameplay mechanic works. Little details at the end of each zone and side puzzle flesh out just what's going on, while the puzzles will test your logical thinking. It's not without its flaws, but it's certainly worth a look at for those wanting to scratch that First Person Puzzle itch.
The mechanics are fun and narration is interesting, but the puzzle design is quite basic and the end result is a fun but limited puzzle game.
Review in Italian | Read full review
A steady puzzle game elevated by its story and mystery that's never quite original enough to stand out.
The Turing Test can be quite accurately described as Portal meets Soma, exploring similar ideas of AI and selfhood. The trouble is, I suppose, that both those games did each aspect better.
It's definitely bloated, needing a brutal hand to strip out a few dozen of the weaker puzzles. Because in there are challenges that are not only good, but sometimes great. Really satisfying to solve. It's that they're too frequently diluted down by a series of chambers far more entertaining for the brief banter between TOM and Ava at the start than the process of completion. As such, it falls a good distance short of the two mighty games it emulates.
The Turing Test is both a thoughtful meditation on the implications of artificial intelligence, and a competent first person puzzler. Its systems are clever, its graphics make for unambiguous play, and its mechanical focus on logic is satisfying. Structural and pacing issues are certainly present, but they aren't egregious enough to meaningfully detract from the experience.
At first I was rolling my eyes at a blatant rip off of other fantastic games, but by the end I realized this is a great game in its own right.
The Turing Test delivers not just a worthwhile game but an amazing story that will sit with you long after the credits.
A solid but not excellent puzzle game. The Turing Test is a nice title, with interesting puzzles and an enigmatic story. Some rooms are complex and compelling, but at the end of the adventure truly memorable puzzles will be less than expected.
Review in Italian | Read full review
The Turing Test" achieves a rare harmony of gameplay and narrative. It should make one think about the flexibility of the mind and what it means to consider one's species the apex of creation.
If you're willing to accept a game which is slightly rough around the edges, and will remind you of Portal at every turn without actually being Portal, then The Turing Test could be for you. There's a lot here to like: a philosophical dialogue about ethics, transhumanism and the singularity, in conjunction with occasionally brilliant design. There's enough on offer here that I sincerely hope that Bulkhead Interactive make another game, and next time, think slightly further outside the white-panelled box than they did in this endeavour.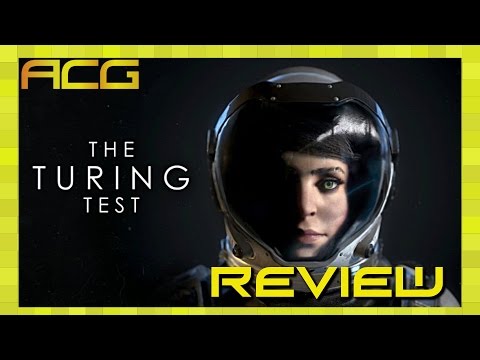 And with a fascinating narrative that explores themes few games have ever touched, you'll be constantly enthralled by the philosophical debates between a human and an AI just as often as you'll be frustrated by a puzzle for designing around the simple solution you had in your head.
The Turing Test will be compared to other games of similar structure, such as Portal, just by the nature of using a contraption to solving room puzzles. Although the narrative is one of the game's main focus, and you need to be sure to complete the game to experience the entire story, the puzzles are sublime. Plentiful and varying, each set of new puzzles adds new and engagement elements to solving the puzzles, such as moving platforms, harnessing the power of magnetism, and using different types of energy spheres. On the downside, the Xbox One version of the game does have slight hitches and longer loads than I would have liked before each puzzle. I should note that while not all puzzles have a long load before them, enough did to warrant a footnote in the review.
The Turing Test is delivered well, resplendent in Unreal 4, and carries a few genuinely interesting moments that make some of the more languid 'downtime' easier to swallow. We've had moments on our commute just mulling over some of the (ridiculously!) dry jokes in the game, but we love that - they feel like the bytes of humour you'd hear a museum curator crack as they show you their favourite exhibit. A puzzler for anyone who wants an aperitif after The Witness and The Talos Principle.
The Turing Test is a fantastic casual game with a lot of characters. It fits a very specific style and genre, though, and may understandably be hard for some to find fun if they don't already have a kind of preference or admiration for them. A single playthrough will take roughly 4-5 hours to complete, and replay value depends mostly on personal preference, long-term memory, and the time in-between plays. There's little in terms of negativity; only some small graphical aspects (in an otherwise beautiful yet simple environment), and a story that you have to receive in portions. If it sounds like your style and/or genre, then it's a must play, sooner or later.