Specter of Torment is a focused and satisfyingly challenging 2D platformer which retains Shovel Knight's strong aesthetic and sense of charm.
Spectre of Torment stands up well next to the previous Shovel Knight and Plague of Shadows campaigns. It's a bit on the short side and the bosses are a bit easier, but Yacht Club Games has kicked out some excellent new stages this time around. This prequel still offers precise platforming and a unique, more aggressive style of play to the series.
For my tastes, Specter himself features the least compelling of the three games' platforming styles, but it's not due to a mechanical or half-baked implementation: I just love the original Shovel Knight. As a timed Switch exclusive on a console with what is currently a modest number of games, there's little reason not to play Specter of Torment unless you're revisiting Shovel Knight proper via Treasure Trove first (which includes them all). My recommendation? Go for that. These games are worth it.
Shovel Knight: Specter of Torment is worth picking up on its own, but you should really just get the total package and play through all three campaigns. They each offer something unique like a Vegas buffet, and coincidentally enough the new price point of the Treasure Trove edition matches up.
Shovel Knight: Specter of Torment is an expansion to live up to the original game that will allow to enjoy the essence of Shovel Knight in a different and challenging way. If you have played Shovel Knight and you have Nintendo Switch, you can´t miss this great additional content.
Review in Spanish | Read full review
For those who yearn for the days of platforming yore, Shovel Knight: Specter of Torment is a dream come true.
Specter of Torment is an outstanding prequel, independent game and expansion (all in one) despite recycling lots of assets from the original.
Review in Spanish | Read full review
More of what Shovel Knight fans love, and a superb entry point for people new to the series, Spectre of Torment is a great take on modernised nostalgia.
Specter of Torment puts cool new twists on Shovel Knight's action platformer gameplay and has a fascinating story to boot. It's challenging but very fair, and I thoroughly enjoyed the entire game. Those who already have Shovel Knight should look forward to this excellent free expansion, and those who don't have the base game needn't think twice about spending $9.99 for this masterfully crafted experience.
What Yacht Club Games managed to achieve with Shovel Knight was extremely impressive, and they've continued their streak with Spectre of Torment. This latest expansion has overshadowed Shovel of Hope as being the best Shovel Knight game. Spectre of Torment demonstrations that with time, Yacht Club Games can create an expansion that outclasses Plague of Shadows with ease. Featuring a remixed soundtrack, a new look to each level and the coolest character in the Shovel Knight series, Spectre of Torment is better than I could've ever imagined. Considering what is available on the Switch right now, there is absolutely no reason for you not to own this game.
Its superior kineticism shows that Shovel Knight was an amateur's first stab toward something a little greater.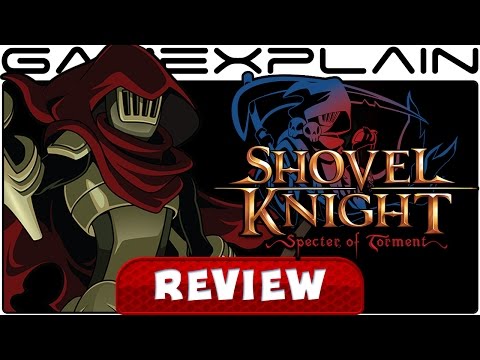 Specter of Torment is the latest in a fantastic series of games; it further cements Yacht Club Games's reputation as a developer capable of crafting experiences that are not only on par with, but often surpass the efforts of some of the largest studios in the world.The game's excellent level design, charming art style and top-notch soundtrack hold up as well in 2017 as they did three years ago in the original Shovel Knight. If you haven't played a Shovel Knight game before, we would highly recommend you pick up Shovel Knight: Treasure Trove for your Switch instead of this, as it contains Specter of Torment as well, but if you'd rather save some cash you can't go wrong with Specter of Torment.
Ultimately, there is very little bad to say about SoT. It's an excellent 2D action platformer with some good RPG elements, and its balanced difficulty lets genre hacks like me struggle through while more seasoned players can still expect a good, but not overly difficult challenge.
Shovel Knight: Specter of Torment is everything you could want in a 2D platformer, featuring mechanics from classic games brought forward in clever ways. Specter improves upon the original Shovel Knight in most regards and continues Yacht Club Games' tradition of excellence effortlessly.
If Shovel Knight is Mega Man X, then Specter Knight is Zero; his expertly-crafted new campaign is a perfect complement to one of the best 2D platformers ever made.
Specter of Torment feels like a new mode more than a sequel or an expansion, and it benefits from this. With a new story, completely new move set, and a much darker tone, it's a must-play for fans of the original release. Make sure to grab a controller, because the keyboard isn't ideal for everything Specter Knight is capable of. Congratulations, Specter Knight; you're too good for a keyboard.
Shovel Knight: Specter of Torment is an excellent action platformer with a lot of content to enjoy and plenty of bonus challenges to endure and feats to complete. It raises the bar for the Shovel Knight series and makes me look forward to seeing what Yacht Club Games manages to do for King Knight's campaign. Nintendo Switch owners get to enjoy Specter of Torment as a timed exclusive, so if you want to give this excellent game a try before it makes its way to other consoles, now is the time to do so!
I had a lot of fun with Shovel Knight: Specter of Torment, and I'd rate it as high if not even higher than Shovel Knight: Shovel of Truth. The level design suits the dark feel of this new campaign, and the added gameplay features make the whole experience feel very fresh. As always, Virt's (Jake Kaufman) soundtrack is top notch and perfectly fits the action. I highly recommend that you play Shovel Knight: Specter of Torment today – for the best value be sure to grab Shovel Knight: Treasure Trove on Nintendo Switch!
Put simply, Specter of Torment is absolutely brilliant. It's a slice of classic platforming action that puts a smile on your face from beginning to end.