Touching, sad, and brilliant; a story worth forgiving the limited interactivity to experience.
Though it only took me just under two hours to complete, the second the credits stopped rolling I immediately restarted What Remains of Edith Finch. Each of the vignettes is so distinct and surprising that I didn't have enough time to absorb and dissect what I had just played before being whisked away to the next one. But after fully piecing together the threads of the family and sifting through the allegories of their final moments, I was left with a beautiful, heartbreaking mosaic that exudes life, even when mired in death.
An elegiac, memorable and affecting tale of the misfortunes suffered by the members of a deeply eccentric family.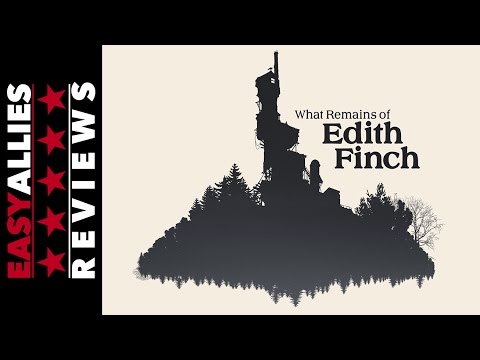 A compelling story well told, and although it's still not very interactive the variety and artfulness of the presentation feels like something only a video game could do.
The diversity in the Finches' final moments means you've always got another cool story just around the corner, and Edith's personal journey is also interesting
Giant Sparrow's follow-up to The Unfinished Swan is a beautifully melancholy collection of parables.
What Remains of Edith Finch is beautiful and bittersweet
Even as I rolled my eyes at the chilchéd final moments, as the credits rolled, I found myself remembering the dark, cluttered halls of the Finch house, and the way the game denied me closure on every mystery they may contain.
By the end of What Remains of Edith Finch, I felt close to the Finch family. I felt close in a way that only games could articulate with their unique interactive language. I was a kid on a swing, trying to get as high as he can. I was a baby in a bathtub. I was a curious, hungry kid. What Remains of Edith Finch doesn't just tell you about the tragic history of the Finch family, it allows you to embody it.
As a spooky, logical evolution of the Gone Homes and Firewatches of the world, with an impressive short-story style to boot, What Remains of Edith Finch is ultimately worth your time if its premise grabs you.
Edith found exactly what she came for: The reasons for all those early graves. This family tree is rooted in tragedy and suffering and loss. It's no great surprise that all the branches broke off. That might be fascinatingly grim for us, but there's also the unmistakable feeling that we're more shook by it than Edith is. Sadly, she's a Finch and that means she had gotten used to it long ago.
A perfect example that video games, as a form of expression, are something unique with a lot to say. You haven't seen, read or listen to anything that can compare to What Remains of Edith Finch.
Review in Spanish | Read full review
What Remains of Edith Finch is a short experience, but one of the best that has been released in recent memory. Giant Sparrow rose to prominence with The Unfinished Swan and here the studio has cemented itself as one of the best at constructing narratives intertwined with engaging environments. Both a celebration of life and a commentary on the tragedy of death, What Remains of Edith Finch should be experienced by as many people as possible.
What Remains of Edith Finch is filled with excellent writing, striking visuals, and a significant sense of place, of people, of life's ephemeral nature and our relationship to it. And I do hope you'll play. When you're done, and while we're privileged enough to still be here, we can talk about how strange, fleeting, and frustratingly beautiful existence really is. There will be cheese, there will be wine and there will be the unfathomable reality of our own bright-but-brief short stories.
What Remains of Edith Finch is about being a human being. Human beings like to press buttons.
What Remains of Edith Finch is a masterful piece of storytelling: well told, heartbeaking, and its variety of styles compensates the lack of interactivity.
Review in Italian | Read full review
Different, beautiful and unique albeit too short and not very 'interactive'. An experience that it's worth playing if you are into the walking simulators.
Review in Spanish | Read full review
What Remains of Edith Finch is a gripping exploration game, and will likely leave you thinking about it long after the credits roll.
It goes without saying that this game sets a new benchmark for storytelling, and the imaginative ways in which it's done, all the while dealing with death in a delicate and poignant way.