In keeping so close to the Baldur's Gate/Infinity Engine template, Pillars of Eternity can't help but inherit a few old flaws, and it would have been nice to see a bit more personality of its own shine through its carefully traditional design and shell. That said, what most stands out is just how well it manages to modernise the experience of playing those games and stand apart from them as an epic adventure in its own right. It's an RPG with design firmly rooted in nostalgia, but one that absolutely doesn't rely on it to be enjoyable today. Instead, it's both a great reminder of why those games worked so well, and a brand new adventure well worth the hours upon hours (upon hours upon hours) that it takes to pick away at its secrets and its world.
Obsidian (and its Kickstarter backers) have done it: Pillars of Eternity is one of the best RPGs since Baldur's Gate.
A deep, rich, and wonderfully written RPG that lives up to the towering legacy of the games that inspired it.
It's almost entirely backwards-looking, and the characterisation is disappointingly dry, but for fans of Baldur's Gate and its era this will have you partying like it's 1998.
A fantastic tactical RPG for players looking for a deeper and more complex story and gameplay experience
Pillars of Eternity is a lengthy and enjoyable role-playing game that springs from a time-honored tradition.
A well-made, fascinating role-playing game with a lot of heart.
Pillars of Eternity is more than an appeal to nostalgia; it's a rich RPG in its own right, boasting enjoyable combat, a strong story, and masterfully paced quests. What flaws it has — poor pathfinding A.I. and a Stronghold that feels somewhat derserted — are comparatively minor in the grand scheme of things. Right now, its biggest problem is a surfeit of bugs, which seem endemic to Obsidian's RPGs. Ignoring all that, though, Pillars of Eternity is enormously entertaining, and may end up making a strong claim to being one of the best RPGs of the year.
Obsidian has crafted a game full of challenge, intrigue, betrayal, and heart. The Eastern Reach is bleak and hopeful at the same time, and the main plot is packed with twists and surprises with staggering ramifications for a world players will feel they have become part of. Its combat is tense and relentless despite the capability to pause at any point, the mechanics offering complex strategic challenges with difficulty settings to accommodate most levels of skill. Pillars of Eternity proudly carries on the legacy of the classic computer RPG, and those who remember them with fondness should find in it a welcome addition to the genre.
Add in an extensive amount of lore, as well as great writing and detailed conversation options, and the result is a finely-crafted RPG that will take over 60 hours to complete. Be prepared to say "goodbye" to the sun because with so many classes and side quests, most players will want to replay Pillars of Eternity at least once. I guess that's what spray-tans are made for...
These are small grievances with what is ultimately one of the best games to bear the Obsidian name, which isn't said lightly. Like so many RPGs, Pillars of Eternity is immense with an abundance of things to do. But unlike so many RPGs, it manages to fill its many spaces with craft and care. The towns aren't just towns, the dungeons aren't just dungeons, and the characters aren't just an assembly of stats. Everything takes on a very believable form, transporting players to truly fascinating places.
Obsidian Entertainment's return to the age of the Infinity Engine excels with a beautifully crafted story, and an exceptionally diverse and beautiful world.
A game that will know how to reward those players who decide to invest time in immersing themselves in the history and to be carried away by mechanics with which Obsidian has distilled the essence of the classic occidental RPGs.
Review in Spanish | Read full review
Obsidian's crowd-funded isometric RPG is a dose of splendidly written fun that fondly recalls the pen-and-paper games of our youth
Obsidian returns to its Black Isle roots with the Infinity Engine-inspired 'Pillars of Eternity'. Does the old-school RPG live up to its predecessors?
Obsidian's Pillars of Eternity is a love letter to those gamers who remember RPGs of old – when parties were large, adventures were world-sprawling, and you read a book or two worth of words before the world was saved.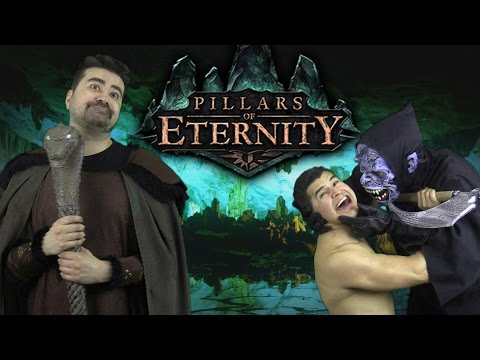 This is the type of game that needs two scores. One for the diehards of the genre and one for the newbies. The development team catered to their core group, and I feel they made the game that they wanted to play. But ultimately I also feel I have to hold them responsible for making a game that feels inaccessible in so many ways. Once you get over the learning cliff, there is a better game out there than this score represents. Pillars of Eternity is like a speakeasy. If you know the dirty, dark alley you need to go down and have the password for the doorman, there is a wonderful, vibrant, and robust world on the other side filled with dancing girls, jazz music, booze, and cigarettes.
Obsidian's Pillars of Eternity revisits the company's Black Isle roots, resulting in a High Fantasy, party-based RPG in the traditional style. Strong thematic hooks, well-written characters and reactive quest design, all resting on an original set of tabletop-inspired mechanics, make this a triumphant return.
It's the best new, isometric RPG to come out in years.