Earth Defense Force: Iron Rain continues the EDF tradition and lets you have fun blasting away thousands of alien monsters. Everyone might have their nitpicks, like repetition stemming from failing missions, but Yuke's did just enough to advance the series. I hope that they have another chance with the franchise in the future.
As fun as it can be on occasion, Earth Defense Force: Iron Rain is too flawed for me to fully enjoy. The heaps of technical issues and unbalanced and repetitive missions, combined with a fairly dysfunctional online mode, make Iron Rain an unfortunately bland mess.
Earth Defense Force: Iron Rain is the perfect addition to the series.
Earth Defense Force: Iron Rain offers players with a nice change of pace from the hyper-connected and competitive nature of contemporary gaming, with a game that actually feels like a game.
Earth Defense Force: Iron Rain makes a few much-needed tweaks to the old formula, but it's still just another bug hunt.
Despite aggravating AI, Earth Defense Force: Iron Rain's wealth of content, challenging difficulty, and empowering action make it the best EDF game to date. This is a tried-and-true EDF game for newcomers and veterans alike.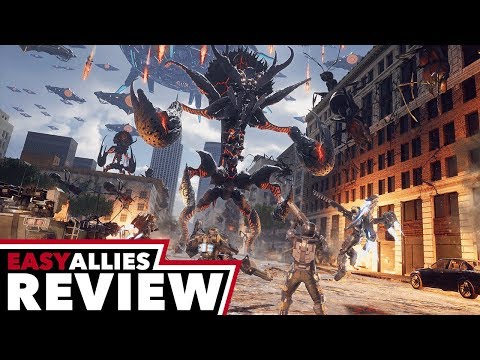 Earth Defense Force : Iron Rain is another vision of the franchise made by an other studio. The new approach is quite good, more serious and more accessible.
Review in French | Read full review
As flawed and as fun as ever, Iron Rain doesn't dull the core pleasure of EDF, but doesn't manage much more either.
A more grounded approach and a fresh coat of paint fail to address the series' inherent flaws, as the cheesy charm of fighting giant insects is lost in the process.
Iron Rain provides plenty of content, but Yuke's EDF debut doesn't change much
Earth Defense Force: Iron Rain plays around with the concepts players have gotten used to with previous EDFs. Classes are open, and the new Prowl Rider offers a new flavor of play that hasn't been seen in the franchise before. Weapons are open, giving more player freedom in terms of character loadouts. But Iron Rain loses some things from the main series, notably the huge swarms of enemies in favor of larger, more meaningful enemies. It's a fine entry in the EDF franchise, but it doesn't step far beyond its predecessors sadly.
And that's pretty much it. Despite the marketing of a more "serious" tone this is still very much EDF - a bug-shooting Dynasty Warriors-esque hack and slash at heart. Given that it's a standalone game you can also just jump right in (not that you'd need to keep up with EDF lore regardless).
Iron Rain is a solid shooter and reminiscent of what made the mainline games so much fun. However, I think some of the backend changes don't really work and the visual and aural impact of the weapons feel diminished.
In the case of Earth Defense Force: Iron Rain, in particular, the good definitely outweighs the bad. I love this game and I will probably be playing it until the next one comes out, which could be a bit since we just got EDF 5 and Iron Rain about four months apart.
Unpretentious entertainment that drags too many technical and artistic aspects too outdated today.
Review in Spanish | Read full review
Earth Defense Force: Iron Rain is light on narrative and heavy on fast paced action.
It had been several years since I had played Earth Defense Force: Insect Armageddon so I was a tad worried about doing the series justice in this review, but I can definitely say that outside of a couple of issues with giant insects blocking my camera view, repeatedly getting knocked down when surrounded by the critters, and the sensitivity of clicking L3 to turn around when moving backwards, Earth Defense Force: Iron Rain is a solid entry into the EDF series and one that anyone wanting to blast the heck out of giant insects should enjoy.
Earth Defense Force: Iron Rain is some of the most pure, unadulterated fun we've had in 2019 so far. It's not pretty and it's not stable, but if you're able to look past its technical drawbacks, then you're in for a supremely wacky, boisterous, and delightful takedown of humanity's greatest threat. Earth Defense Force is proud of its simplistic nature, and that's probably the best thing about it.