Crackdown 3's mediocre, collectible-heavy campaign and poor Wrecking Zone multiplayer are rarely satisfying busywork.
No Recommendation / Blank
Feb 18, 2019
One of the great open-world templates fails to come into focus in this well-meaning, if embattled, sequel.
Repetitive and middling, Crackdown 3 is a totally average open-world game that doesn't give itself a way to stand out.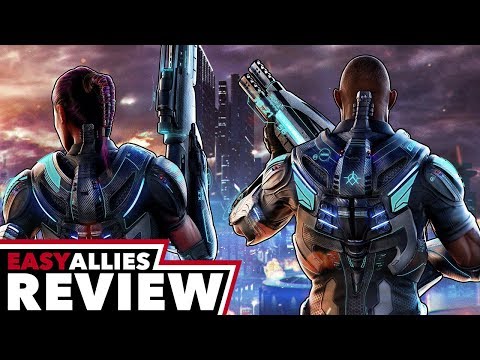 Crackdown 3 is bonkers chaotic fun but also a case of wasted potential. The series deserved an iterative revival but instead, we have the tried-and-tested Crackdown backbone with remastered visuals and a touch more chaos, sadly squandering the promise of its few interesting additions in the process
A tragic end to Crackdown 3's long and painful journey, with an unremarkable campaign mode and a multiplayer that is a disaster in terms of tech and design.
Crackdown 3's campaign is like a thawed-out relic from more than a decade ago. Multiplayer's environmental destruction is interesting in concept, but its bare-bones nature keeps it from being more than a curiosity
Crackdown 3's campaign is short on new ideas and relies too heavily on its core loop of collecting orbs and throwing heavy objects around.
Crackdown 3 is a playpen of combat and destruction that sets itself up as a liberating journey into a barbarous fantasy of wanton mayhem. But its central proposition — the freedom to do as I please — is undermined by frustrating design compromises.
Just go play Crackdown 1 again.
Crackdown 3 isn't an instant hit, but after a slow start it rapidly builds into an action-packed shooter with brilliant character control and movement. While orb collecting is the key for prolonged play, the campaign in Crackdown 3 is always entertaining and visually there's a lot to appreciate if you look at the bigger picture. Crackdown is back. Shame about the multiplayer Wrecking Zone, though.
Crackdown 3 has had years of build-up and, well, it's just Crackdown with a tiny bit of new-gen polish. That's not a bad thing, not by any stretch, but in a February dotted with potentially fantastic releases, it's going to be an ultimate forgettable one.
Crackdown 3 is a good Crackdown game, which, unfortunately, doesn't mean much anymore. Modern game design has surpassed the Crackdown model by leaps and bounds -- as high and far as an agent can jump. The most remarkable thing about Crackdown 3 is how unambitious it is. It's content to come off as dated, like a relic from a bygone era. That can be comforting in a way, but it's immeasurably more disappointing. Crackdown 3, just like its kin, is only a distraction and nothing more.
It mantains everything that created a really enjoyable franchise: non-stop action and an enormously satisfying progression system. It's not a game changer and you won't be surprised by its graphics, but it will offer you some toooooasty action.
Review in Spanish | Read full review
There's a time and place for games like Crackdown 3. It's not bad by any means, it's even quantifiably good and enjoyable. However, while games can be lauded for not following trends, there's a difference between carving your own path and simply not innovating.
There are better ways to get your superhero action fix, but there are worse ones, too. Crackdown 3 is at least worth a try.
Crackdown 3 is stuck in an earlier era and offers nothing new to the Open World Games, or even to its own chain.
Review in Arabic | Read full review
Crackdown 3 is a fun game that copies and improves what previous iterations of the franchise did well... But not much else, giving us an uninteresting story and a subpar variety on its campaign. And for the multiplayer part of the game: you just can forget it by now. Simply forgettable.
Review in Spanish | Read full review
Crackdown 3 is an old school game that doesn't do anything to sound fresh and new. Sometimes it's fun, but in the long run it's just out of this timeline.
Review in Italian | Read full review
All things considered, Crackdown 3 being this enjoyable represents a minor miracle, and I'd love to see what these teams are capable of with the franchise without being dicked around by corporate for half a decade.