Saban's Mighty Morphin Power Rangers: Mega Battle
Even with the nostalgia factor, I really don't think this game holds up enough for even the hardcore fans of Power Rangers. It quickly becomes a boring trek even with friends playing alongside you. It looks like a game for kids, but there's no way it would hold their attention for long, and the adults that loved the Rangers as kids will find it far too repetitive to keep going. Unfortunately, I just can't really recommend this game to many people. At least not until after a deep price cut.
As a game that was obviously meant to reinvigorate old fans and introduce new ones to the series during the wake of the reboot movie, Mighty Morphin' Power Rangers: Mega Battle feels more like an afterthought than an actual attempt at making a new and good Power Rangers game. While it may be something old fans of the TV show could enjoy just to scratch that nostalgia itch, as a video game released in 2017 it just fails to hit the mark and is far from being something that could be called a good gaming experience. It can even be said that some of the older games created for the franchise are much better and would be more recommended than this.
Mighty Morphin Power Rangers: Mega Battle hits the right nostalgic notes, but it's a clearly rushed affair. The most important elements are in place, the fighting system is solid and pretty fun, and the campaign is suitably lengthy. However, the lack of polish just buries it. The wonky hit detection and control issues are a constant nuisance. Support for up to four players is appreciated, but there aren't any online modes, which is just plain baffling. Altogether, this makes for a game that's just not as tightly designed as it could be. Another few months of development time could've made a big difference.
Not even nostalgia can save Saban's Mighty Morphin: Power Rangers from feeling like a mediocre and rushed licensed screw-up.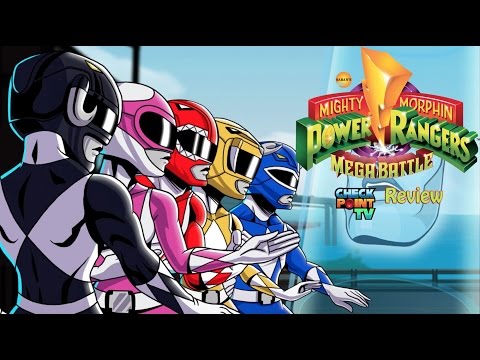 Personally, my girlfriend pointing out that the noise basic grunts make before attacking is comparable to someone motorboating a pair of breasts was the highlight of the game for me. Read into that what you will.
There are some great aspects to Power Rangers: Mega Battle though these are covered by a lot of things that just don't come together in a satisfying way.
While the gameplay can be fun in spurts, the bland visuals, overly long levels, repetitive enemies, and lack of checkpoints all make this game a Mighty Morphin' mess.
Saban's Mighty Morphin Power Rangers Mega Battle is a love letter to both the show and beat-em-ups that falls short of reaching its goals. The franchise's earliest games were largely better than this, and while this does scratch a nostalgia itch to some degree, it isn't a satisfying gaming experience. Movesets are far too lean and there are too few enemies to keep the action interesting for very long. Dedicated fans of the show may want to check it out, but everyone else can safely skip it.
Mighty Morphin Power Rangers: Mega Battle is an action brawler designed for fans of the old TV show and is best played on couch co-op.