Tower of Guns
No Recommendation / Blank
Apr 9, 2015
The arcade-like structure and mounting pile of perks and weapons gives Tower of Guns an irresistible, if brief, appeal. There's tremendous fun to be had questing up the tower, amassing buffs and improvements to both your character and their weaponry, and racing against the clock. But soon enough, the repetitious enemy and environment designs begin to tire, and the initial bullishness of the evolving guns feels a little conservative; nothing goes quite far enough. Tower of Guns fails to reach the heights it might have reached, then, but provides an enjoyable run all the same.
You can power through a few rounds of Tower of Guns quickly, and the inventive enemies and non-stop action keep you coming back
The fantastic Tower of Guns combines the elegant dodging dance of bullet hell gameplay with a first-person shooter roguelike
If you want to test your FPS skills, Tower of Guns throws down a tough and engaging challenge that's best enjoyed in short bursts.
Each new combination of guns and perks can create a brand new playstyle in order to keep things fresh. Tower of Guns is a beautiful marriage of two of my favorite genres, the first-person shooter and the roguelike. Now if you'll excuse me, I have to get back to my run I paused to finish this review.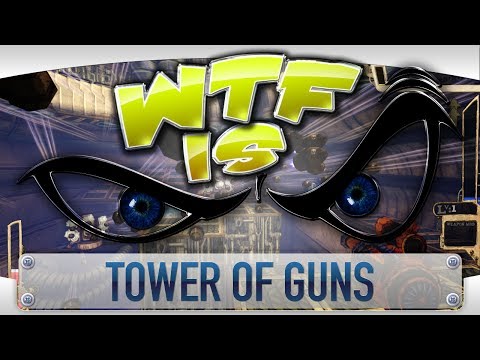 For all of its speed, channelled from FPS games of the distant past, Tower Of Guns encourages thoughtful play. Despite the randomisation of enemies, pick-ups and areas, every distinct element that can appear is a known quantity, and that means the risks and possibilities are always obvious. But no matter how much experience you have, if you can't think fast enough – and, no insult intended, you probably can't – you'll still struggle to survive.
'Tower of Guns's randomized levels and enemies offers players a frenzied challenge, but ultimately fails to keep players engaged for longer than a few minutes at a time
The idea of a FPS rogue game where you earn new abilities as you try and make your way to the top sounds ever so promising, but with all the issues I had with it, I've already bailed out.
For a game packed with cold, mechanised artillery, this FPS-Roguelike mash-up has a surprising amount of warmth and humanity. Scale the Tower of Guns and you'll find some pick-up-and-replay charm.