Never quite the sum of its parts, Octopath Traveler is a game with brilliant moments rather than a brilliant game.
Octopath Traveler is a JRPG dream come true.
Another fine turn-based battle system and some charming dialogue and visuals make up for an occasionally dry ensemble campaign.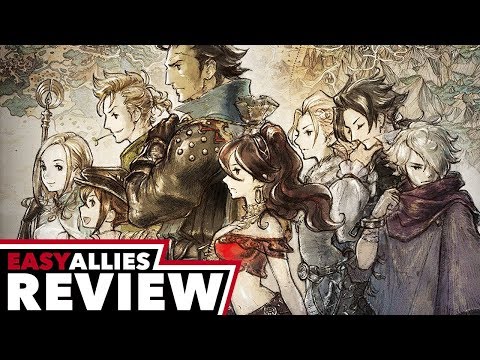 A fantastic balancing act between old and new, creating a Japanese role-player that's full of charm, innovative ideas, and clever nods to the past.
Combat is the highlight of the adventure. The stories unfolding between encounters are uneven, and the grinding required to progress is a frustrating roadblock
Octopath Traveler is the magical RPG the Nintendo Switch needed
Octopath Traveler finds comfort in tradition but doesn't shy away from breaking the mold.
Octopath Traveler is a beautiful game with one of the best soundtracks I've heard. The combat system rocks and will hopefully be used in more Square Enix games to come. There are plenty of good ideas in here. But the game is too grindy, too repetitive, too full of structural problems to be viewed as much more than another botched JRPG experiment.
Octopath Traveler's attempt to balance new and old JRPG mechanics is impressive, and mostly successful. There's a charming one-of-a-kind title here that opts to talk about eight characters instead of focusing on one team, one world, and one story. Does this unusual method of storytelling work? I think so, but personal preferences will vary. Some over-long boss fights and questionable dedication to certain retro mechanics mar Octopath a bit, but if you own a Switch and love JRPGs, adopt this fluffy, lovely snow leopard of a game for your own.
I heartily recommend Octopath Traveler to any RPG fan. Whether you cut your teeth playing Final Fantasy on SNES, or if you weren't even born yet, this game has a lot to offer. The narrative and character interaction leave a bit to be desired, but the overall quality of the game overshadows its deficiencies.
Octopath Traveler is a small triumph in that it mostly delivers on its promise to give us eight stories worth seeing through. None of them push the envelope in any way, and several drag, but that's not a huge issue when you have so many to choose from. Even if you skip one or several tales altogether you're still going to get a handful of RPG goodness.
Octopath Traveler is a wonderful collection of adventures and stories, but the quirk of storytelling that lends it its name is both its greatest strength and weakness. While the turn-based combat and 'breaking' enemies makes practically every battle engaging, the eight tales this game tells don't really feel like they need to be told together. It's a little unbalanced because of this, but this remains a charming, beguiling JRPG.
There are many reasons to consider Octopath Traveler as one of the best games available for Nintendo Switch. An interesting story put together with several charismatic characters. A deep and addictive battle system as well as both excellent visuals and audio work together in order to create one the best releases for this year.
Review in Spanish | Read full review
Octopath Traveler may not be the new Final Fantasy VI, but it is no doubt a great game. With an astounding presentation and a fantastic combat system, fans of traditional JRPG should not look any farther.
Review in Spanish | Read full review
Overall, Octopath Traveler is a very solid and engaging game.
Too many developers have tried and failed to capture the nostalgic and often magical feelings that players have for the JRPG genre. Pared-down retro releases and fluffed-up remakes come and go, yet none of them seem to get things exactly right. Fortunately, Octopath Traveler succeeds where other classically-styled RPGs fail: the presentation is spot-on, the combat is addictive, and the potential for party customization is tremendous. Small stumbles with dialog and framerate can be forgiven simply because the rest of the game is an absolute delight. This is an experience that players can easily get lost in for dozens of hours, and it's sure to be counted among the best Nintendo Switch exclusives released to date.
A good port of an already excellent JRPG that the genre's fans should play if they've not yet.
Review in Spanish | Read full review
Long, deep, and with a combat system tailored to perfection. Octopath Traveler is an almost perfect ode to the old school RPGs.
Review in Spanish | Read full review
Octopath Traveler manages to remain faithful to the glorious past of the JRPG genre without, however, seems outdated.
Review in Italian | Read full review